Trump unveils plan to vastly expand offshore oil drilling in latest dismantling of Obama's legacy
Coastal governors of both parties decry move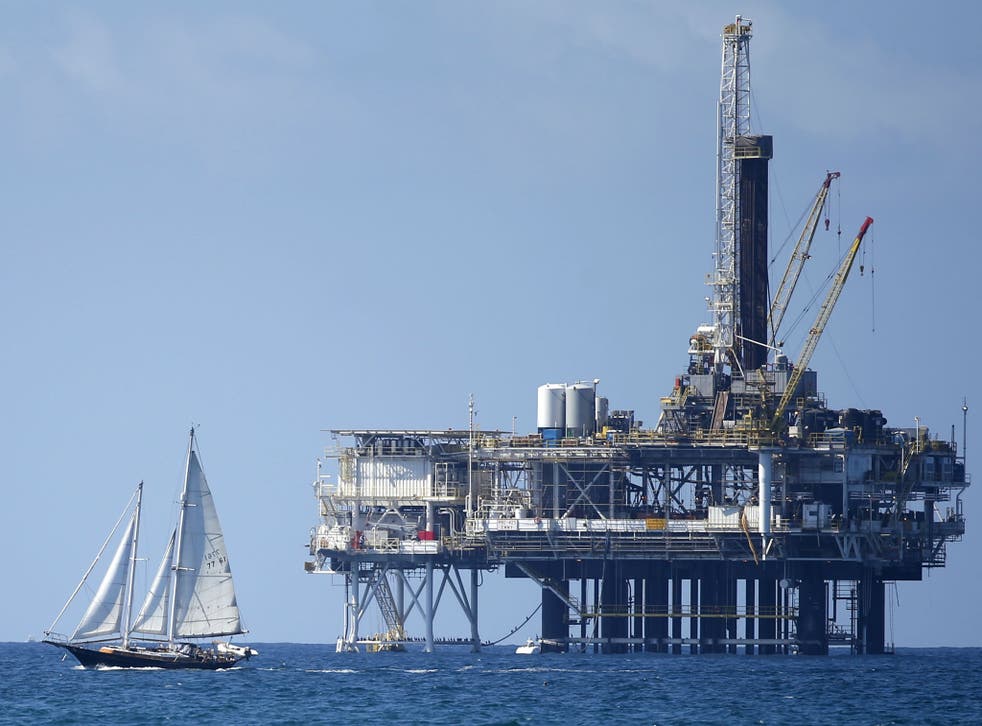 Donald Trump's administration has moved to vastly expand offshore oil exploration, continuing the dismantling of Barack Obama's environmental legacy and drawing resistance from some coastal governors.
A draft plan unveiled by US Secretary of the Interior Ryan Zinke would open some 90 per cent of the National Outer Continental Shelf to potential drilling, a sharp reversal of Obama-era protections that was cheered by the energy industry.
"Responsibly developing our energy resources on the Outer Continental Shelf in a safe and well-regulated way is important to our economy and energy security, and it provides billions of dollars to fund the conservation of our coastlines, public lands and parks," Mr Zinke said in a statement.
The proposal would enable the most sales of drilling leases — which are required for exploration on federal lands — in US history, spanning 25 of 26 planning areas, according to the Department of the Interior.
Mr Zinke called the plan a step toward achieving "American energy dominance," and Speaker of the House Paul Ryan lauded the move as "great news for the economy" that would mean "more jobs, more revenue, and more energy produced right here in America".
But executives in states that could be most affected pushed back, saying the risks outweighed the potential benefits. The governors overseeing Oregon, California and Washington — states that together span the entirety of America's West Coast — released a joint statement condemning a move they said "flies in the face of decades of strong opposition".
"They've chosen to forget the utter devastation of past offshore oil spills to wildlife and to the fishing, recreation and tourism industries in our states.
"They've chosen to ignore the science that tells us our climate is changing and we must reduce our dependence on fossil fuels. But we won't forget history or ignore science," governors Jerry Brown of California, Kate Brown of Oregon and Jay Inslee of Washington said.
World news in pictures

Show all 50
California Attorney General Xavier Becerra, who has led the state's legal blitz against the Trump administration, called drilling off of California's coast a "non-starter" and said "We are evaluating all of our options to protect our State's pristine natural resources".
While all three of the West Coast governors are Democrats aligned with environmentalists, criticism also came from Florida Republicans. Senator Marco Rubio backed expanding a moratorium on extraction in the Eastern Gulf of Mexico, and Florida governor Rick Scott released a statement reiterating that he opposed drilling off his state's coast.
"My top priority is to ensure that Florida's natural resources are protected," Mr Scott said.
By opening a sprawling new vista for oil exploration, the Trump administration has taken another step to erase Barack Obama's environmental record. In the waning days of his term, Mr Obama invoked an obscure federal law to put hundreds of millions of acres of federal land in the Arctic and Atlantic Ocean off-limits.
In April, Mr Trump had taken aim at that plan by signing an executive order that directed Mr Zinke to review oil and gas exploration on the Outer Continental Shelf.
"Our country is blessed with incredible natural resources including abundant offshore oil and natural gas resources, but the federal government has kept 94 per cent of these offshore areas closed for exploration and production," Mr Trump said at the time.
"This deprives our country of potentially thousands and thousands of jobs and billions in wealth".
Republicans also won a signal victory in a longstanding battle last year when Mr Trump signed a sweeping tax bill that lifted a decades-old ban on energy exportation in Alaska's Arctic National Wildlife Refuge.
Since taking office, Mr Trump has also said he will withdraw the US from the Paris climate agreement, greatly reduced two newly established federal wildlife areas and moved to nix Mr Obama's regulations on emissions generated by power plants.
Join our new commenting forum
Join thought-provoking conversations, follow other Independent readers and see their replies