Trump says he predicted Bin Laden's death while talking about own biography in bizarre tangent
Trump falsely claims he predicted danger of Osama bin Laden before anyone else: 'Nobody had ever heard of him'
President complains about 'not getting any credit' for prediction he never made
Donald Trump has falsely claimed he predicted the threat posed by Osama bin Laden before anyone else.
In a press conference announcing the death of Isis leader Abu Bakr al-Baghdadi, Mr Trump went on a bizarre tangent about his self-proclaimed foresight, claiming nobody listened to him when he said Bin Laden was dangerous before the 9/11 attacks.
The president claimed he made the prediction in his book The America We Deserve, which was published in 2000, and complained that he does not get any credit for it.
"I wrote a book, a very successful book, and in that book, about a year before the World Trade Centre was blown up, I said 'There is somebody named Osama bin Laden. You better kill him or take him out… He's big trouble,'" Mr Trump said on Sunday.
"Nobody had ever heard of Osama bin Laden until the World Trade Centre," he added, incorrectly.
Timeline of the Isis caliphate

Show all 19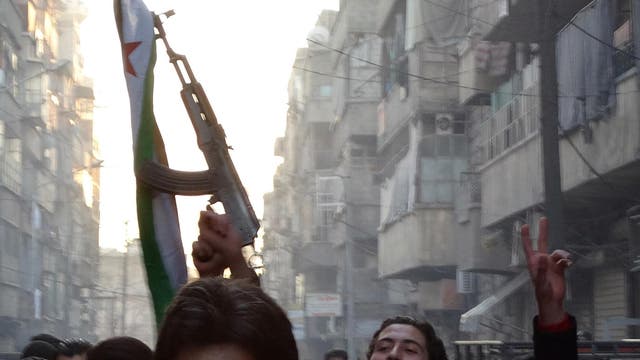 However, Mr Trump's claim is inaccurate on several fronts.
Although Bin Laden was mentioned in The America We Deserve, his appearance is fleeting at best and does not come in the form of a prediction about his threat.
The former al-Qaeda leader is referred to once in the book, in a passage about various security threats facing the US.
In a paragraph where Mr Trump and his co-author Dave Shiflett list potential dangers, he said: "One day we're told that a shadowy figure with no fixed address named Osama bin Laden is public enemy number one, and US jetfighters lay waste to his camp in Afghanistan. He escapes back under some rock, and a few news cycles later it's on to a new enemy and new crisis."
Mr Trump did predict a major terror attack would soon occur in the US and warned of an atrocity that would "make the [1993] bombing of the Trade Centre look like kids playing with firecrackers."
He did not, however, mention Bin Laden or al-Qaeda as potential perpetrators of such an attack.
Support free-thinking journalism and attend Independent events
Even if the president's book had predicted Bin Laden was a significant threat, he would not have been the first person to make that observation.
US intelligence agencies were well aware of Bin Laden by 2000, as were many members of the general public following the 1998 United States embassy bombings which brought al-Qaeda to international attention.
In December 1998, then president Bill Clinton was informed by intelligence officials that al-Qaeda was making plans for attacks in the US, including training personnel to hijack an aircraft.
By 2000, Bin Laden was already on the FBI's lists of the "ten most wanted fugitives" and "most wanted terrorists".
Join our new commenting forum
Join thought-provoking conversations, follow other Independent readers and see their replies