Donald Trump deletes tweet calling meeting with Palestinian leader 'an honour'
The US president was confident he could broker a peace deal between Israel and the Palestinians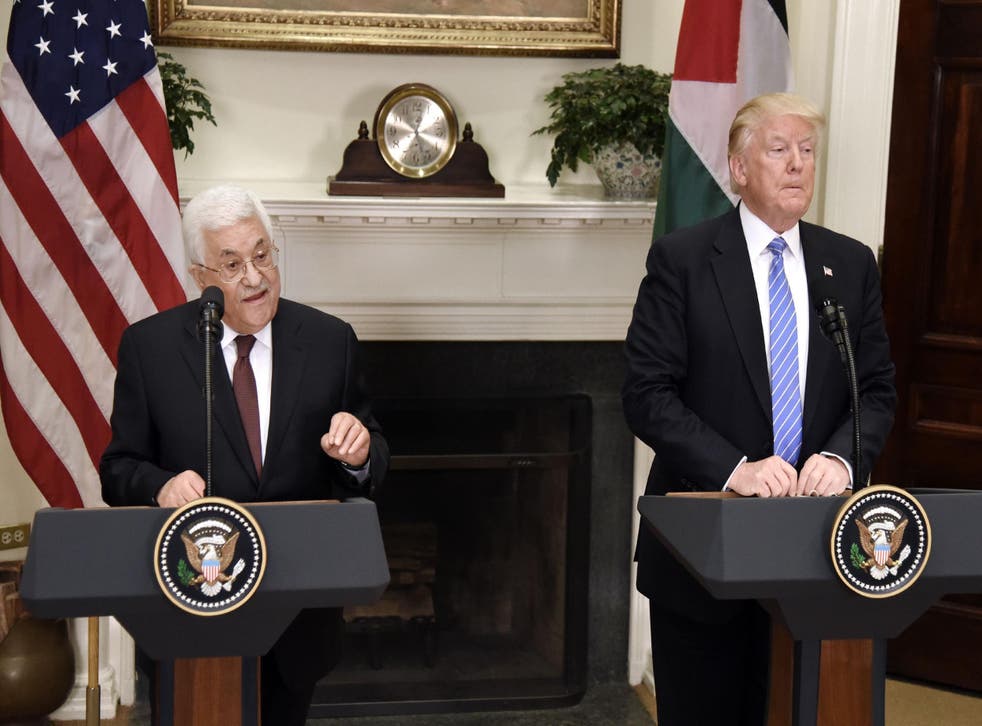 Donald Trump or his staff have apparently deleted a tweet about what "an honor" it was meet Palestinian Authority Leader Mahmoud Abbas 13 hours after the pair met at the White House.
According to ProPublica's "Politiwoops" service Mr Trump also wrote he hoped "something terrific could come out it between the Palestinians and Israel."
Mr Trump said during a joint news conference with Mr Abbas that he "will get it done" when it comes to a lasting peace deal between the two sides in the decades-long conflict.
This was the first face-to-face meeting with a US president for Mr Abbas, whose popularity is waning among Palestinians.
In late December 2016 during the last moments of the Obama administration, the UN Security Council passed a resolution condemning Israel's settlements in the West Bank and East Jerusalem.
Mr Abbas allegedly played a role in pushing the vote through and members of Mr Trump's team have not forgotten it, according to the LA Times.
Donald Trump's first 100 days: in cartoons

Show all 33
Despite that, Mr Abbas was almost effusive in his faith in Mr Trump, saying that the Palestinian people are "capable, under your stewardship...and great negotiating ability" to be true partners with the US.
It remains unclear why Mr Trump or his team seemingly deleted his tweet. He has been open about his meetings with foreign leaders in the past like German Chancellor Angela Merkel and Canadian Prime Minister Justin Trudeau.
Early in his term Mr Trump said he was willing to forgo a two-state solution for Israel and the Palestinians, going against a stance held by US presidents for several years.
US Ambassador to the United Nations Nikki Haley clarified later that the US was committed to a two-state solution.
Mr Abbas reiterated during his public statements that the Palestinians want a separate state with East Jerusalem as the capital.
Mr Trump is set to travel to Israel later this year as part of his first overseas trip which will also include Saudi Arabia and the Vatican.
Join our new commenting forum
Join thought-provoking conversations, follow other Independent readers and see their replies