US politicians question Trump ties to scandal-struck Panama real estate project
The Panama City project has earned the President between $30-$50m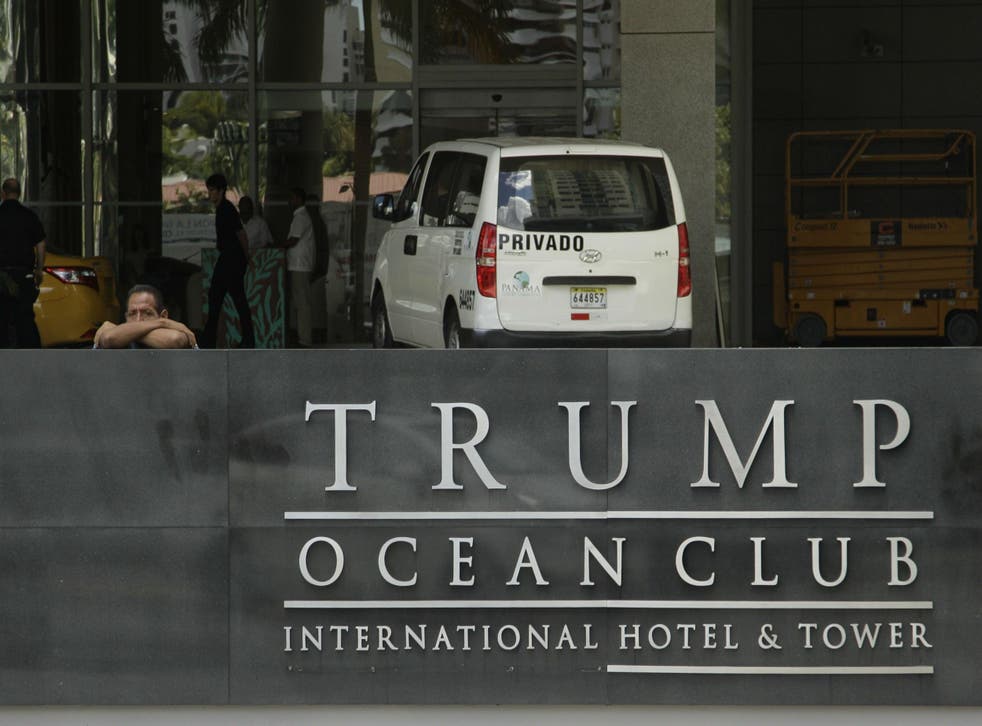 Two members of Congress have asked the Trump Organisation to reveal if it knew about allegations that real estate agents and investors linked to a project bearing the President's name in Panama, had ties to money laundering and drugs.
Democratic congresswoman Norma Torres and congressman Eliot Engel asked if the company, founded by Donald Trump and run by his sons Eric and Donald Trump Jr since their father entered the White House, was aware of the claims relating to the Trump Ocean Club International Hotel and Tower in Panama City.
They asked what due diligence was done on investors and agents involved in the project, which has earned Mr Trump between $30m and $50m for lending his name to it, according to court records.
"Given widely reported allegations of money laundering and drug trafficking in connection with Trump Ocean Club Panama, we believe it is imperative to understand the Trump Organisation's knowledge of and role in sales at this property," they wrote.
Reuters said the letter dispatched on Wednesday evening to the Trump Organisation's general counsel, Alan Garten, followed an investigation carried out by the news agency that found a Brazilian man, Alexandre Ventura Nogueira, was responsible for between one-third and one-half of advance sales for the Trump Panama project, which was completed in 2011.
Mr Nogueira is under investigation in Brazil for international money laundering. The inquiry started in 2013 after the Finance Ministry's financial crimes unit noticed several transfers of more than 1m reais ($308,500) from accounts in Panama to his accounts in Brazil.
Stephen Colbert ridicules Trump's claim he would have run into Florida school to tackle shooter
In a November interview with Reuters, Mr Nogueira denied any wrongdoing in Brazil and said he only learned after the Trump Ocean Club project was almost complete that some of his partners and investors were criminals, including some with what he described as connections to the "Russian mafia".
Mr Nogueira, whose current whereabouts are are said to be unknown, said he had not knowingly laundered any illicit money through the Trump project, although he said he had laundered cash later in other schemes for corrupt Panamanian officials.
Mr Garten said in November: "No one at the Trump Organisation, including the Trump family, has any recollection of ever meeting or speaking with this individual."
World news in pictures

Show all 50
Ms Torres and Mr Engel said getting answers from the Trump Organisation on the Panama project was "essential as we carry out oversight of US policy towards Latin America and the Caribbean".
They said they wanted to ensure that Mr Trump was "fully committed to the goal of dismantling the transnational criminal organisations that are responsible for smuggling drugs into the United States".
The sending of the letter comes as the property in Panama City has been the site of tension and anxiety, as Mr Trump's organisation is involved in a legal dispute between the building's majority owner. In recent days, the dispute has turned violent in recent days as the two sides vied for control of the property.
In one video obtained by ABC News, a man identified as a Trump Hotels employee can be seen hurling another man down a narrow hallway on Tuesday. According to the Associated Press, this latest scuffle marks at least the fourth time the police have been called to the property in the last week.
The Trump Organisation did not immediately respond to enquiries.
Join our new commenting forum
Join thought-provoking conversations, follow other Independent readers and see their replies