Majority of Americans in every US state supports Paris climate deal Trump is poised to withdraw from
About seven out of 10 registered US voters say that America should participate in the agreement
Alexandra Wilts
Washington DC
Wednesday 31 May 2017 19:42 Comments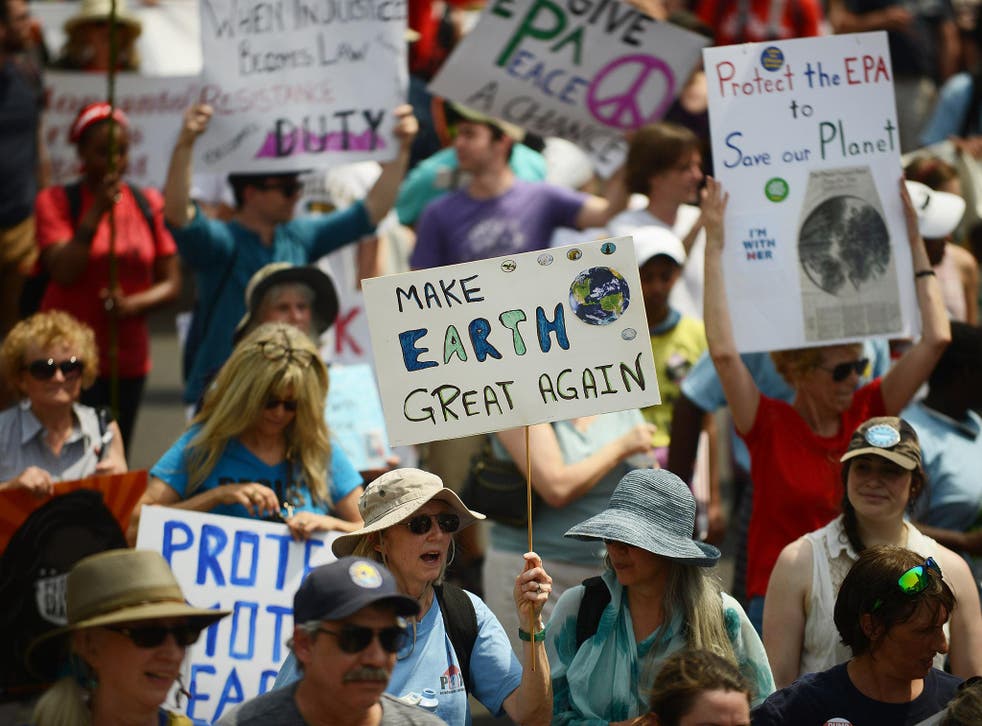 Nearly 70 per cent of Americans, including a majority of people in all 50 states, support the Paris climate deal that Donald Trump is expected to withdraw from this week.
The President is anticipated to announce his decision to pull out of the accord within days, White House sources say, dealing a major blow to an agreement that aims to reduce carbon emissions and avert the worst effects of climate change.
About seven out of 10 registered voters, or 69 per cent, say that the US should participate in the Paris agreement, compared with 13 per cent who say that the country should not, according to a November 2016 poll by the Yale Program on Climate Change Communication.
An overwhelming majority of Democrats, 86 per cent, are fans of the deal, while only about 51 per cent of Republicans say the US should take part in the accord, the programme reported.
The controversial orders Donald Trump has already issued

Show all 9
Large corporations including Microsoft, Google, Walmart and Exxon have also expressed support for the US staying in the agreement.
In a tweet, the environmental organisation Sierra Club posted a US electoral vote map showing that more than half of the population in each state supports the climate deal.
"If Trump is pulling out of Paris, he is turning his back on the public in every single US state," the group wrote.
The US is currently one of the largest emitters of carbon dioxide in the world. Scientists say that Earth is likely to to be affected by more dangerous levels of warming even sooner if the US pulls back from its pledge to cut carbon dioxide pollution.
Register for free to continue reading
Registration is a free and easy way to support our truly independent journalism
By registering, you will also enjoy limited access to Premium articles, exclusive newsletters, commenting, and virtual events with our leading journalists
Already have an account? sign in
Join our new commenting forum
Join thought-provoking conversations, follow other Independent readers and see their replies