Donald Trump 'jealous of Kuwaiti ruler's plane because it's bigger than his'
The President reportedly complained that the Emir's plane was 100 feet longer than his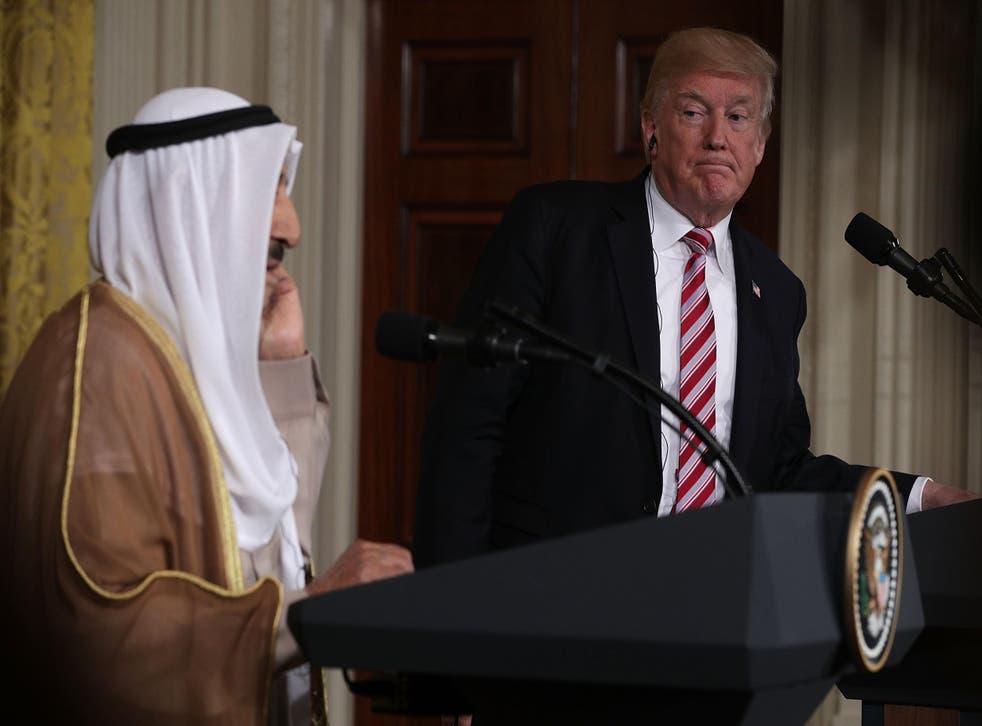 Donald Trump appeared to enjoy his recent visit with Kuwaiti Emir Sabah Al Ahmad Al Sabah, calling him a "good partner" and a "very special person". But afterwards, sources say, he had one complaint: The emir's plane was bigger than his.
Mr Trump griped to a group of New York and New Jersey politicians after his press conference with the Kuwaiti Emir, sources present told Politico. The President reportedly complained that the Emir's plane was longer than his – maybe even by 100 feet.
Mr Trump's own plane, a Boeing 757-200, contains a dining room, big screen TVs, a master and a guest bedroom, and a shower, according to CNN. It also features a giant, golden "Trump" logo along the side.
During his press conference with the Emir, Mr Trump claimed the relationship between the US and Kuwait "has never been stronger – never, ever".
"The Emir of Kuwait is a very special person who I've gotten to know over the, actually over the years," Mr Trump told reporters.
Mr Trump boasted about increased counter-terrorism and intelligence-sharing operations between the two countries, and praised the "tremendous investments" he said Kuwait had made in the US. (Many of these investments, notably, were planes: The US recently sold 10 Boeing 777 airliners and $5bn worth of F/A-18 Super Hornet fighting jets to Kuwait.)
Donald Trump's international Presidential trips

Show all 22
Kuwait is currently attempting to mediate a tense dispute in the Gulf Region – one which US Secretary of State Rex Tillerson tried and failed to help resolve. Mr Trump first appeared to support Saudi Arabia in the crisis, but later came around to supporting Mr Tillerson's diplomatic efforts.
Mr Trump praised the Emir's mediation efforts at the press conference, and urged the members of the Gulf Cooperation Council (GCC) to work together toward a solution.
"We have great relationships with all of them right now; maybe better than we've ever had," Mr Trump said. "We will be most successful with a united GCC."
Join our new commenting forum
Join thought-provoking conversations, follow other Independent readers and see their replies