Trump picks Poland for his second foreign trip, where the government is accused of attacking democratic institutions
Poland's government has similar stances to Mr Trump on an array of issues including immigration, global warming and coal mining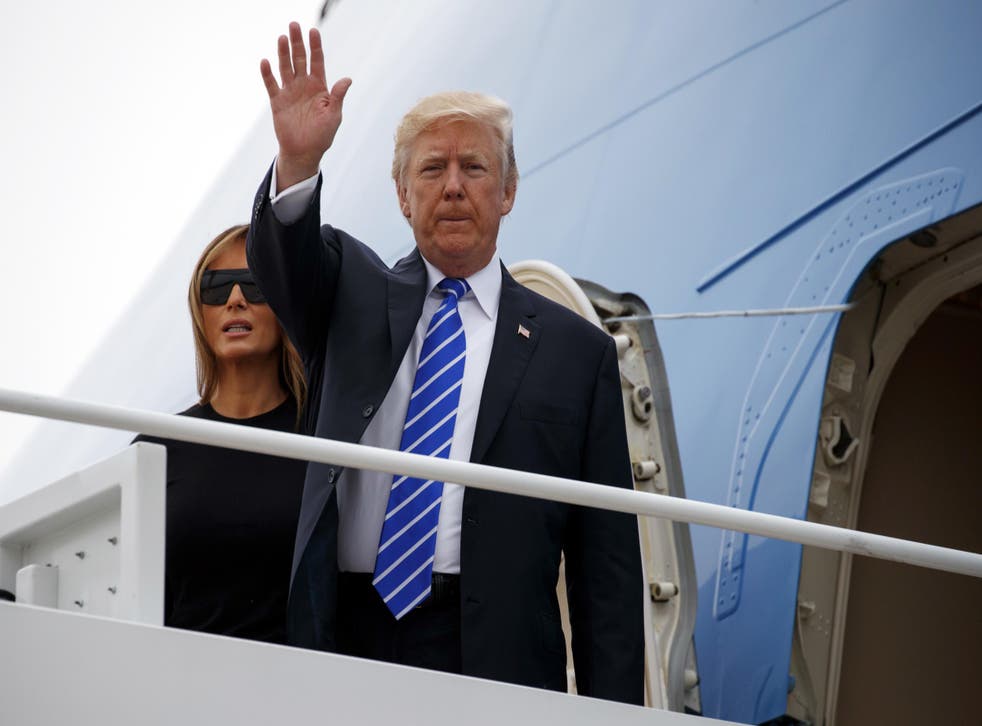 Donald Trump begins his second trip as US President in Poland, a visit viewed by some as an endorsement – implicit or otherwise – of the right-tilting, populist government there that has been criticised by its EU partners for displays of seemingly light authoritarianism.
Poland's government – run by the conservative, Eurosceptic Law and Justice Party – has similar stances to Mr Trump on an array of issues including immigration, global warming and coal mining.
The country is also one of only four Nato members other than the US that spends the 2 per cent target of GDP on defence, which could elicit praise from the US President, who during his last trip to Europe chided allies for "still not paying what they should be paying".
Mr Trump will meet on Thursday with Poland's President Andrzej Duda before attending a session of the Three Seas Initiative Summit, a gathering of Central European leaders.
Mr Trump will deliver what the White House is describing as a major speech in Krasinski Square, the epicenter of the Warsaw Uprising that aimed to liberate the city from Nazi occupation – a failed undertaking during World War II that resulted in the death of approximately 200,000 Poles.
"He will praise Polish courage throughout history's darkest hour, and celebrate Poland's emergence as a European power," said HR McMaster, Mr Trump's national security adviser, during a White House briefing last week.
"He will lay out a vision, not only for America's future relationship with Europe, but the future of our trans-Atlantic alliance and what that means for American security and American prosperity," Mr McMaster said.
Activists protest Donald Trump's proposed Muslim ban

Show all 11
While Mr Trump is expected to be more coldly received in western European capitals, the Polish government has expressed excitement about the President's stop in Warsaw – with defence minister Antoni Macierewicz saying the visit shows "how much Poland's place in geopolitics and world politics has changed".
But there is unease in Brussels that Mr Trump's visit to Warsaw could deepen divisions between eastern and western countries in Europe.
Gianni Pitella, leader of the socialist bloc in the European parliament, said: "After a few months of his presidency, Trump has already jeopardised the Paris agreement on the climate change, endangered the EU-US and Nato relationships, and now he risks blowing up the already very delicate situation in Poland and eastern Europe."
Observers will be watching to see if Mr Trump during his visit addresses EU members' concerns that the governing Law and Justice Party is attempting to gain more power through moves to bring the media and courts under its control.
If Mr Trump does not call out Poland for what EU institutions have deemed to be attacks on democratic institutions, he could potentially embolden leaders such as Hungary's Prime Minister Viktor Orban, experts say, who has also been criticised for exhibiting signs of light authoritarianism.
Since becoming the governing party in 2015, Law and Justice has been accused of eroding the independence of the Constitutional Tribunal – the judicial body in charge of resolving disputes over the constitutionality of the activities of state institutions – politicising the appointment of prosecutors, and turning public media into a mouthpiece for the party.
The Polish government has also refused to accept migrants under quotas agreed to by its pro-European predecessor – an effort that Mr Trump is expected to endorse.
After the Manchester terrorist attack in May, which Isis claimed responsibility for, Poland's Prime Minister Beata Szydło decried the "madness of the Brussels elite" who wanted to create a "utopia of open borders". Mr Trump has also expressed opposition to the concept of open borders, signing an executive order – portions of which have now gone into effect – barring immigrants from multiple majority-Muslim nations from entering the US.
Mr Trump's stop in Warsaw could also be seen as a slight to more powerful western allies. He has yet to make visits as President to France and Germany – which have both rebuked the US leader's recent decision to withdraw from the Paris climate accord.
Jaroslaw Kaczynski, the head of the Law and Justice Party, said in a speech last week that Poland has "a new success, Trump's visit," which is causing other European countries to "envy" Poland.
After leaving Warsaw, Mr Trump will head to Hamburg, Germany for a two-day summit with 20 global leaders, including Russian President Vladimir Putin and German Chancellor Angela Merkel.
Ms Merkel has already set herself up for a possible showdown with Mr Trump, predicting that they will have "very difficult talks" about climate change and trade.
Join our new commenting forum
Join thought-provoking conversations, follow other Independent readers and see their replies