Donald Trump reaches another new record-low job approval rating, new poll finds
He still has a 79 per cent approval rating from Republicans 
Mythili Sampathkumar
New York
Friday 17 November 2017 20:18 Comments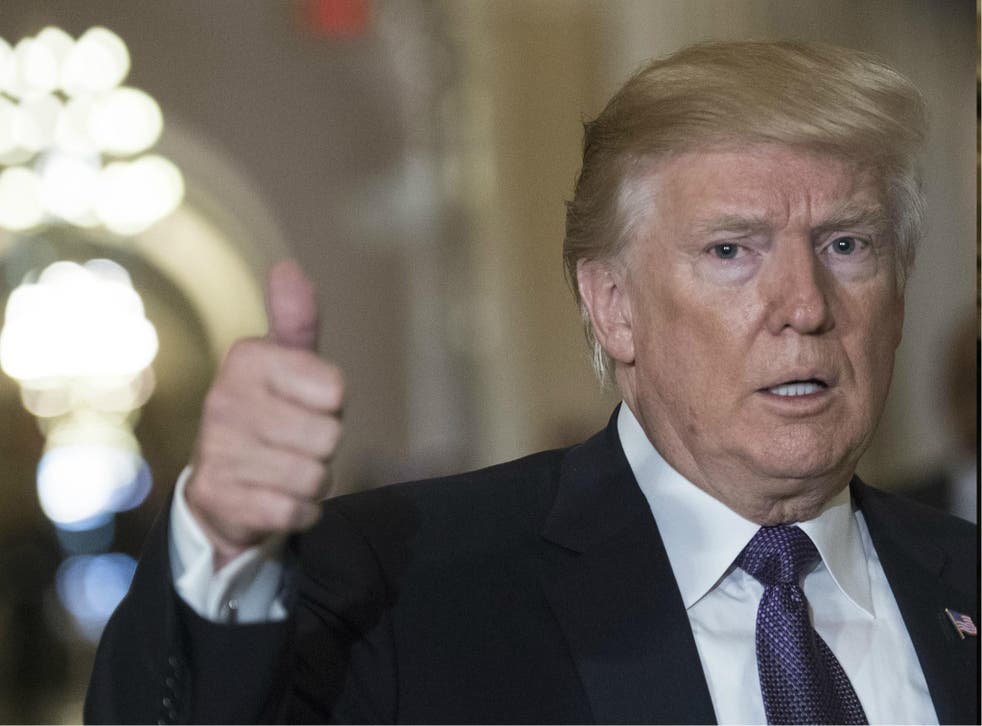 US President Donald Trump's job approval rating has reached a new record low.
His rating had been in decline for three consecutive months before hitting just 41 per cent, according to the Harvard CAPS-Harris Poll.
The survey, a collaborative effort of the Center for American Political Studies at the university and The Harris Poll firm, contained a slew of questions on the ongoing Russia investigations, Republicans' proposed tax reform bill, and Mr Trump's recent 12-day Asia tour.
Fifty-nine percent of Americans disapprove of the job the President is doing.
Mr Trump's previous low approval rating was 42 per cent from October just ahead of the first anniversary of his stunning election victory.
The Harvard poll is a higher approval than others have given the President.
For instance, RealClear Politics averaged all polls and determined Mr Trump's rating was just 38 per cent for the same time period.
Pentagon retweets post calling on Trump to resign
But, the Harvard poll also illustrated how Mr Trump continues to appeal to his base of voters; 79 per cent of self-identified Republicans and an overwhelming 86 per cent of those who voted for him approve of the job he has done since 20 January.
Almost all African-Americans and Hillary Clinton supporters surveyed said they did not approve of the President's policies and demeanor thus far.
Mr Trump scored well on terrorism and economy, but his foreign affairs, immigration, and overall administration of the federal government were what dragged his numbers very low.
However, the Republican party as a whole fared far worse than Mr Trump in the poll.
World news in pictures

Show all 50
Only 28 per cent of voters approved of the job the GOP has been doing.
Even among Republicans just over half - or 52 per cent - accepted the job of their own party as satisfactory.
As The Hill newspaper reported, "a majority of voters, 58 percent, say the country is on the wrong track. There is optimism on the economy, however, with 45 percent saying it is on the right track compared to 37 percent who say it is headed the wrong way."
Though the President has taken to wax poetic on Twitter regarding a number of topics, particularly the "fake news," a vast majority of voters - to the tune of 76 per cent - feel he should stop tweeting.
That included 59 per cent of Republicans.
The Congressional and FBI investigations into the Trump campaign team's alleged collusion with Russia during the election was another issue voters on both sides of the aisle tended to agree.
Sixty-four per cent of all voters - including 53 per cent of Democrats - feel the investigations are "hurting the country," The Hill reported.
Register for free to continue reading
Registration is a free and easy way to support our truly independent journalism
By registering, you will also enjoy limited access to Premium articles, exclusive newsletters, commenting, and virtual events with our leading journalists
Already have an account? sign in
Join our new commenting forum
Join thought-provoking conversations, follow other Independent readers and see their replies