Donald Trump's approval rating hits another record low
Trump is the least popular US President since Ronald Reagan, a new poll shows
Emily Shugerman
New York
Friday 08 December 2017 16:34 Comments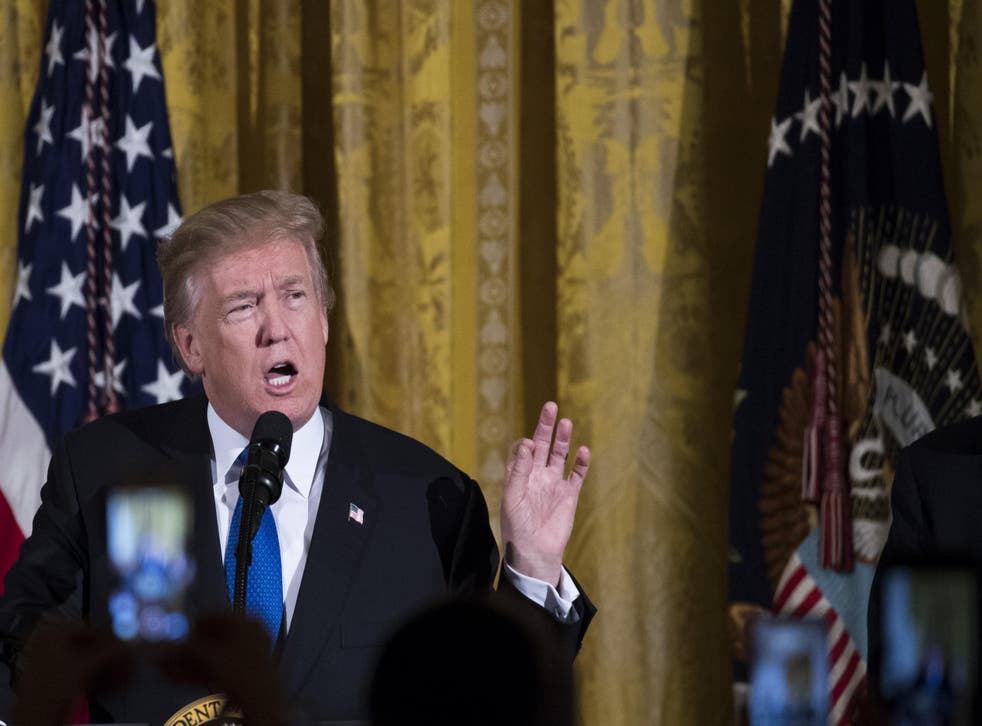 Donald Trump is the least popular US President in nearly 40 years, a new poll has shown.
A Pew Research Centre poll found Mr Trump's job approval rating has hit 32 per cent – lower than any US President dating back to Ronald Reagan. His approval rating has been in a steady decline since taking office, even among groups who previously professed high levels of support for him.
About three-quarters of Republicans, and voters who lean Republican, approve of how Mr Trump is handling his job today. Nearly 85 per cent approved of it in February. Almost half of all white voters approved of his job performance that month, compared to 41 per cent now. And even among white evangelical voters – 78 per cent of whom approved of his job performance in February – only 61 per cent approve of it now.
Still, Mr Trump's approval rating among Republicans remains consistent with those of past Republican Presidents. His approval rating among Democrats remains strikingly low – 7 per cent now, compared to 8 per cent in February. His approval rating remains low among Black and Latino voters as well.
Among those who approve of the President, more than a quarter say they have been disappointed by his personal style in office. Fourteen percent say they disapproved of his use of social media, while the same percentage said they disapproved of his behaviour or speech. Thirteen percent said they disapproved of some aspect of his policies.
Donald Trump's least presidential moments so far...

Show all 30
A number of prominent Republicans have spoken out against Mr Trump's personal behaviour, from his use of Twitter to his comments about women. More than three dozen Republicans, for example, called on Mr Trump to step aside following the release of the Access Hollywood tape, in which he bragged about sexually assaulting women. Senior Republicans such as Bob Corker and John McCain have taken him to task for his more inflammatory tweets.
The vast majority of Republicans in Congress, however, have voted in line with Mr Trump's policy positions more than 90 per cent of the time.
The Pew Research Centre poll was conducted between 29 November and 4 December – around the time Mr Trump's former national security adviser Michael Flynn pleaded guilty to lying to the FBI about his contacts with a Russian ambassador. The research centre surveyed 1,503 adults regarding their opinion on the Russia investigation, and Mr Trump's job performance on the whole.
Register for free to continue reading
Registration is a free and easy way to support our truly independent journalism
By registering, you will also enjoy limited access to Premium articles, exclusive newsletters, commenting, and virtual events with our leading journalists
Already have an account? sign in
Join our new commenting forum
Join thought-provoking conversations, follow other Independent readers and see their replies