Trump-Ukraine scandal: House subpoenas Pompeo as part of impeachment inquiry
House foreign affairs committee demands documents and says it wants to hear from five senior officials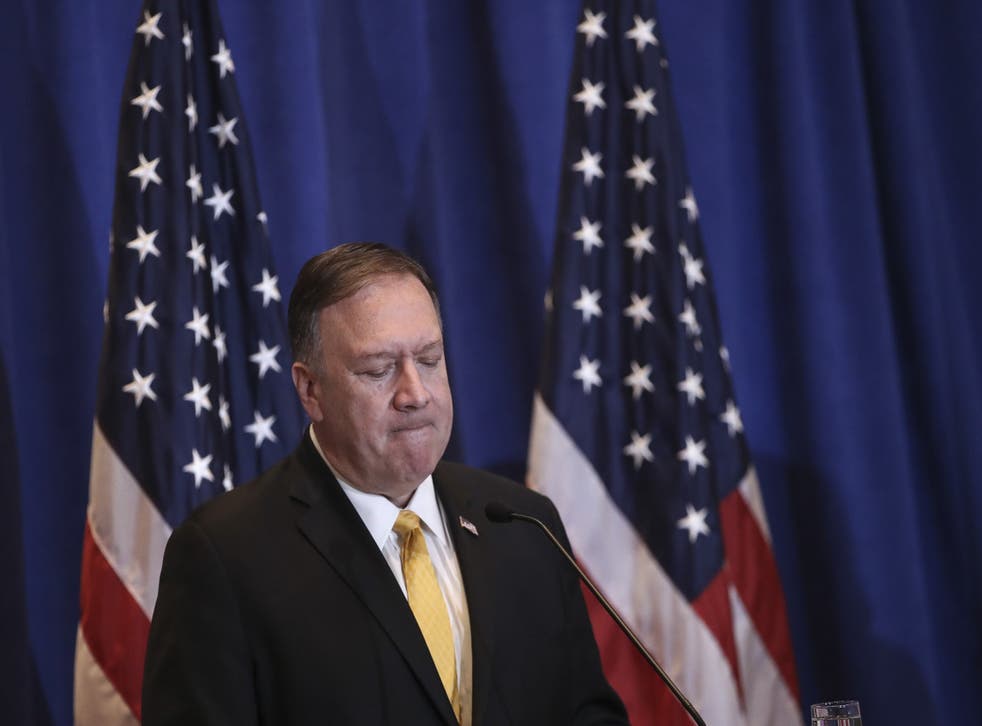 Mike Pompeo, the US secretary of state, has reportedly been subpoenaed by a congressional committee for documents related to Donald Trump's interactions with his Ukrainian counterpart.
The demand, by the Democrat-controlled House committee on foreign affairs, comes as part of the impeachment process against the president.
The committee set a 4 October deadline for Mr Pompeo to produce the documents, including some that politicians have been seeking for weeks.
It has also said it wants to hear from five state department officials, including former Nato ambassador Kurt Volker, the special envoy to Ukraine, who reportedly arranged for Mr Trump's personal lawyer, Rudy Giuliani, to meet Ukrainian officials.
Marie Yovanovitch, the former US ambassador to Ukraine who was recalled after apparently falling foul of Mr Giuliani's efforts to find dirt on Mr Trump's political enemies, will also be required to give evidence.
World news in pictures

Show all 50
Impeachment proceedings were announced this week following revelations about a phone call between Mr Trump and Volodymyr Zelensky, the president of Ukraine.
Mr Trump is accused of abusing his power by trying to pressure a foreign country to interfere in the 2020 elections.
After discussing US military aid to Ukraine, which had suddenly been withheld, and complaining that the former Soviet republic does not do enough for the US, Mr Trump said "I would like you to do us a favour, though".
He then urges Mr Zelensky to investigate Joe Biden, the Democratic frontrunner, and his son Hunter Biden, who had had business dealings in Ukraine.
In the phone call, Mr Trump tells Mr Zelensky to talk to Mr Giuliani and to William Barr, the attorney-general, about the matter.
According to an official complaint about Mr Trump's phone call by an unidentified US intelligence official, Ms Yovanovitch was removed from her post as US ambassador to Ukraine after becoming what Mr Giuliani called "part of the efforts against the president".
She was also mentioned in the phone call with Mr Zelensky, where Mr Trump calls her "the woman" and "bad news", before adding: "Well, she's going to go through some things."
Earlier, the White House admitted moving details of the telephone call to a classified server, according to CNN.
Support free-thinking journalism and attend Independent events
The admission appears to back up one of the claims made by the whistleblower about efforts to conceal evidence of the controversial call, which led to an impeachment investigation against the president.
In a statement to CNN, a White House official said staff had been directed by National Security Council lawyers to move records of the call to a server usually used to store classified information. They said: "NSC lawyers directed that the classified document be handled appropriately."
Join our new commenting forum
Join thought-provoking conversations, follow other Independent readers and see their replies