Trump insists supporters 'far out-number' protesters as he heads for 40th day of presidency on golf course
Visit comes as Trump course hosts US Women's Open, with critics claiming Mr Trump is using the presidency to bolster his properties' profiles
Chris Stevenson
Sunday 16 July 2017 15:49 Comments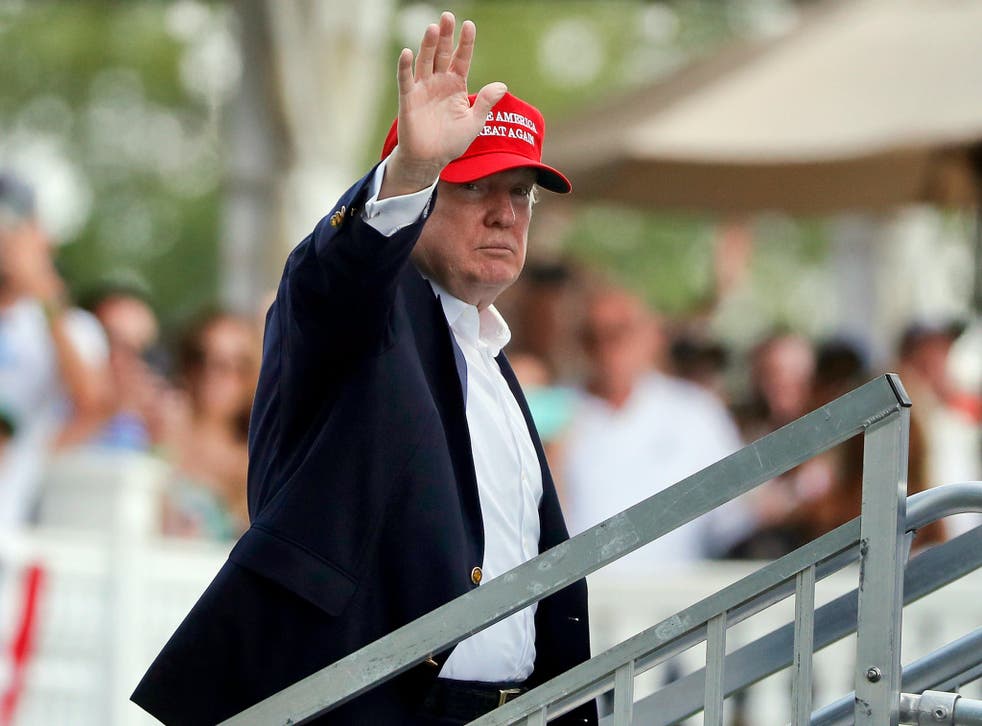 Donald Trump has insisted the his supporters "far out-numbered" protesters during a visit to the US Women's Open at the Trump National Golf Course in Bedminster in New Jersey - with the President also set to watch the final round on Sunday.
Mr Trump has spent numerous weekends visiting his own properties and golf courses, raising alarms from ethics experts and critics who say he is using the presidency to bolster his properties' profiles and enrich himself.
In fact, the two visits mean that the President has spent 40 days of his presidency at a golf course, with a total of 54 days at Trump properties.
Mr Trump said it was "very cool" to see all the support for him at the Bedminster course. Mr Trump spent the afternoon watching the tournament on television, chatting with competing golfers and club managers, posing for photos and flashing thumbs-up signs to spectators who gathered to catch a glimpse of their president in the flesh. The loud crowd that gathered to watch him at times distracted the golfers playing nearby, with club staff urging fans trying to win Trump's attention to be quiet during play.
"We love you, Donald!" they shouted, as he made his way into an enclosed viewing area with large windows looking out onto the course.
"It's just a fun experience," Tom Palmer, 28, of Philadelphia told the Associated Press. "He's enjoying," he said of the president, "so it's fun to be around."
Donald Trump's international Presidential trips

Show all 22
Outside the club's gates, dozens of protesters and supporters waved competing flags and banners near where the president has a residence at the club, which sits on more than 600 acres (243 hectares) of rolling hills amid farmland.
"America Lost Putin Won," read one sign — a nod to the intensifying inquiries into Russia's meddling in the 2016 election and potential collusion between Moscow and Trump campaign aides. The White House has denied such allegations.
The anti-sexism group UltraViolet is planning a rally on Sunday to protest the United States Golf Association's decision to stage the biggest women's tournament of the year at a course owned by Mr Trump because of his past lewd comments about women.
Agencies contributed to this report
Register for free to continue reading
Registration is a free and easy way to support our truly independent journalism
By registering, you will also enjoy limited access to Premium articles, exclusive newsletters, commenting, and virtual events with our leading journalists
Already have an account? sign in
Register for free to continue reading
Registration is a free and easy way to support our truly independent journalism
By registering, you will also enjoy limited access to Premium articles, exclusive newsletters, commenting, and virtual events with our leading journalists
Already have an account? sign in
Join our new commenting forum
Join thought-provoking conversations, follow other Independent readers and see their replies