San Juan mayor calls Trump's State of the Union address an 'utter statement of hypocrisy' over Puerto Rico remarks
She has been very critical of Mr Trump and his response to the devastation in Puerto Rico
Clark Mindock
New York
Thursday 01 February 2018 20:38 Comments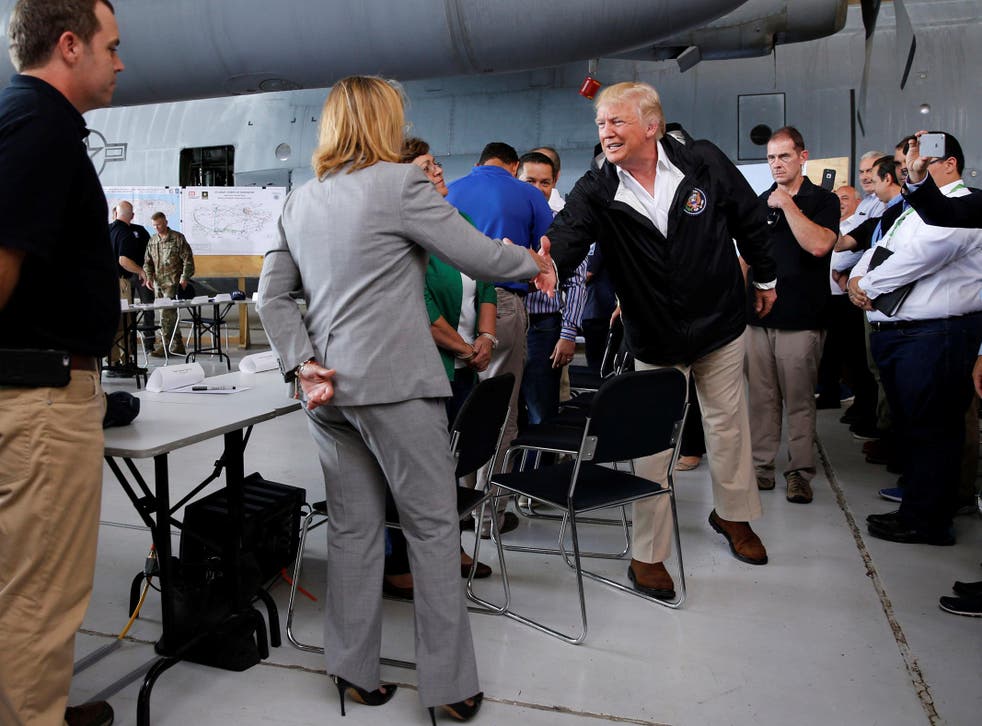 The mayor of San Juan says President Donald Trump's comments about hurricane recovery during his State of the Union speech this week were "hypocrisy".
Mayor Carmen Yulín Cruz, who attended the speech, has been highly critical of Mr Trump and his administration's handling of the crisis her city and island have endured.
"To everyone still recovering in Texas, Florida, Louisiana, Puerto Rico, the Virgin Islands, California and everywhere else — we are with you, we love you, and we will pull through together," Mr Trump said Tuesday night.
Less than 24 hours later, however, the Federal Emergency Management Agency — which has spent $1.6 billion on food and another $361 million on water to help victims of Hurricane Maria in the past four months — suspended operations on the island.
"The President has not been with the people of Puerto Rico," Ms Cruz said on CNN, before adding that Mr Trump's address was an "utter statement of hypocrisy".
"Thirty-five per cent of our people do not have electricity. Our children are going to school only part time. Half a million homes are totally disrupted, either need to be rebuilt completely or need to have their roof put back on," Ms Cruz said, referring to the extensive damage the hurricane season brought to her island.
Bringing aid to Puerto Rico

Show all 20
Roughly 3 million Puerto Ricans needed assistance immediately after those storms. Power line infrastructure was devastated across the island, leading to a blackout throughout the island. Drinking water was scarce, and residents relied on bottled water and other forms of aide.
The island still has nearly half a million people living without power, and some people still rely on bottled water. Many residents have still been unable to return to work, and have been forced to rely on unemployment insurance paid out by the federal government.
"The situation in Puerto Rico is improved to the extent that most grocery stores are open and accessible, transportation systems are operable, and gasoline stations are operable, as are banks and ATM machines," a FEMA spokesperson said in response to questions about the agency's decision to pull operations.
The spokesperson said that the agency would continue to address documented issues on the island, but that its primary responsibilities had been met.
Register for free to continue reading
Registration is a free and easy way to support our truly independent journalism
By registering, you will also enjoy limited access to Premium articles, exclusive newsletters, commenting, and virtual events with our leading journalists
Already have an account? sign in
Join our new commenting forum
Join thought-provoking conversations, follow other Independent readers and see their replies