Donald Trump uses 'Spanish' accent to pronounce 'Puerto Rico' three times at Hispanic heritage event
'We love Puerto Rico. Puerto Rico,' the President says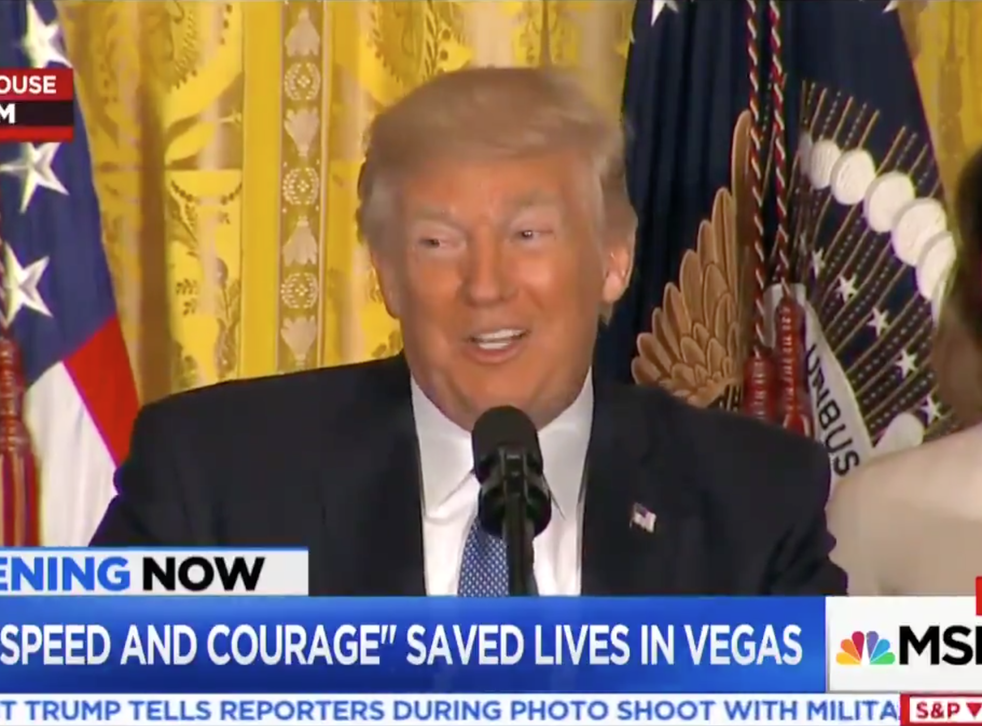 President Donald Trump repeatedly used an exaggerated Spanish accent to pronounce "Puerto Rico" in his speech to a Hispanic Heritage Month event.
"We are also praying for the people of Puerto Rico," Mr Trump told the crowd, dragging out the vowels into a caricature of the Spanish pronunciation. "We love Puerto Rico. Puerto Rico."
"And we also love Puerto Rico," he added, in his usual accent.
The crowd gathered at the White House included representatives from more than 200 Hispanic businesses, community groups, and faith groups. Some audience members cheered at the comments.
"We love you!" one crowd member yelled.
The comments marked a stark departure from the President's earlier statements about Puerto Rico, which was devastated by a Category 4 hurricane two weeks earlier. Thirty-four people died as a result of the storm, and the majority of the island remains without power.
Mr Trump visited the US territory earlier this week to meet with Puerto Rican officials. While there, he joked that recovery costs had "thrown our budget a little of whack," and encouraged leaders to compare the death toll to "a real catastrophe like [Hurricane] Katrina".
Afterward, several Puerto Ricans accused the President of treating them "like animals".
"He arrives with a smile on his face, makes fun of the situation, shows no empathy, lies and lies on camera as he does 24/7," Joel Isaac told the Toronto Star. "And then throws paper towel rolls to people in need as if he was playing Go Fetch with dogs."
Donald Trump's least presidential moments so far...

Show all 30
The President also engaged in a bitter war of words with the mayor of San Juan, Carmen Yulín Cruz. Before the trip, Ms Cruz had begged the federal government for more aid, warning them that people on the island were dying. Mr Trump responded by insulting the mayor via Twitter.
"Such poor leadership ability by the Mayor of San Juan, and others in Puerto Rico, who are not able to get their workers to help," he wrote. "They want everything to be done for them when it should be a community effort."
On Thursday, however, Mr Trump assured the Hispanic Heritage Month crowd that his administration was "marshalling every federal resource at our disposal" to help in the relief effort.
"We will not rest until that job is done," he said. "...We will be there all the time to help Puerto Rico recover, restore, rebuild."
Later, he told the young Hispanic Americans in the crowd that there is "no dream beyond your reach". The President had recently ended a programme giving protections to childhood immigrants – often called "Dreamers".
Join our new commenting forum
Join thought-provoking conversations, follow other Independent readers and see their replies