Donald Trump and Vladimir Putin hold hour-long phone call on foreign affairs
Their call came a day after Mr Putin met with Syrian President Bashar al-Assad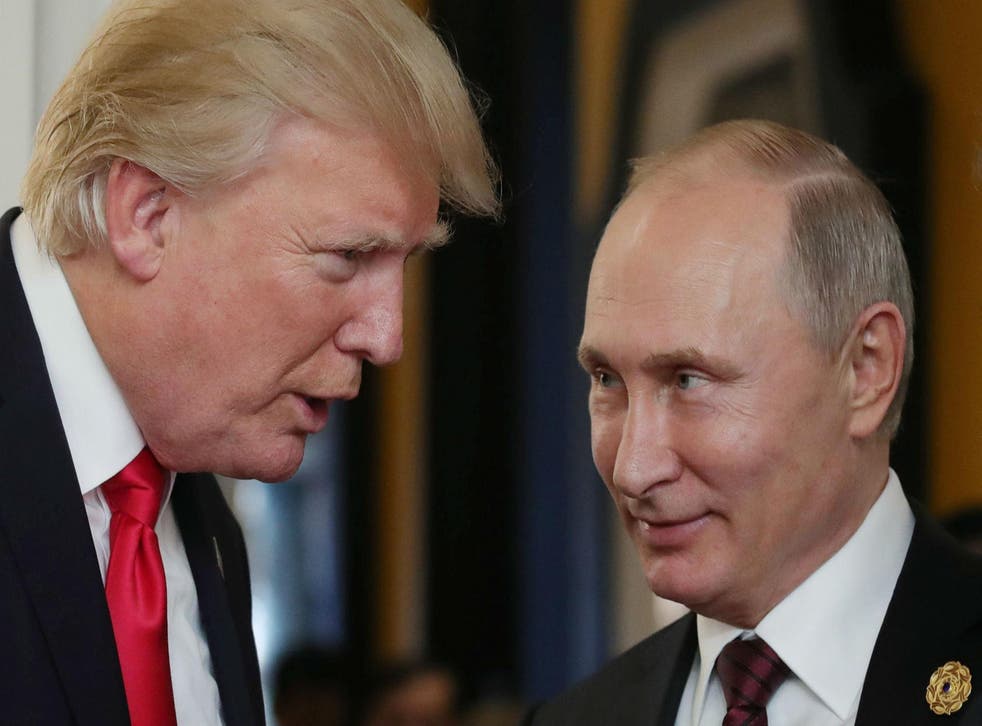 Donald Trump has spoken on the phone with Russian President Vladimir Putin to discuss issues involving Syria, Iran, North Korea and Ukraine, the White House has said.
Mr Trump and Mr Putin spoke informally multiple times last week at a summit in Vietnam, where they reportedly agreed on several principles for the future of war-torn Syria.
Mr Trump's more that one-hour phone call with Mr Putin comes a day after the Russian president met with Syrian President Bashar al-Assad. Mr Putin hosted Mr Assad at a Black Sea resort ahead of a summit later this week with Russia, Turkey and Iran.
The Kremlin has said that Russia is trying to get Mr Assad to agree to potential peace initiatives drafted by Russia, Iran and Turkey.
Russia has been one of the Assad regime's chief allies in a six-year civil war. Meanwhile, the US has backed anti-Assad rebels.
"Mission nearly accomplished" was Mr Putin's message following the surprise meeting in Sochi.
"We're still a long way off fully defeating terrorism," the Russian President is ascribed as saying. "But as far as concerns our work… on Syrian territory, the military operation is coming to an end."
Mr Trump's relationship with Mr Putin has received considerable scrutiny. The US President's campaign advisers are currently facing several investigations into whether they colluded with the Russian government. Last week, Mr Trump was criticised for saying he believes Mr Putin's denials that Russia meddled in the 2016 election, seeming to contradict the conclusions of his own US intelligence agencies.
The biggest names involved in the Trump-Russia investigation

Show all 17
But when asked later to clarify his comments, Mr Trump said: "I believe that he feels that he and Russia did not meddle in the election. As to whether I believe it or not, I am with our agencies, especially as currently constituted with the leadership," Trump said during a joint press briefing in Hanoi, Vietnam.
He continued: "I believe that our intel agencies, our intelligence agencies, I work with them very strongly ... As currently led, by fine people, I believe very much in our intelligence agencies."
Mr Trump has said the issue over election meddling is not worth debating when the two leaders have other security matters they need to deal with.
"When will all the haters and fools out there realize that having a good relationship with Russia is a good thing, not a bad thing," Mr Trump tweeted. "There always playing politics - bad for our country. I want to solve North Korea, Syria, Ukraine, terrorism, and Russia can greatly help!"
Also on Tuesday, China called for extra efforts to resolve the North Korean nuclear crisis through talks.
Join our new commenting forum
Join thought-provoking conversations, follow other Independent readers and see their replies