Donald Trump and Vladimir Putin collude on trade, Syria and cyber-security in G20 meeting
The meeting was only scheduled for 30 minutes – it went on for more than two hours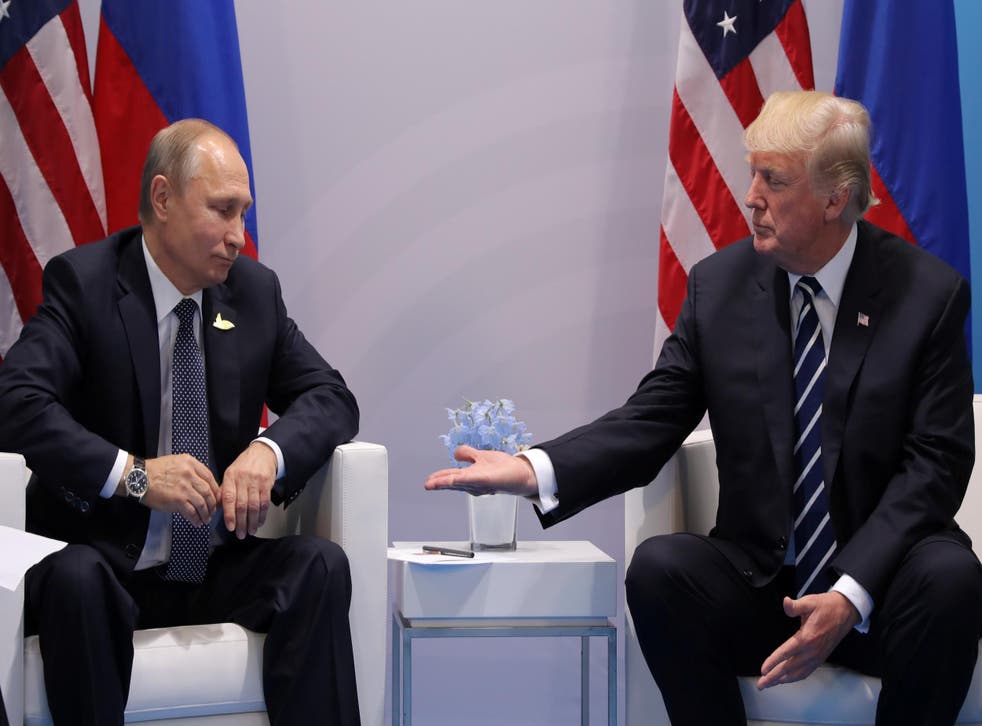 The leaders of the US and Russia both claimed a political victory after their first meeting, as the two sides appeared to have brokered a potentially meaningful ceasefire in part of Syria – a surprise development few had anticipated.
The Trump administration claimed the US President had, from the start of a meeting that lasted two hours and sixteen minutes, pressed Vladimir Putin in a "very robust and lengthy exchange" over Russia's alleged interference in the US election. Russia then claimed Mr Trump accepted Mr Putin's assurance that it had not. That in turn, was then denied by a US official.
Alongside the different versions of the much-anticipated encounter between the leaders of the world's two most heavily armed nuclear powers, it appeared the two sides had managed to pull out something of genuine value – a ceasefire in south-west Syria that would be guaranteed by Russia, the US and Jordan.
US Secretary of State Rex Tillerson, who along with Russian foreign minister Sergei Lavrov and the leaders' translators were the only other people permitted in the room, said there had been "positive chemistry" between the two presidents.
For more than a decade, the relationship between the two countries has been nothing less than tense. In Syria, the US and Russia have taken different sides in a civil conflict that has in many ways become a proxy war.
Yet, Mr Tillerson said Russia, an ally of Syrian President Bashar al-Assad, had an interest in seeing stability there. Though Mr Tillerson said details about the ceasefire need to be worked out, Mr Lavrov said Russian military police would oversee it, with a monitoring centre set up in Jordan.
Mr Tillerson said the understanding is designed to reduce violence in an area of Syria near Jordan's border and which is critical to the US ally's security. Jordan's Petra news agency said it would go into effect on Sunday.
He called the area a "very complicated part of the Syrian battlefield" but said the deal "is our first indication of the US and Russia being able to work together in Syria".
Moscow has staunchly backed Mr Assad, supporting the Syrian militarily since 2015. Washington has backed rebels fighting the regime of Mr Assad. However, both the US and Russia have declared their opposition to Isis and claim they are focused on rooting out the extremist group.
But, previous ceasefires during Syria's six-year civil war have proved fruitless, with one party or another breaching them and leaving little lasting impact.
It was not immediately clear exactly which areas of southwestern Syria would be covered by the upcoming ceasefire but earlier talks between the United States and Russia about a "de-escalation zone" covered Deraa province, on the border with Jordan, and Quneitra, which borders the Israeli-occupied Golan Heights.
Sir Michael Fallon, the UK Defence Secretary, said that while he welcomed any ceasefire in Syria he wanted to see results on the ground.
"The recent history of the Syrian civil war is littered with ceasefires and it would be nice ... one day to have a ceasefire," Mr Fallon said at an event in Washington.
"None of these have turned out to be ceasefires, they have been broken persistently, broken by the regime and indeed broken by Russian activity itself. So... we welcome any ceasefire, but let's see it, let's see the results on the ground," he said.
On the domestic front, Mr Trump's decision to confront Mr Putin over Russia's alleged interference in the US election, will only help him at home in Washington. Much of the US President's term has been taken up fighting off allegations that his campaign team colluded with Moscow to tilt the contest in his favour.
Trump meets Putin for first time since winning presidency
Several probes into the issue are underway on Capitol Hill, while a special prosecutor, Robert Mueller, is leading a federal investigation into possible collusion and whether Mr Trump may have obstructed justice.
Mr Tillerson said the US President pressed Mr Putin on more than one occasion regarding Russian involvement in the US election. He said the Russians had asked for "proof and evidence" of its involvement.
"The two leaders agreed that this is a substantial hindrance in the ability of us to move the Russian-US relationship forward," he said.
World news in pictures

Show all 50
"I think the President is rightly focused on how do we move forward from something that may be an intractable disagreement at this point."
A day earlier, speaking in Poland, Mr Trump had said Russia probably meddled in the election but said that other countries likely did as well.
Earlier, the US President had spoken to reporters as he and Mr Putin posed for photographs before their discussions.
"President Putin and I have been discussing various things, and I think it's going very well," said Mr Trump. "We look forward to a lot of very positive happenings for Russia and for the United States, and for everyone concerned."
For his part, Mr Putin said he was happy to be able to meet Mr Trump in person.
"We spoke over the phone but phone conversations are never enough, definitely," he said. "I hope that, as you have said, our meetings will yield positive results."
Join our new commenting forum
Join thought-provoking conversations, follow other Independent readers and see their replies