Top Rabbis cancel annual call with Trump over his Charlottesville response
The President's statements during and after the events in Charlottesville lacked 'moral leadership and empathy', rabbinical groups wrote
Alexandra Wilts
Washington DC
Wednesday 23 August 2017 21:24 Comments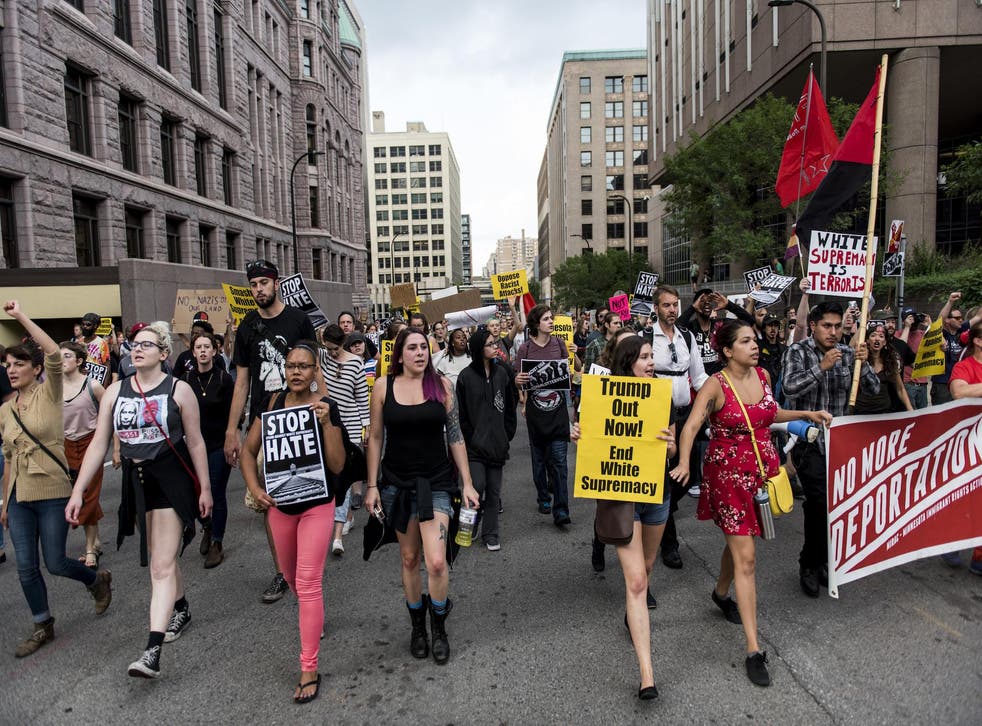 Top US rabbis are breaking with tradition, saying they will not organise their annual conference call with the President ahead of the Jewish High Holidays because of Donald Trump's response to violence in Charlottesville.
"We have concluded that President Trump's statements during and after the tragic events in Charlottesville are so lacking in moral leadership and empathy for the victims of racial and religious hatred that we cannot organize such a call this year," rabbinical groups wrote in a joint statement.
The groups that issued the decision represent the Reform Jewish Movement, the Reconstructionist Movement and the Conservative Movement.
"The president's words have given succor to those who advocate anti-Semitism, racism, and xenophobia," they wrote. "Responsibility for the violence that occurred in Charlottesville, including the death of Heather Heyer, does not lie with many sides but with one side: the Nazis, alt-right and white supremacists who brought their hate to a peaceful community. They must be roundly condemned at all levels."
White nationalist demonstrators earlier this month descended on Charlottesville to protest the removal of a Confederate statue. The rally, met by counter-protests, quickly became violent – prompting the governor to declare a 'state of emergency'.
Violence on the streets of Charlottesville

Show all 9
Mr Trump has received widespread bipartisan criticism for his comments insisting that white supremacists, neo-Nazis and other hate groups did not deserve 100 per cent of the blame for the violence that resulted in the death of 32-year-old Heather Heyer.
Tuesday night at a rally in Phoenix, Mr Trump read out portions of his three statements regarding Charlottesville and maintained that he had adequately condemned white supremacists. However, he left out his most controversial lines in which he said there was blame for the violence "on all sides".
Many still believe the president wasn't forceful enough in his denunciation of hate groups, further evidenced by the rabbis' refusal to participate in a call with Mr Trump to mark the upcoming Jewish holidays Rosh Hashanah, the Jewish new year – beginning 20 September – and Yom Kippur, starting 29 September.
US rabbis had organised a call to speak with Mr Trump's predecessor Barack Obama each year of his presidency, according to the Washington Post.
Register for free to continue reading
Registration is a free and easy way to support our truly independent journalism
By registering, you will also enjoy limited access to Premium articles, exclusive newsletters, commenting, and virtual events with our leading journalists
Already have an account? sign in
Join our new commenting forum
Join thought-provoking conversations, follow other Independent readers and see their replies