Trump supporters chant 'send her back' after president attacks Ilhan Omar
Most Americans think Trump's tweets are racist and un-American, poll shows
US president remains unrepentant over bigoted tirade and says he does not have 'racist bone' in his body 
The majority of Americans think Donald Trump's recent tweets attacking four Democratic congresswomen of colour are racist and un-American, a poll has found.
It comes after a separate poll found the US president's approval rating rose among Republicans after the US president told the congresswomen to "go back" to where they came from.
While Mr Trump did not name the targets of his attack, the context of his tweet made it clear it was aimed at a group of four progressive Democratic women of colour – Ilhan Omar, Alexandria Ocasio-Cortez, Rashida Tlaib and Ayanna Pressley.
However, the latest survey – conducted on Monday and Tuesday – showed that overall American people condemned the US president's bigoted tirade.
The USA Today/Ipsos poll published on Wednesday showed more than two-thirds of Americans, 68 per cent, said they found the president's tweets "offensive".
Trump 2020 launch: Fascist Proud Boys, baby blimps and Uncle Sam

Show all 30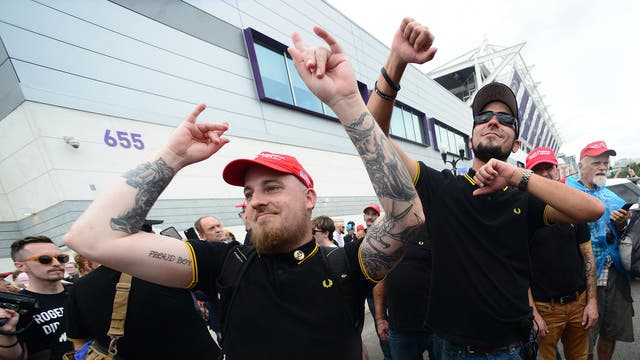 Of those surveyed, 65 cent said they found Mr Trump's remarks "racist". However, this rose to 85 per cent among Democrats, compared to 45 per cent of Republicans.
Over half, 59 per cent, agreed that telling congresswoman to "go back" to the countries they came from is "un-American". This rose to 88 per cent among Democrats and dropped to 25 per cent among Republicans.
Cliff Young, president of Ipsos Public Affairs, said: "There's a huge partisan difference in how we interpret what's racist in this country."
A separate Reuters/Ipsos poll found Mr Trump's net approval rating with Republican voters climbed 5 per cent points to 72 per cent following his racist tirade, compared with the equivalent poll from last week.
But his net approval dropped by 2 points among Democrats in the poll.
Mr Trump's overall approval remained unchanged over the past week. According to the poll, 41 per cent of the American public said they approved of his performance in office, while 55 per cent disapproved.
The US president has remained unrepentant over his racist Twitter tirade.
In his latest round of tweets, Mr Trump has demanded an apology from the Democratic congresswomen targeted by his bigoted comments. He also hit back after being accused of being racist, tweeting: "I don't have a Racist bone in my body!"
'How low can he go?' Kamala Harris says Donald Trump should go back to where he came from and 'leave office'
The US president doubled down on his "go back home" remarks in front of reporters in the White House, adding: "If you're not happy here, then you can leave".
The House of Representatives voted in favour of the resolution condemning Mr Trump's racist tweets on Tuesday night.
The vote was largely along partisan lines with only four Republicans backing the measure.
The USA Today/Ipsos poll was conducted online in English and gathered responses from 1,005 adults including 392 Democrats, 412 Republicans and 113 independents.
Join our new commenting forum
Join thought-provoking conversations, follow other Independent readers and see their replies