Trump threatens to 'get involved' with Justice Department and FBI - but claims Jeff Sessions' job is safe for now
President says he would 'love to see' attorney general 'do a good job' but offers no assurances over his position after November
Chris Stevenson
Friday 31 August 2018 04:06 Comments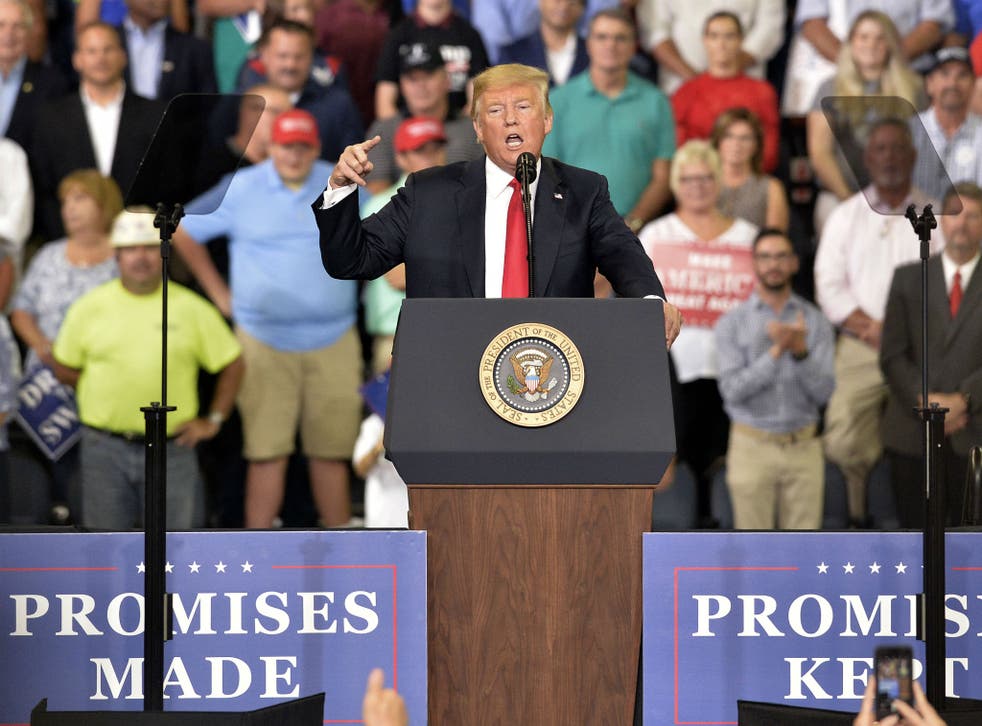 Donald Trump has vowed to "get involved" with the FBI and Justice Department if they "don't start doing their jobs right" during a raucous rally in Indiana.
The comments came as the president faces a number of changes in his legal team and amid worries from aides that Mr Trump may not be fully prepared for any fallout from Special Counsel Robert Mueller's federal investigation into Russia meddling in the 2016 presidential election and any possible collusion with Trump campaign officials.
Mr Trump has become increasing vocal about his opposition to the probe, and has never forgiven Attorney General Jeff Sessions for recusing himself from the investigation, paving the way for the appointment of Mr Mueller. Although any attempt by the president to take action against the Justice Department or the FBI will likely cause howls of protest in Congress.
Hours before the rally, Mr Trump blasted Mr Mueller's probe, which is overseen by the Justice Department, as "illegal" in an interview at the White House. While suggesting that Mr Sessions' job is safe until after crucial midterm elections in November, the president declined to say whether he would keep the attorney general in his position past that point.
"I just would love to have him do a great job," Mr Trump told Bloomberg News. "I'd love to have him look at the other side," he added, reiterating calls for Mr Sessions' Justice Department to investigate Democrat Hillary Clinton and the origins of the Russia probe.
In front of a crowd of thousands in Indiana he made his ire clear, calling the current situation a "disgrace".
Trump says he chose Sessions for his loyalty
"All I can say is our Justice Department and our FBI, at the top of each because inside they have incredible people, our Justice Department and our FBI have to start doing their job and doing it right," the president said.. "What's happening is a disgrace and at some point — I wanted to stay out — but at some point if it doesn't straighten out properly ... I will get involved."
Ms Clinton again provided the lead-in for those remarks, with Mr Trump lamenting – without citing any evidence – that his former presidential rival was not at the centre of an investigation rather than him.
Complaining that the media did not give Ms Clinton enough scrutiny, Mr Trump said: "You can have the biggest story about Hillary Clinton, I mean look at what she's getting away with and let's see if she gets away with it." The crowd responded with the now familiar chant of "lock her up" – despite Ms Clinton having not been charged with anything.
The biggest names involved in the Trump-Russia investigation

Show all 17
In the past few days Mr Trump announced that White House Counsel Don McGahn will be leaving his position, less than two weeks after reports surfaced that Mr McGahn had sate down for dozens of hours of interviews with Mr Mueller's team. That announcement followed the recent legal issues faced by two former Trump associates. Michael Cohen and Paul Manafort.
Mr Cohen, the president's long-time personal lawyer, pleaded guilty to eight counts of financial crimes, including campaign finance violations in which he implicated Mr Trump. The president denied being involved in any crime. On the same day, Mr Manafort was found guilty of eight counts of bank and tax fraud, with jurors unable to agree a verdict on 10 other counts. Both cases stemmed from Mr Mueller's investigation.
While Mr Trump has sought to distance himself from both cases, it is clear that Mr Mueller's investigation is now closer to the White House than at any other point. Next week is the 60-day-mark before the midterm elections. The Justice Department suggests that officials running investigations do not release any information after this deadline that could influence a voter's decision, although it is not a hard-and-fast rule.
Mr Trump's lead lawyer dealing with the Mueller probe, Rudy Giuliani, has called for the investigation to end by this date – but many in Washington will be watching closely to see if the special counsel is going to give the president any more headaches.
Register for free to continue reading
Registration is a free and easy way to support our truly independent journalism
By registering, you will also enjoy limited access to Premium articles, exclusive newsletters, commenting, and virtual events with our leading journalists
Already have an account? sign in
Join our new commenting forum
Join thought-provoking conversations, follow other Independent readers and see their replies