Trump muses about serving three terms: 'We may have to go for an extra term'
Trump rails against unfounded 'illegal voting' and muses about serving three terms during wild and rambling rally speech
US president addresses supporters ahead of special election Republicans are desperate to win
In a wild and at times chaotic campaign speech, Donald Trump pushed unfounded allegations about voter fraud, launched a false attack on a Democratic congressional candidate and mused about serving more than two terms as president.
Speaking to supporters in Fayetteville, North Carolina, ahead of a special election Republicans are desperate to win, Mr Trump urged people to turn out and vote for Dan Bishop, who he claimed would be tough on immigration and strong on creating jobs.
By contrast, he claimed Dan McCready, a moderate Democrat, supported sanctuary cities and open borders – claims that local media says were not borne out by the evidence.
"Bishop is going to protect your 2nd Amendment," he said, adding that "to protect your family, you must defeat open borders".
Mr Trump launched his speech by quickly goading supporters into jeering "fake news", a term the president reserves for media outlets he disapproves of.
Trump protests: President visits Texas and Ohio after mass shootings

Show all 31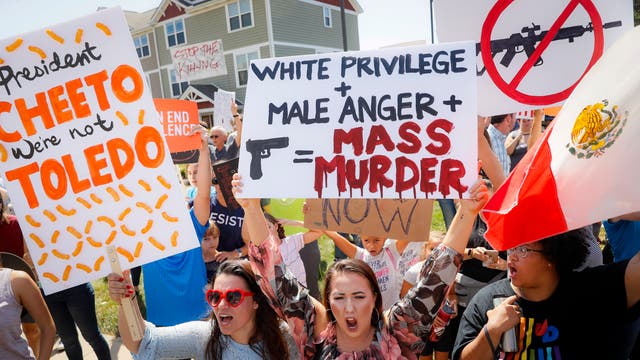 He misleadingly attacked Democrats on a range of issues, including for not being "believers in religion", for "hating" America and for facilitating mass "illegal voting" in California.
"You go to California, which has so many sanctuary cities. They don't know, what's happening out there," Mr Trump said.
"You have people that want to get rid of those sanctuary cities, they just aren't able to do it with the people that get elected. A lot of illegal voting going on out there, by the way."
Mr Trump has repeatedly claimed millions of people voted illegally in the 2016 election, in which he lost the popular vote. But the Brennan Center for Justice, a nonpartisan law and policy institute, has said voter fraud is "very rare" and that "most allegations of fraud turn out to be baseless".
The president's focus on so-called sanctuary cities, a term referring to jurisdictions which limit cooperation with federal immigration law enforcement, exaggerated the dangers posed by undocumented immigrants living within them.
"McCready supports sanctuary city policies that force prisons and jails to release criminal aliens directly into your neighbourhoods," Mr Trump said.
While true that sanctuary cities do not necessarily help federal agencies deport foreign criminals, studies have shown fewer crimes on average are committed in sanctuary cities than non-sanctuary ones.
Touting the upcoming women's World Cup, which will be hosted by America in 2026, Mr Trump mispronounced the name of FIFA president Gianni Infantino, before discussing the prospect of serving a third term, which would be unconstitutional.
Trump launches scathing but false attack on Democrat Dan McCready and 'American-hating left'
"But it's, we've got a problem. It's in 2026. Gianni Infante – who is a great guy – and we announced it in front of the press, and 2026, and I said, 'Well wait a minute, under the normal rules, I'll be out in 2024, so we may have to go for an extra term'.
"Oh they go crazy," Mr Trump continued, referring to mainstream media outlets. "Tomorrow you're going to see headlines, 'Trump wants an extra term I told you, I told you, He wants and extra term, he wants an extra term ladies and gentlemen'."
Though the president appeared to cast the idea of serving three terms as a joke, he has made similar comments with increasing frequency in recent months.
Mr Trump had travelled to North Carolina on the eve of a special election for the large 9th congressional District, which was the subject of allegations of fraud by the victorious Republican campaign in 2018, and where officials subsequently ordered a redo.
Mr Trump and vice-president Mike Pence were both there to try and assure success for Mr Bishop.
While the seat has long been held by Republicans, and while Mr Trump won North Carolina by around 12 points in 2016, Democrats hope their candidate, Mr McCready, can deliver a bloody nose, building on the party's success in the 2018 midterms and making further inroads into areas Mr Trump considers his turf.
With an eye to his own re-election next autumn, the president touted his administration's accomplishments but also urged voters to give him more time.
"That's why we need four more years," Mr Trump said at the event that stretched for 90 minutes. "It's got to seed – it's a plant. It has to grow. It has to grow those roots. That's why 2020 is just as important. Because they will try to take it away."
Opinion polling indicates a tight race, with turnout an important factor.
"It was a very close race," Mr Trump said at the White House before leaving for Fayetteville. He said he believed Mr Bishop had a good chance of winning and that the contest had become "less close" since his own involvement began about two weeks ago. The president stressed, however, that "I'm not running".
Earlier in the day, he had tweeted: "North Carolina, vote for Dan Bishop tomorrow. We need him badly in Washington! His opponent is a far left sanctuary cities supporter."
Mr McCready, a military veteran who served in the US marine corps, hit back by saying: "Actually, there's one person in this race who has kept this country secure. I signed up after 9/11 to defend us in the marines and fight the terrorists & I'm the only candidate who will stop your and Dan Bishop's cuts to Fort Bragg."
Local media said the president's claims that the Democrat supported sanctuary cities and open borders was not borne out by evidence.
The News and Observer said while Mr McCready opposed a bill that would crack down on sanctuary policies, he has not stated support for those locations that have vowed not to support the president's immigration policies.
During a debate with Mr Bishop, a staunch Trump supporter and social conservative, on how he would deal with migrant families at the border, he said: "We absolutely need a secure border. If some Democrats are saying we don't need a secure border, that's crazy. Now, I don't think we need 3,000 miles of wall to do it. I think we can use the type of surveillance technology I used over in Iraq,"
As he introduced the president, Mr Pence claimed the administration had made major differences over the last two-and-a-half years.
"President Trump promised to rebuild the military and President Trump has done that," he said. "He has made America great again. But we need another four years to keep America great."
Join our new commenting forum
Join thought-provoking conversations, follow other Independent readers and see their replies