Trump suggests reciprocal tax with trade partners to stop US being 'taken advantage of by other countries'
President returns to a trade idea he says will be more fair to America
Jeremy B. White
San Francisco
Monday 12 February 2018 20:42 Comments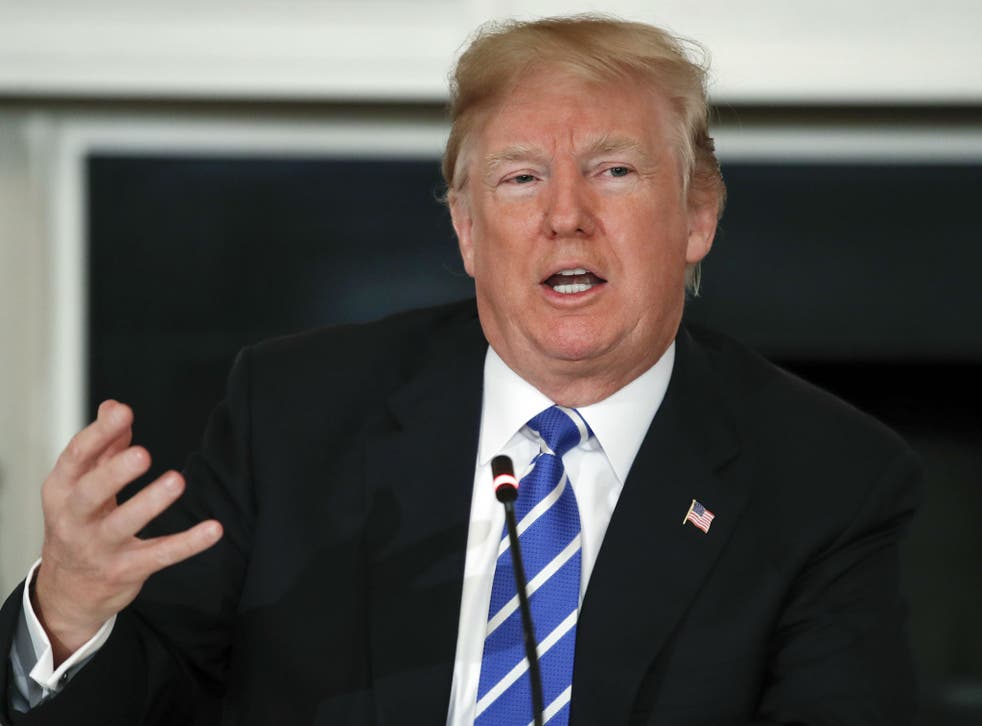 Donald Trump has called for a "reciprocal tax" with America's international trading partners, continuing his push to remake what he calls unfair global economic relationships.
"We are going to charge countries outside of our country – countries that take advantage of the United States. Some of them are so-called allies but they are not allies on trade," Mr Trump said during an event highlighting his administration's infrastructure proposal, adding that "We cannot continue to be taken advantage of by other countries".
While the White House did not elaborate on the proposal's specifics, it echoes a notion Mr Trump has floated in the past: essentially, taxing foreign imports at the same rate as other countries tax America's exports.
"Reciprocal is, if you've got a 30 percent tariff, you know what, we should have a 30 percent tariff," Mr Trump told German Chancellor Angela Merkel last year, according to chief economic adviser Gary Cohn.
Some economists have called the idea unworkable, arguing that it would upend trade deals that undergird the global economy and allow countries to favour particular trading partners or to promote certain domestic industries — including trade obligations America has agreed to abide by.
But the idea hews to Mr Trump's animating trade principal that America has accepted a series of bad deals in the era of globalisation and free trade.
World news in pictures

Show all 50
"I love a reciprocal tax," the President told Bloomberg last year. "Nobody can fight it. It's fair and it's something that we are working on very strongly."
He pulled America from an Asian economic pact called the Trans-Pacific Partnership and has pushed for the renegotiation of the North American Free Trade Agreement, suggesting he could ultimately pull America from the agreement.
The reciprocal tax concept ultimately did not make it into a sweeping tax overhaul that Mr Trump championed last year.
Register for free to continue reading
Registration is a free and easy way to support our truly independent journalism
By registering, you will also enjoy limited access to Premium articles, exclusive newsletters, commenting, and virtual events with our leading journalists
Already have an account? sign in
Join our new commenting forum
Join thought-provoking conversations, follow other Independent readers and see their replies