Trump raises more than $100m for 2020 re-election campaign
Haul will likely give US president significant advantage over his Democratic opponent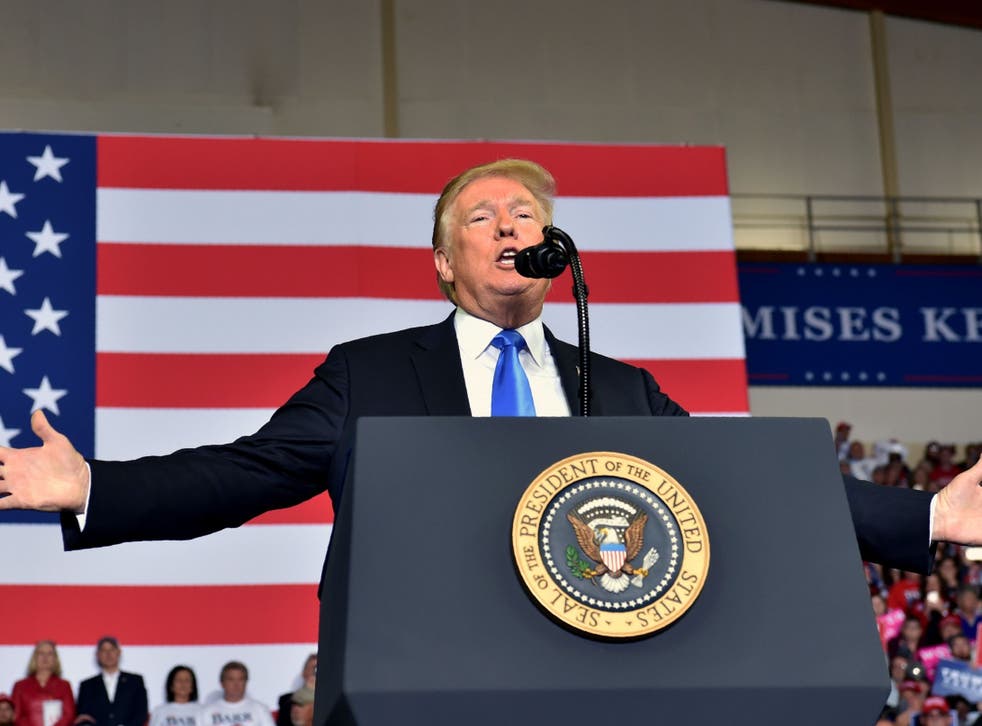 Donald Trump has raised more than $100m for his 2020 re-election campaign.
The US president raised $18m (£13.6m) during the July to September fundraising quarter, according to Federal Election Commission filings.
It means his campaign has raised $106m (£80.3m) since he took office nearly two years ago.
The haul will likely give Mr Trump a significant advantage over whichever Democratic candidate challenges him in 2020.
Donald Trump defends mocking sexual assault victim Christine Blasey Ford: 'It doesn't matter. We won'
Mr Trump took the unusual decision to file for re-election on the day he took office.
Incumbent presidents have traditionally waited until after their second year in office to begin campaigning for re-election.
It comes after the Democratic senator, Elizabeth Warren, who is seen as a potential 2020 challenger to Mr Trump, said his comment about him personally administering a DNA test to her to prove her Native American heritage is "creepy".
Ms Warren tweeted to say the president makes "creepy physical threats" about women who scare him, including her.
President Trump's most shocking attacks on the media

Show all 16
"He's trying to do what he always does to women who scare him: call us names, attack us personally, shrink us down to feel better about himself," the Massachusetts Democrat said on Twitter on Monday after Mr Trump made the comment during an appearance in Georgia.
"It may soothe his ego – but it won't work."
On Monday, Ms Warren released DNA test results that provide some evidence of a Native American in her lineage, though the ancestor probably lived six to 10 generations ago, according to the analysis.
Mr Trump has repeatedly ridiculed her as "Pocahontas" over the ancestry claim.
Donald Trump claims he would pay Elizabeth Warren $1m if she takes heritage test and proves she's Indian
In July, the president offered to donate $1m to her favourite charity if a DNA test proved her Native American bloodline.
But on Monday, he first denied ever making such a promise, then said later "I'll only do it if I can test her personally". He added: "That will not be something I enjoy doing either."
Ms Warren tweeted to say Mr Trump was a "cowardly elitist" and she "won't sit quietly for Trump's racism" so she took the test.
"I took this test and released the results for anyone who cares to see because I've got nothing to hide. What are YOU hiding, @realDonaldTrump?" she wrote.
"Release your tax returns – or the Democratic-led House will do it for you soon enough. Tick-tock, Mr President."
Ms Warren was referring to the midterm elections on 6 November, when Democrats hope to regain control of the House, which would put them in position to examine and possibly publicly release Mr Trump's returns.
The former reality TV star bucked decades of precedent by refusing to release his income tax returns during the 2016 presidential election and has continued to refuse to release them since taking office.
Join our new commenting forum
Join thought-provoking conversations, follow other Independent readers and see their replies