Trump appears to confirm he wants US deputy attorney general Rod Rosenstein in prison
'He should have never picked a special counsel,' president says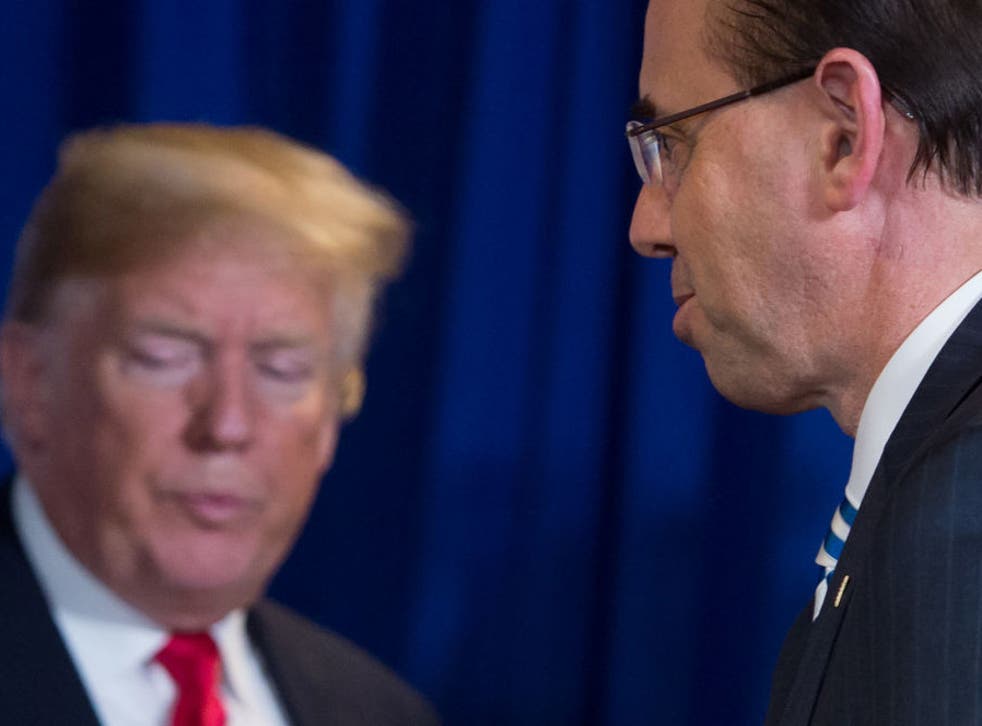 Donald Trump has appeared to confirm he wants Rod Rosenstein in prison after the president retweeted a meme of a number of his perceived enemies behind bars, including the deputy attorney general.
Asked by the New York Post on Wednesday evening why he thought Mr Rosenstein belonged in jail, the president responded, "He should have never picked a special counsel."
He followed it up on Thursday morning with a fresh attack on Robert Mueller's investigation into possible election collusion between Russia and the Trump campaign team.
"Did you ever see an investigation more in search of a crime? At the same time Mueller and the Angry Democrats aren't even looking at the atrocious, and perhaps subversive, crimes that were committed by Crooked Hillary Clinton and the Democrats," he tweeted, without providing evidence.
"A total disgrace! When will this illegal Joseph McCarthy style Witch Hunt, one that has shattered so many innocent lives, ever end-or will it just go on forever? After wasting more than $40,000,000 (is that possible?), it has proven only one thing-there was NO Collusion with Russia. So Ridiculous!"
Brian Klaas, an American political scientist at University College London, told The Independent Mr Trump's prison tweet was an escalation in his "dangerously authoritarian behaviour".
Lawyer Alan Dershowitz: Mueller report to be 'devastating' for Donald Trump
"Rod Rosenstein has been a bulwark of the rule of law against Trump's attempts to politicise it as a weapon to prosecute his opponents and protect his political allies," he said.
"And now, simply for properly doing his job, the president is pushing the message that Rosenstein should be in jail. It's extremely dangerous for the foundations of American democracy to politicise rule of law like this."
The tweet, posted by Trump-supporting account @The_Trump_Train, included shots of Barack Obama, Bill and Hillary Clinton, and Mr Mueller, with the caption: "Now that Russia collusion is a proven lie, when do the trials for treason begin?"
Rumours were rife before the midterms Mr Trump was set to sack Mr Rosenstein, who was charged with overseeing Mr Mueller's investigation after the then-attorney general Jeff Sessions recused himself.
Mr Trump has publicly railed against Mr Rosenstein's refusal to end the probe in the past, but said last month he had a "great" meeting with the lawyer aboard Air Force One.
Register for free to continue reading
Registration is a free and easy way to support our truly independent journalism
By registering, you will also enjoy limited access to Premium articles, exclusive newsletters, commenting, and virtual events with our leading journalists
Already have an account? sign in
Register for free to continue reading
Registration is a free and easy way to support our truly independent journalism
By registering, you will also enjoy limited access to Premium articles, exclusive newsletters, commenting, and virtual events with our leading journalists
Already have an account? sign in
Join our new commenting forum
Join thought-provoking conversations, follow other Independent readers and see their replies