Trump may not be able to keep Steve Bannon from telling all to Robert Mueller
The White House's reported use of executive privilege may come back to bite them
Emily Shugerman
New York
Friday 19 January 2018 22:09 Comments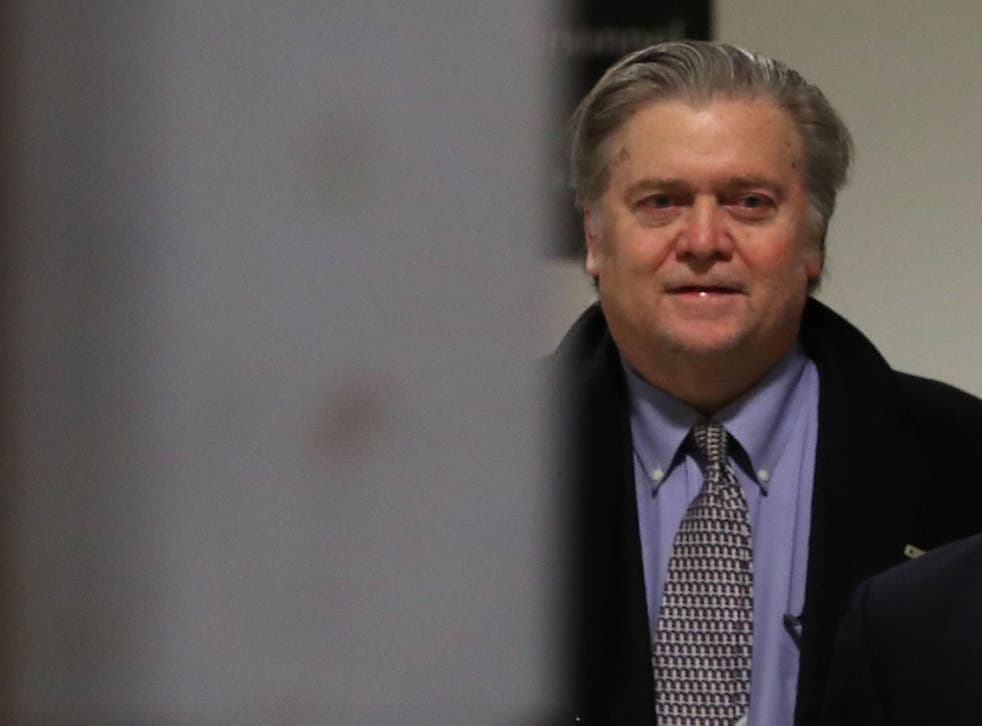 Steve Bannon may have frustrated Congress by offering few answers about the Trump campaign and Russia, but attorneys say he will not be able to avoid questions from Special Counsel Robert Mueller.
Representatives fumed after the former White House strategist's interview with the House Intelligence Committee on Tuesday, where Mr Bannon refused to answer questions on a wide variety of topics. White House attorneys instructed Mr Bannon during the hearing on what he could and could not say, the Associated Press reported.
While White House officials denied it, multiple reports said the administration invoked executive privilege – the ability of the President to keep some executive branch conversations shielded from Congress and the Judiciary – to keep Mr Bannon from talking.
Now, some say that arrangement could backfire when it comes to Mr Mueller's investigation.
Mr Mueller issued a grand jury subpoena for Mr Bannon last week. The former aide has reportedly agreed to a private interview with the special counsel.
The attorney calling the shots during Mr Bannon's Congressional hearing was White House lawyer Uttam Dhillon, according to Foreign Policy. Mr Dhillon has concluded that the White House has extensive executive privilege claims over Mr Bannon. But he has also concluded that this privilege will not apply in Mr Bannon's testimony to the special counsel, the magazine reported.
The biggest names involved in the Trump-Russia investigation

Show all 17
One senior administration official said the advice could amount to a "Pyrrhic victory" – one that comes back to bite the President. While Mr Bannon is temporarily protected from testifying to Congress, he may have no choice but to open up to Mr Mueller.
Caleb Miller, a partner at Brown White & Osborn LLP, said the White House's understanding of executive privilege appeared "pulled out of someone's a***".
The idea that executive privilege could apply to Mr Bannon's testimony in one circumstance but another, he said, has "no legal basis".
"If a particular piece of information is privileged, it's privileged," he told The Independent.
Trump's First Year: Who has been and gone from the White House?
Still, Mr Mason agreed that Mr Bannon likely would not be protected by executive privilege in his interview with Mr Mueller.
"Mueller is very well versed in the limits of privilege claims, and he's no afraid to go to court and determine the limits of privilege and compel testimony," he said. "I don't think it's gonna go anywhere."
Chief of Staff John Kelly told Fox News that the White House did not tell Mr Steve Bannon to invoke executive privilege in his hearing. Mr Bannon's lawyer, however, told Axios that the White House laid out strict limitations on what Mr Bannon could and could not discuss.
"Perhaps [Kelly is] saying that the White House did not ask Mr. Bannon to invoke executive privilege in the formal legal sense," the lawyer, Bill Burk, said.
Mr Bannon refused to answer questions in his Congressional hearing about what he had leaked to the news media, according to Democratic committee member Adam Schiff. He also would not or disclose his communications with top administration officials, and would not discuss the White House's response to reports of a June 2016 meeting between Trump campaign officials and a Russian lawyer.
"This was effectively a gag order by the White House," Mr Schiff told reporters after the interview.
Mr Bannon will be interviewed in the special counsel's offices in downtown Washington, according to the New York Times. It was unclear when the interview would take place.
Register for free to continue reading
Registration is a free and easy way to support our truly independent journalism
By registering, you will also enjoy limited access to Premium articles, exclusive newsletters, commenting, and virtual events with our leading journalists
Already have an account? sign in
Join our new commenting forum
Join thought-provoking conversations, follow other Independent readers and see their replies