Trump's lawyers called former FBI director James Comey 'Machiavellian' and dishonest in memo to Russia investigation
Mr Comey has yet to respond to the revelation 
Andrew Buncombe
New York
Saturday 07 July 2018 20:42 Comments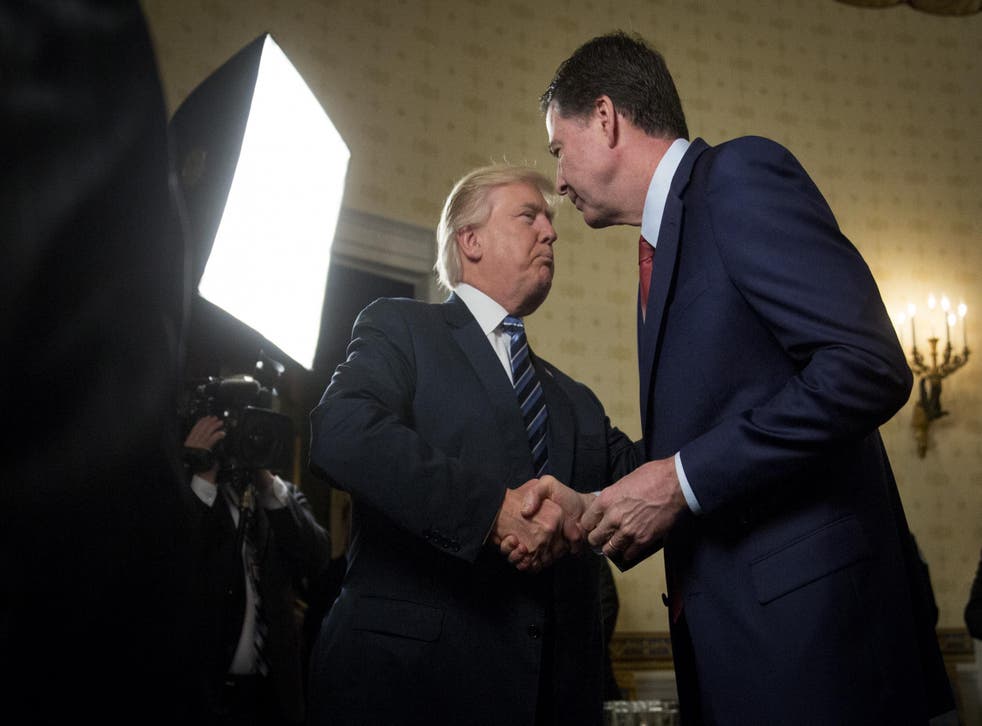 Donald Trump's legal team reportedly launched a withering attack on former FBI Director James Comey in a letter to the special counsel probing Russian interference in the election, calling him "Machiavellian" and "dishonest".
In a memo provides a window into the way the president's lawyers have been seeking to undermine the credibility of Mr Comey, a letter dispatched to Special Counsel Robert Mueller by Marc Kasowitz, then the president's lead lawyer, described him as "unbounded by law and regulation".
The letter, obtained by the Associated Press, was sent in June 2017, shortly after Mr Mueller was appointed to lead the investigation into alleged Russian interference and possible collusion between the Trump campaign and Moscow. He was appointed to do so by Deputy Attorney General Rod Rosenstein, after Mr Trump fired Mr Comey the previous month. It is understood that Mr Trump's firing of Mr Comey, has been part of Mr Mueller's probe into whether the president obstructed justice.
In the letter, Mr Kasowitz accused Mr Comey of "a pattern of calculated unilateral action unbounded by governing law, regulation and practice, and plainly motivated by personal and political self-interest".
"Mr Comey continued his Machiavellian behaviour after President Trump was elected," the 13-page memo continues.
Ms Kasowitz also attacked Mr Comey over his admission that he kept memos of his encounters with Mr Trump, even giving one to a friend to disclose to the media.
Rudy Giuliani says Donald Trump fired James Comey because he wouldn't assure him FBI was not targeting him in Russia probe
"There is no 'honest loyalty' in an FBI Director surreptitiously leaking to civilians his privileged and confidential conversations with the president, or misappropriating and disseminating his confidential FBI memos or their contents about those meetings," Mr Kasowitz wrote.
"There is no 'honest loyalty' in using those civilians as surrogates to feed stolen information and memos to the press to achieve a personal, political, and retributive objective of harming a sitting president."
World news in pictures

Show all 50
The news agency said lawyers for Mr Comey declined to comment on Saturday. Mr Kasowitz and Mr Trump's lawyer Jay Sekulow did not immediately return messages, and Mr Trump's former lawyer, John Dowd, also declined to comment.
Peter Carr, a spokesman for Mr Mueller and his team, similarly declined to discuss the letter.
However, Mr Trump tweeted: "Public opinion has turned strongly against the Rigged Witch Hunt and the "Special" Counsel because the public understands that there was no Collusion with Russia (so ridiculous), that the two FBI lovers were a fraud against our Nation & that the only Collusion was with the Dems!"
Mr Trump and his team initially claimed Mr Comey was fired for his handling of the FBI's probe into Hillary Clinton's use of a private email server. He subsequently said he was also fed up over the FBI's Russia investigation and called Mr Comey a "showboat".
A year after he was fired, Mr Comey got his revenge on Mr Trump by publishing a heavily publicised memoir, A Higher Loyalty: Truth, Lies, and Leadership, in which he called Mr Trump "unethical, and untethered to truth".
In the book, Mr Comey likened the president to a mob boss while writing about his career as a prosecutor and highlights "loyalty oaths", one of which he claims Mr Trump asked of him.
Register for free to continue reading
Registration is a free and easy way to support our truly independent journalism
By registering, you will also enjoy limited access to Premium articles, exclusive newsletters, commenting, and virtual events with our leading journalists
Already have an account? sign in
Join our new commenting forum
Join thought-provoking conversations, follow other Independent readers and see their replies