Jared Kushner is worried that Robert Mueller will 'get' Trump
President's son-in-law reportedly worried about special counsel investigation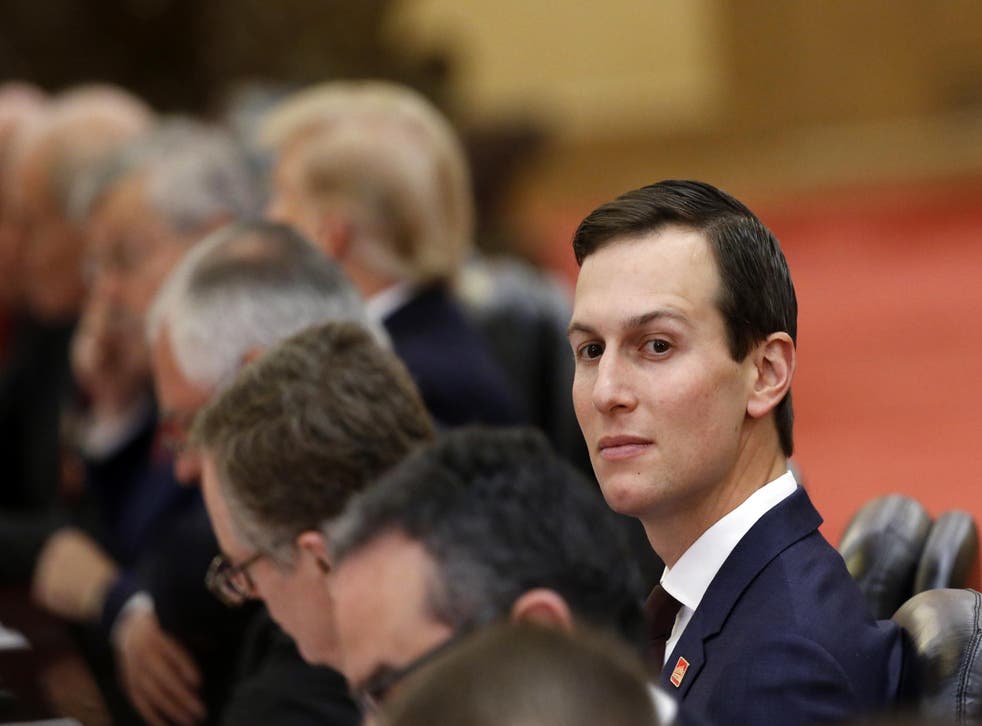 Jared Kushner, Donald Trump's son-in-law and senior aide, is reportedly worried that special counsel Robert Mueller's investigation into links between Russia and the presidential campaign, will "get" the US leader.
US intelligence agencies believe Moscow tried to help Mr Trump win by hacking and releasing emails damaging to his opponent, Hillary Clinton.
Special counsel Robert Mueller is also leading an independent investigation into whether there were any links between Russia and the Trump campaign. The Kremlin and Mr Trump have repeatedly denied the charges.
Trump-Russia investigation: who has been charged in the Mueller probe
It emerged earlier this year that then-campaign chairman Paul Manafort, along with Donald Trump Jr and Mr Kushner attended a Trump Tower meeting with a Russian lawyer after being promised damaging information on Ms Clinton.
A pair of US Senators also claimed Mr Kushner failed to disclose emails he received about WikiLeaks and "a Russian backdoor overture" in 2016. In a letter, they demanded additional documents as part of an ongoing investigation into Russia's alleged election meddling, which they said they became aware of the documents through other witnesses.
A lawyer for Mr Kushner said he was "open to responding to any additional requests".
Mr Kushner expressed concern after Mr Mueller's investigation produced indictments for former campaign chairman Paul Manafort and his associate Rick Gates, who stand accused of money laundering, according to a report in Vanity Fair magazine. Both have denied any wrongdoing.
"Do you think they'll get the president?" the magazine reported Mr Kushner as having asked a friend, citing someone who was briefed on the conversation.
The magazine also suggested that Mr Kushner has seen his responsibilities diminish under new White House Chief of Staff John Kelly.
White House Press Secretary Sarah Huckabee Sanders said "nothing in it is true".
The biggest names involved in the Trump-Russia investigation

Show all 17
But multiple members of Mr Trump's orbit have faced criminal penalties.
In addition to Mr Manafort and Mr Gates, former campaign adviser George Papadopoulos pleaded guilty to lying to the FBI about conversations with Russia-linked emissaries — and aides including Mr Kushner have surfaced in reports describing Russia-linked efforts to reach out to the campaign.
More recently, members of the Senate Judiciary Committee wrote to Mr Kushner's attorney to say he had not shared a document concerning a "Russian backdoor overture and dinner invite".
Subsequent reports found that a Kremlin-linked banker had sought to meet with Trump campaign officials at a Kentucky National Rifle Association event, an overture Mr Kushner suggested rebuffing.
Join our new commenting forum
Join thought-provoking conversations, follow other Independent readers and see their replies