Trump calls on Sessions to 'stop' Mueller's investigation into Russia election meddling
Mr Sessions has recused himself from matters related to the probe, citing a Department of Justice guideline warning officials against involvement in investigations into campaigns they were a part of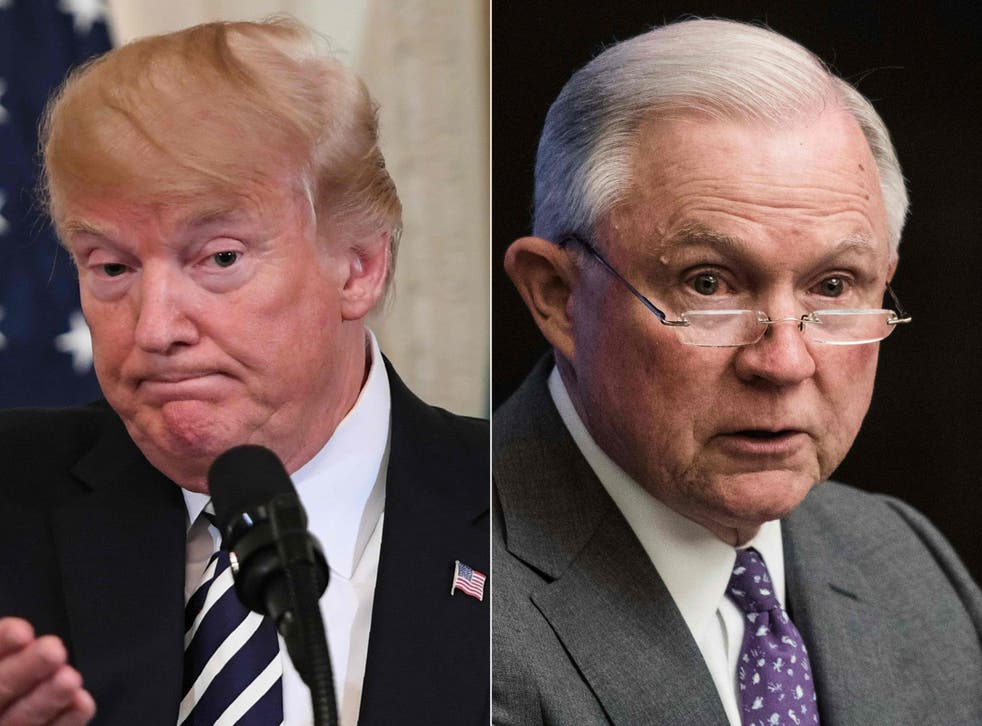 President Donald Trump has pushed Attorney General Jeff Sessions to "stop" the FBI investigation into Russia's meddling in the 2016 presidential election, sparking criticism from Democrats and Republican alike, even though Mr Sessions has recused himself.
Mr Trump made the request in a series of tweets lashing out at the probe, the attorneys working on that team, and special counsel Robert Mueller who is running the investigation. The president called Mr Mueller - whose team is also looking into possible collusion between Mr Trump's campaign team and Russia - "totally conflicted".
"This is a terrible situation and Attorney General Jeff Sessions should stop this Rigged Witch Hunt right now, before it continues to stain our country any further," Mr Trump said after accusing Mr Mueller and his team of conspiring to protect certain members of the intelligence community. He called the idea that his campaign worked with Russia a "TOTAL HOAX".
Democrats accused Mr Trump of "panicking" about the investigation and of seeking to obstruct justice, while Republicans said the probe must continue as the White House said the president was merely expressing his opinion.
Senator Dianne Feinstein, the top Democrat on the Judiciary Committee, said after Trump's tweet, "It's clear to me he's very worried about it and he wants to prevent it any way he can."
Democratic Representative Don Beyer said on Twitter: "He's panicking... Congress must protect Mueller." In April, the committee approved legislation to protect Mueller but Republican Senate leader Mitch McConnell said there was no need to advance the bill because he did not believe Mr Trump would fire Mr Mueller.
A number of Republicans also expressed their dismay at Mr Trump's tweets.
"They ought to let them conclude their work. What they'€™re doing is something that is important and we support and I don't think any effort to truncate that or somehow shut it down early is in the public'€™s best interest," said Senator John Thune, a junior member of the Senate's Republican leadership.
Senator Orrin Hatch said he did not think Mr Sessions had the power to end the probe and it would be unwise to do so.
Following the tweet storm, Mr Trump's personal lawyer, Rudy GIuliani, told Reuters that the president was simply expressing an opinion he and his team have had for a long time.
"We have been saying for months that it is time to bring this inquiry to an end," he told Reuters. "The president has expressed the same opinion".
Later, White House spokeswoman Sarah Sanders told a news briefing: "It's not an order. It's the president's opinion". She denied that Mr Trump was obstructing the probe. "He's fighting back," she said.
Mr Sessions recused himself from matters relating to the Russia probe early on in his tenure as attorney general, citing his involvement in Mr Trump's campaign and noting that the Department of Justice has regulations forbidding an official from being involved in an investigation into a campaign they were personally involved in. Mr appointed Deputy Attorney General Rod Rosenstein to oversee the investigation, with Mr Rosenstein in turn appointing Mr Mueller. Therefore, Mr Rosenstsin is the person with the authority to fire him.
In his tweets, Mr Trump highlighted the case of FBI Agent Peter Strzok, who had previously worked on the Russia probe but was removed after text messages showing him expressing a negative bias towards Mr Trump came to light.
Those texts were sent during the 2016 campaign and after to his , and frequently bashed Mr Trump
The biggest names involved in the Trump-Russia investigation

Show all 17
Mr Strzok has since acknowledged those texts during testimony before Congress, but said that he did not let his personal opinions colour his work for the intelligence agency — and noted that no major decisions were made with him as the sole authority approving.
In the course of Mr Trump's Wednesday morning tweet storm, he also lashed out against the notion that his former campaign chairman, Paul Manafort, had led his 2016 presidential campaign to collude with the Russian government. Mr Manafort is currently on trial for bank fraud and tax evasion, allegation stemming from Mr Mueller's investigation.
"Paul Manafort worked for Ronald Reagan, Bob Dole and many other highly prominent and respected political leaders," Mr Trump wrote. "He worked for me for a very short time. Why didn't government tell me that he was under investigation. These old charges have nothing to do with Collusion - a Hoax!"
Mr Manafort has pleaded not guilty to the charges he currently faces.
Reuters contributed to this report
Register for free to continue reading
Registration is a free and easy way to support our truly independent journalism
By registering, you will also enjoy limited access to Premium articles, exclusive newsletters, commenting, and virtual events with our leading journalists
Already have an account? sign in
Register for free to continue reading
Registration is a free and easy way to support our truly independent journalism
By registering, you will also enjoy limited access to Premium articles, exclusive newsletters, commenting, and virtual events with our leading journalists
Already have an account? sign in
Join our new commenting forum
Join thought-provoking conversations, follow other Independent readers and see their replies