Former Trump official loses White House nomination amid Russia investigation
Sam Clovis was nominated for USDA Under Secretary for Research, Education and Economics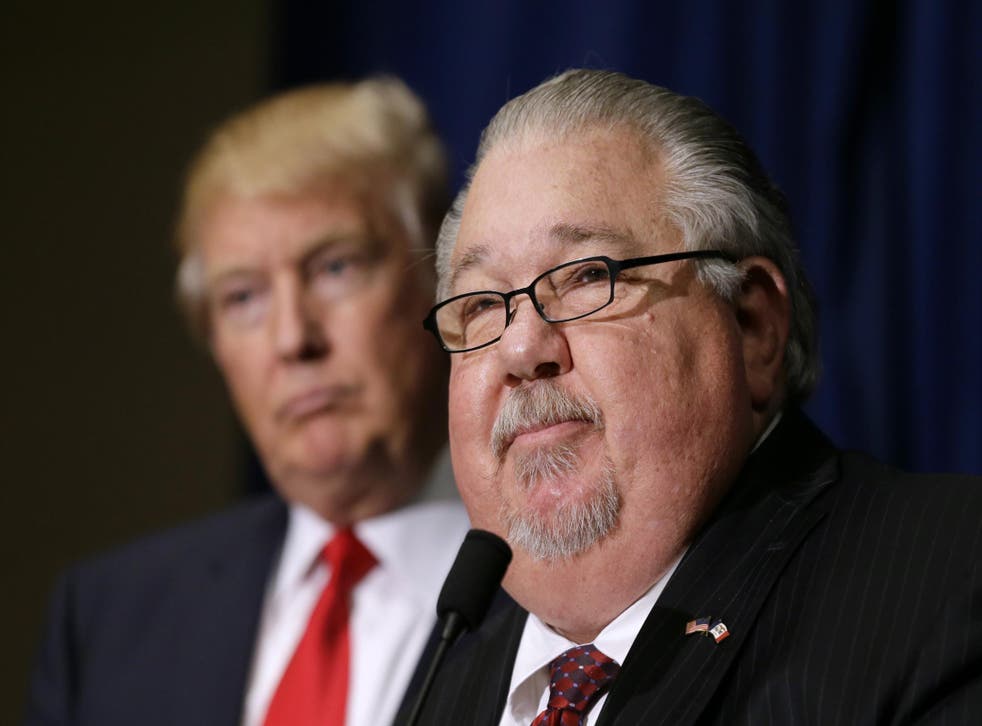 President Donald Trump's pick for chief scientist at the Department of Agriculture has withdrawn his nomination after the Russia investigation raised questions about his time on the Trump campaign.
Sam Clovis – Mr Trump's former campaign co-chair, and his top pick from the agriculture job – withdrew from the nomination shortly after his communications with former campaign staffer George Papadopoulos were revealed as part of Special Counsel Robert Mueller's investigation into Russian election meddling and possible Russian connections to the Trump campaign.
Recently released documents show that a number of officials on the Trump campaign who was aware of Mr Papadopoulos's efforts to reach out to Russian officials. Mr Papadopoulos has pleaded guilty to lying to the FBI about meeting a professor with alleged connections to the Russian government and contact with a woman calling herself "Putin's niece".

Questions had already been raised about Mr Clovis' qualifications for the administration post. He is a self-described sceptic of climate change and Democrats have also flagged a number of other views. Mr Clovis has previously been criticised for rejecting the scientific consensus that human-made greenhouse gas emissions are causing climate change as "not proven", and had been criticised for statements made arguing against gay marriage.
In a letter to Trump describing his decision, Mr Clovis made no mention of the Russia controversy, but cited "the political climate inside Washington."
"The relentless assaults on you and your team seem to be a blood sport that only increases in intensity each day," Mr Clovis wrote in the letter, dated Wednesday. "As I am focused on your success and the success of this Administration, I do not want to be a distraction or negative influence."
In terms of the indictment of Mr Papadopoulos, in addition to his plea, the FBI released a trove of the former campaign staffer's emails. The recipients' names are shielded in the emails, but Mr Clovis's lawyer has confirmed that references to "the campaign supervisor" indeed refer to Mr Clovis, who served as campaign co-chair.
The biggest names involved in the Trump-Russia investigation

Show all 17
The documents show Mr Papadopoulos emailed Mr Clovis and other campaign officials about his meeting with the aforementioned professor. Mr Papadopoulos said that they had discussed arranging a meeting with Russian leadership to "discuss US-Russia ties under President Trump". Mr Clovis responded that he would "work it through the campaign," and added: "great work".
A few months later, the documents show that Mr Clovis seemed to encourage Mr Papadopoulos to continue preparations for an "off the record" meeting with Russian officials, the documents reveal.
Mr Clovis's lawyer told the Washington Post that the campaign co-chair "always vigorously opposed any Russian trip for Donald Trump and/or the campaign". She added that his responses to Mr Papadopoulos were courtesy by "a polite gentleman from Iowa."
Trump-Russia investigation: who has been charged in the Mueller probe
But Senator Debbie Stabenow, the ranking Democrat on the Senate Agriculture Committee who would have need to confirm Mr Clovis after a hearing scheduled fro next week, said the documents "raised concerns" about Mr Clovis's nomination.
"From early on, I have strongly opposed the nomination of Sam Clovis to be the chief scientist at USDA," she said in a statement. "...As we consider his nomination, I will be looking into these facts, along with his questionable qualifications and long history of divisive and outrageous statements."
On Monday, however, White House Press Secretary Sarah Huckabee Sanders gave no inclination that Mr Clovis's nomination was in jeopardy. Asked if Mr Trump was still comfortable with his pick for USDA undersecretary for research, education and economics, she replied: "I'm not aware of any change that would be necessary."
On Thursday, Ms Sanders said in a statement: Sarah Huckabee Sanders said: "We respect Mr. Clovis' decision to withdraw his nomination."
"There were some questions that our distinguished ranking member had for him that I think under the circumstances — and given the votes — his decision was a good one," said Senator Pat Roberts, a Kansas Republican, who is chairman of the Senate Agriculture Committee.
Ms Stabenow, said Mr Clovis' decision to back out was "the right thing to do," adding he "maybe, barely" had the votes to win confirmation.
She called the withdrawal was a "victory for science and our farmers who rely on agricultural research." Ms Stabenow said Mr Clovis' "lack of qualifications and long history of politically divisive statements were disqualifying, and the recent news surrounding his time as co-chair of the Trump campaign has raised even more questions."
Mr Clovis is a former Iowa talk radio host and political science professor. He has a bachelor's degree in political science, an MBA degree, and a doctorate in public administration, but no hard background in science.
The news came as US judge ordered Mr Trump's former campaign manager Paul Manafort to remain under home arrest and wear an electronic monitoring device for now as he awaits a tentative trial date on money-laundering and other charges.
Mr Manafort, who ran Trump's presidential campaign for several months last year, and his associate Rick Gates pleaded not guilty on Monday to a 12-count indictment.
The charges include conspiracy to launder money, conspiracy against the United States and failing to register as foreign agents of Ukraine's former pro-Russian government.
Both men appeared in court in Washington. US District Judge Amy Berman Jackson said initial bail terms for the pair would remain in place for now, and set a bail hearing for Monday to consider changes.
Mr Manafort and Gates are under house arrest, under unsecured bonds of $10 million and $5 million respectively, which means they do not have to post the bail unless they fail to show up for court or violate other conditions.
Prosecutors have argued there is a risk the men would flee. They are also subject to electronic monitoring.
Mr Manafort's attorney, Kevin Downing, argued that while his client is willing to comply with a daily curfew, he would like to have the GPS monitoring lifted.
Judge Jackson also sharply warned lawyers for the duo about speaking about their case outside of court.
"This is a criminal trial and not a public relations campaign," JudgeJackson said during a hearing. "I expect counsel to do their talking in the courtroom and in their pleadings, and not on the courthouse steps."
Join our new commenting forum
Join thought-provoking conversations, follow other Independent readers and see their replies