Trump -Russia investigation: Steve Bannon asked to testify before House Intelligence Committee
His former campaign manager also asked to appear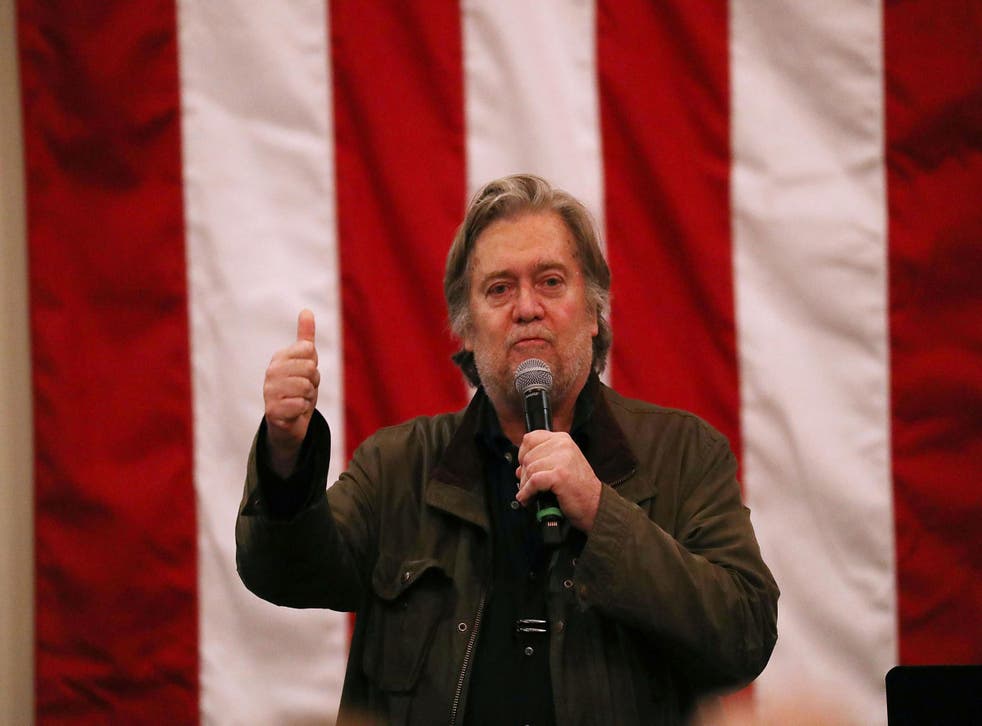 Donald Trump's former top strategist Steve Bannon has been asked to testify before a congressional panel investigating alleged collusion between the Trump campaign and Russia.
Mr Bannon, who was fired from the White House this summer, has reportedly been asked to appear before the House Intelligence Committee. The committee has made a similar request to one of Mr Trump's former campaign managers, Corey Lewandowski.
Both men, who remain close to Mr Trump and whose counsel he still seeks even though he has formally broken ties with them, were sent letters this week asking them to appear in early January, according to Bloomberg News.
The news agency said the committee, chaired by Republican Devin Nunes and on which Adam Schiff is the senior Democrat, has been looking into Russia's alleged meddling in the 2016 election. As part of its work, it has been examining possible collusion between the Trump campaign and Russia.
The issues are also being investigated by other congressional panels and by Special Counsel Robert Mueller, who was appointed after Mr Trump fired his FBI Director James Comey in May. Mr Trump, along with Russian leader Vladimir Putin, have dismissed claims that Moscow interfered in the election to undermine Mr Trump's opponent, Hillary Clinton.
Reports suggest the panel is rushing to conclude its investigation, something that has angered Democrats who feel that issues are not being given sufficient scrutiny.
Members of the committee are due to question Rhona Graff, a longtime associate of Mr Trump, who has been described as his gatekeeper at Trump Tower in New York for more than three decades and who rose to become a senior vice president at the Trump Organisation.
Peter King: Steve Bannon 'looks like some disheveled drunk that wondered onto the political stage'
Also scheduled to be questioned is Felix Sater, a Trump associate who once boasted that he could help fix a real estate deal with the aid of Mr Putin that would help win Mr Trump the presidency. Most of the panel's interviews have taken place at secure locations inside the US Capitol.
But Democrats claim the process is being rushed. "We're departing from all of our practices. We're departing from what's in the best interest of the investigation in an effort to jam in every possible interview in December," Mr Schiff said this week.
"And this looks like the House leadership capitulating to pressure from the White House and Steve Bannon."
As far as it is known, Mr Bannon has not been publicly accused of any wrongdoing. However, he was Mr Trump's top strategist during he final few months of the election campaign and then took up a senior position within the White House.
The biggest names involved in the Trump-Russia investigation

Show all 17
Mr Lewandowski served as Mr Trump campaign manager for 12 months from June 2015. He was fired after he fell out with members of Mr Trump's family, including Ivanka Trump, the real estate tycoon's eldest daughter.
He was replaced with Paul Manafort, a veteran political consultant who served in the role for just a handful of months before being replaced himself by Mr Bannon. Mr Manafort is one of four Trump associates to have been indicted by Mr Mueller. He and his associate Rick Gates have pleaded not guilty.
Bloomberg News said that had not yet been a response from Mr Bannon or Mr Lewandowski.
It said the letters that were sent to them were not in the form of a subpoena compelling them to testify but were rather a request for a "voluntary interview" in the committee's offices, which would mean it would be held behind closed doors.
The letters do not lay out specific reasons the committee wants to interview them, or the questions the panel wants to pose, but it makes clear that the interviews are part of the Russia investigation, it said.
Join our new commenting forum
Join thought-provoking conversations, follow other Independent readers and see their replies