Trump-Russia investigation: Robert Mueller files new charges against Paul Manafort and his deputy
The men have pleaded not guilty to the original charges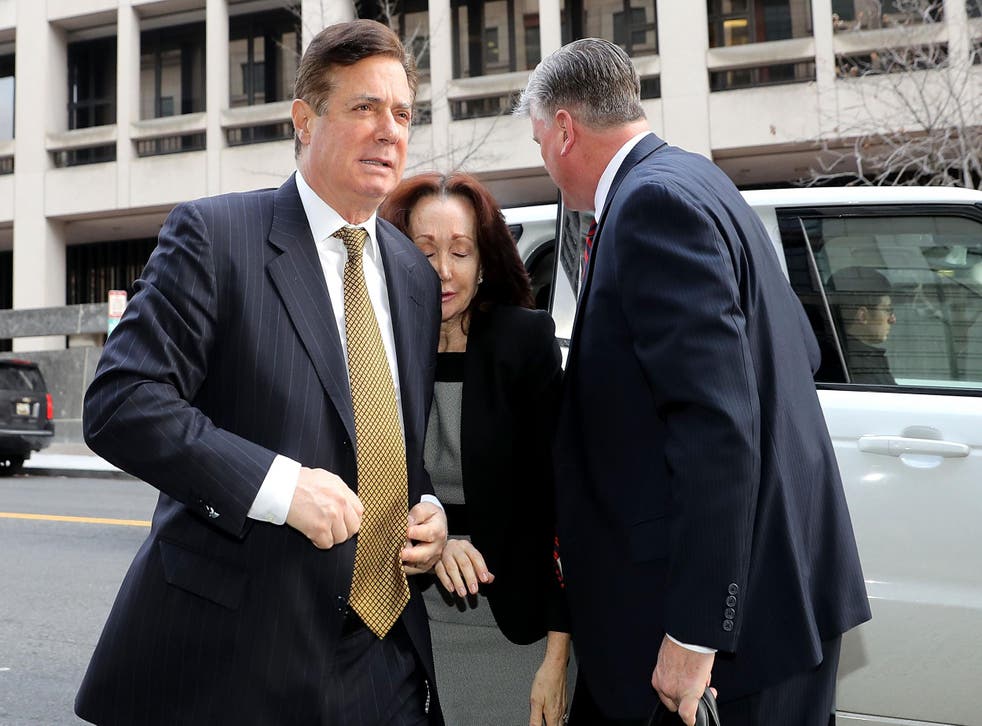 New charges have been filed against former Trump campaign chairman Paul Manafort and his deputy by special counsel Robert Mueller's team, increasing pressure on the duo as they prepare for an expected trial later this year.
Mr Mueller's team unsealed the indictments of Mr Manafort and his business partner, Rick Gates, on fresh tax and bank fraud allegations Thursday, months after both men were hit with a 12-count indictment last year.
Those original indictments were the first criminal charges filed by Mr Mueller's probe into the 2016 race, but did not relate to the campaign and instead focused on financial transactions involving Mr Manafort and Mr Gates. That includes work by the men for a Ukrainian political party, and alleged failure to notify US authorities that they were lobbying on behalf of a foreign government.
Both men have pleaded not guilty to the earlier charges.
"Paul Manafort is innocent of the allegations set out in the newly filed indictments and he is confident that he will be acquitted of all charges," Jason Maloni, Mr Manafort's spokesperson, said in a statement. "The new allegations against Mr Manafort, once again, have nothing to do with Russia and 2016 election interference/collusion. Mr Manafort is confident that he will be acquitted and violations of his constitutional rights will be remedied."
New indictments were expected to be filed against the two men, though it was not previously clear on what grounds. Mr Manafort served as President Donald Trump's campaign chairman from June 2016 until August of that year. Mr Gates was also an official on the Trump campaign.
The newly unsealed indictments allege that Mr Manafort attempted to avoid paying taxes on "tens of millions of dollars" in income resulting from their work as consultants for the Ukrainian government, former Ukrainian President Victor Yanukovych, as well as Ukrainian political parties.
The biggest names involved in the Trump-Russia investigation

Show all 17
To do so, court fillings show, the two men disguised the incoming money as loans from offshore corporate accounts, which made millions of dollars in unreported payments to bank accounts the men held in the United States.
Mr Manafort, the charges say, also used offshore corporate accounts to purchase property in the United States, and that both men used the money to make improvements on and refinance properties they own in the US.
The filings allege a second stage of the money laundering and tax evasion scheme, in which the men used their improved properties as collateral, and to extract loans from financial institutions. The men were able to get more than $20m in loans by "falsely" inflating Mr Manafort's company's income, and by not disclosing its existing debt on their loan applications, the document says.
All told, the filings say, the two men oversaw the flow of $75m from offshore accounts, including the laundering of $30m that Mr Manafort hid from US federal tax agencies. Mr Gates did so with roughly $3m, according to the charges.
The new filings come at a particularly confusing time in the original proceedings. Just last week US District Judge Amy Berman Jackson criticised the prosecution and defence for "unacceptable delays" in the case, which does not have a trial date yet. It is not even clear who will be the lead defensive lawyer yet.
The two men were hit with a 12-count indictment in October, which focused on their alleged failure to notify US authorities that they had acted as lobbyists for a foreign government.
Join our new commenting forum
Join thought-provoking conversations, follow other Independent readers and see their replies