Trump campaign manager's notes from Russia meeting show word 'donations' near 'RNC'
Paul Manafort has yet to explain the significance of the words
Andrew Buncombe
Minneapolis
Thursday 31 August 2017 20:21 Comments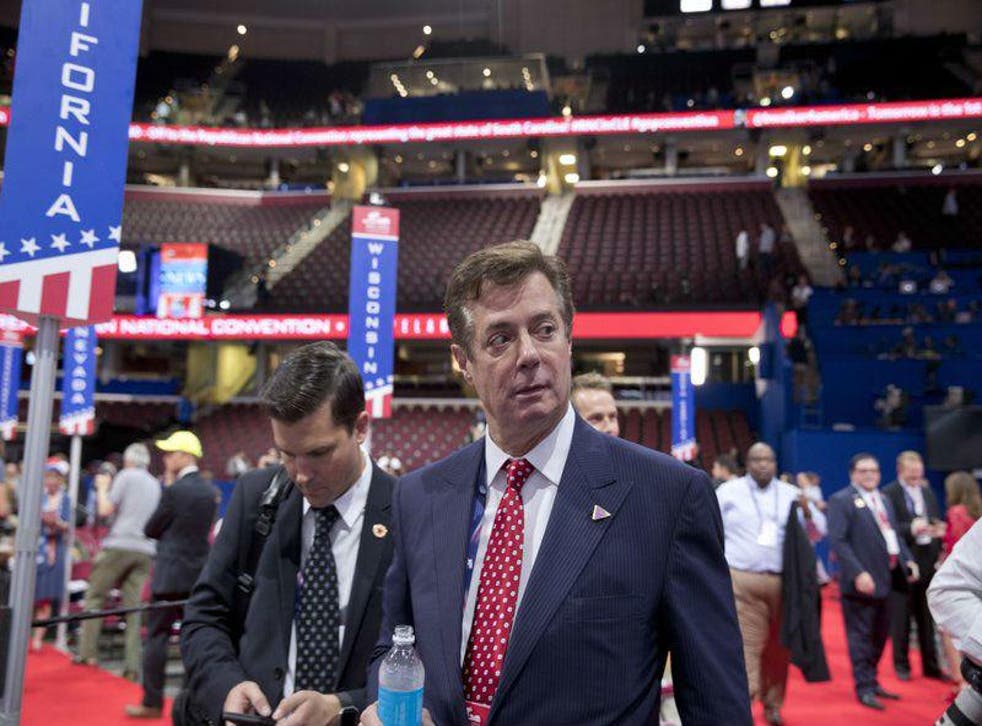 Donald Trump's then campaign manager reportedly took notes about "donations" during a controversial meeting with a Kremlin-linked Russian lawyer.
Paul Manafort, who is being investigated as part of the ongoing federal probe into possible collusion between the Trump campaign and Russia, is said to have typed the word "donations" near a reference to the Republican National Committee, or RNC.
The meeting at Trump Tower in New York in June 2016 has become a major controversy for Mr Trump, as some have said it may represent the clearest sign of collusion between his campaign and the Russian authorities. It is illegal for foreigners to donate to US elections.
In addition to Mr Manafort, also present at the meeting were Donald Trump's eldest son, Donald Trump Jr, and his son-in-law and adviser, Jared Kushner. The men met with Russian lawyer, Natalia Veselnitskaya, who has represented clients with links to the Kremlin, and a Russian lobbyist who has long worked in Washington on issues of importance to Russian president Vladimir Putin.
NBC said the notes from Mr Manafort's phone had been passed to investigators from the House and Senate intelligence committees. They have also been handed to special counsel Robert Mueller, who was appointed to head a federal probe after Mr Trump fired FBI Director James Comey.
Trump implies he had dirt on Clinton same day as Trump Jr's Russia meeting
Emails published by the New York Times revealed that Mr Trump's eldest son attended the meeting after being told that Ms Veselnitskaya wanted to provide him with incriminating material about his father's rival, Hillary Clinton.
Mr Trump Jr has said he was offered no such material and that Ms Veselnitskaya in truth wanted to discuss an effort to push back a specific US sanction against certain Russians. Ms Veselnitskaya has denied either working for the Kremlin or making an offer of incriminating information.
The biggest names involved in the Trump-Russia investigation

Show all 17
The issue created a major storm for Mr Trump when details of the meeting emerged earlier this summer. His son issued a series of statements that changed as more information about the meeting emerged in the media.
Ms Veselnitskaya previously told NBC News that Mr Kushner and Mr Manafort were not introduced to her by name and she only realised who the men were after seeing their photographs.
"I could recognise the young gentleman who was only present in the meeting for probably the first seven to ten minutes, and then he stood up and left the room," she said. "It was Mr Jared Kushner. And he never came back, by the way."
She said Mr Manafort appeared to be her to have little interest in the conversation, with his main preoccupation seeming to be his cell phone.
"All the time he was looking at his phone. He was reading something. He never took any active part in the conversation," she said. "That was Mr Manafort."
Mr Manafort, who Virginia apartment was raided earlier this summer by FBI agents, has repeatedly denied any wrongdoing. The news channel said a spokesman for Mr Trump's former campaign manager had yet to respond to questions about his cryptic notes of the meeting.
Register for free to continue reading
Registration is a free and easy way to support our truly independent journalism
By registering, you will also enjoy limited access to Premium articles, exclusive newsletters, commenting, and virtual events with our leading journalists
Already have an account? sign in
Join our new commenting forum
Join thought-provoking conversations, follow other Independent readers and see their replies