Trump-Russia investigation: Robert Mueller 'wants to interview Sean Spicer, Reince Priebus and Hope Hicks'
Mr Mueller is seeking to determine if Donald Trump's campaign advisers colluded with the Russian government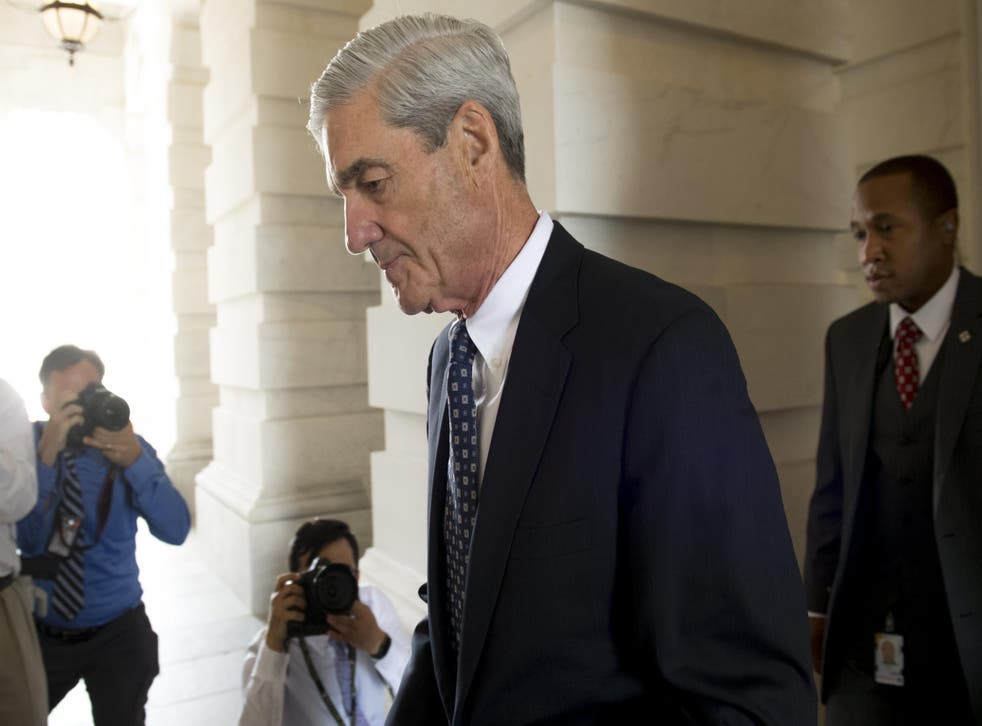 Special counsel Robert Mueller reportedly wants to speak with several of Donald Trump's current and former top aides who were privy to episodes relevant to an investigation into alleged ties between Russia and the Trump campaign.
Mr Mueller is said to have alerted the White House that he wants to interview former press secretary Sean Spicer, ex-Chief of Staff Reince Priebus, and current communications director Hope Hicks, among others, according to the Washington Post.
Each of the advisers are alleged to have been involved or aware of internal discussions that have drawn the interest of Mr Mueller during his investigation, including the conversations that led to Mr Trump's firing of ex-FBI chief James Comey and the dismissal of former National Security Adviser Michael Flynn.
Mr Mueller is trying to determine if Mr Trump's campaign advisers colluded with the Russian government to influence the 2016 presidential election. That investigation also reportedly involves a probe into whether the President obstructed justice when he allegedly asked Mr Comey to drop an inquiry into Mr Flynn's possible ties to Russia.
Along with Mr Spicer, Mr Priebus and Ms Hicks, Mr Mueller will possibly seek to question White House counsel Don McGahn and one of his deputies, James Burnham.
No interviews have been scheduled yet, according to the Post.
The biggest names involved in the Trump-Russia investigation

Show all 17
In January, Mr McGahn was briefed by then-Deputy Attorney General Sally Yates that Mr Flynn could be susceptible to blackmail by the Russian government. Mr Flynn wasn't forced out of the White House until about three weeks later, after it was revealed that he had misled Vice President Mike Pence about his communications with a Russian official, Ambassador Sergey Kislyak.
On Tuesday, CNN reported that Mr Mueller's team also wants to interview White House staffers who could know details about the writing of a statement regarding Donald Trump Jr's meeting with a Russian lawyer.
Mr Trump Jr, the President's eldest son, told Senate investigators this week that he met with Natalia Veselnitskaya, a Kremlin-connected lawyer, last summer because he was intrigued that she might have damaging information on Hillary Clinton, his father's campaign opponent, according to the New York Times. It was important to learn about Ms Clinton's "fitness" to be president, he said.
In a statement, Mr Trump Jr declared that he believes the five-hour interview he gave the Senate Judiciary Committee on Thursday "satisfied" investigators' inquiry into the meeting he took with Ms Veselnitskaya.
Along with Mr Mueller, congressional investigators are also looking into Russian meddling in the 2016 election.
The President is reported to have helped draft his son's initial statement regarding the meeting, and Mr Mueller, according to CNN, wants to talk with the staffers who were aboard Air Force One when it was written.
Join our new commenting forum
Join thought-provoking conversations, follow other Independent readers and see their replies