Special prosecutor Robert Mueller teams up with US tax authority for Trump-Russia investigation
The IRS investigative team has access to Donald Trump's elusive tax returns 
Mythili Sampathkumar
New York
Friday 01 September 2017 19:49 Comments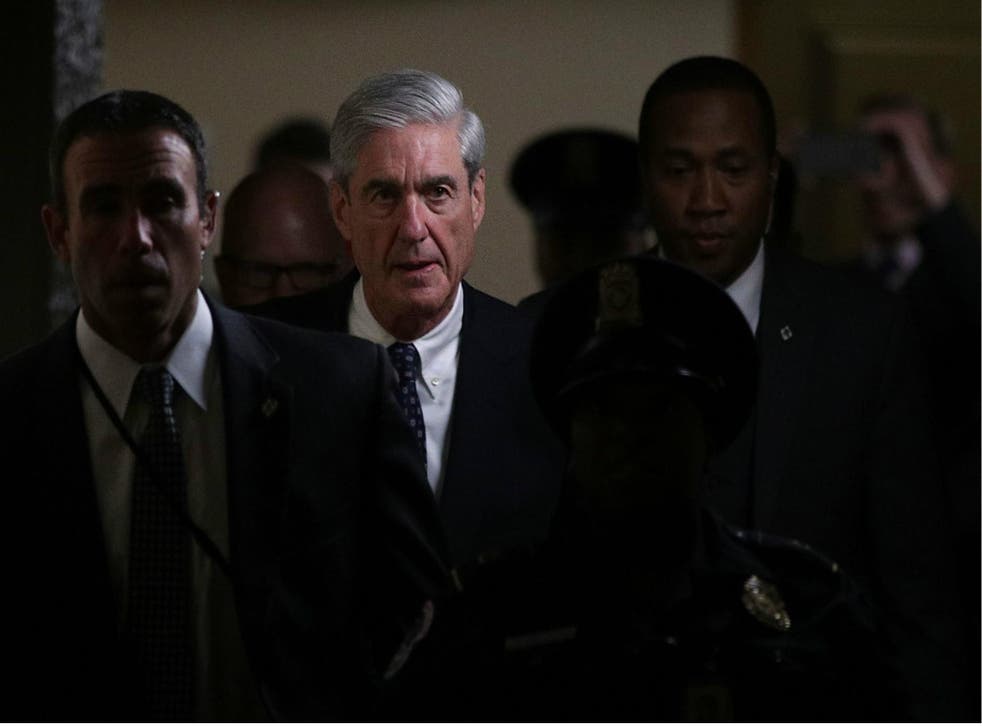 The special prosecutor assigned to investigate any alleged ties between Donald Trump's campaign team and Russian officials has teamed up with the Internal Revenue Service, the US tax authority.
Robert Mueller has enlisted the help of the IRS' Criminal Investigative Unit, what The Daily Beast called "one of the federal government's most tight-knit, specialised, and secretive investigative entities".
The 2,500 member unit focuses on crimes like money laundering, tax evasion, and other financial crimes.
The unit also has access to the tax returns of Mr Trump, who has thus far refused to make them public as every other presidential candidate has in the past.
He cited the reasons for his refusal as being under audit by the IRS and that tax returns do not give any kind of accurate picture of his financial life.
Martin Sheil, a retired IRS Criminal Investigations agent, told the Daily Beast that the FBI has been so focused on counterterrorism work since September 11th that the IRS unit's specialised expertise is important in Mr Mueller's investigation.
Mr Mueller is also teaming up with New York Attorney General Eric Schneiderman, who has long been a rival of Mr Trump since the President's early days as a New York City real estate mogul.
One of the targets of particular importance to the IRS unit's recruitment into the overall investigation is former Trump campaign chairman Paul Manafort.
On 26 July, the FBI reportedly conducted an early-morning raid and search Mr Manafort's home in connection with the investigation.
The FBI came to his home after Mr Manafort had voluntarily met with the Senate Intelligence Committee behind closed doors the day prior.
The biggest names involved in the Trump-Russia investigation

Show all 17
He was there to discuss a meeting he attended in June 2016 with Donald Trump Jr, White House aide and Ivanka Trump's husband Jared Kushner, and a Russian lawyer with ties to the Kremlin, Natalia Veselnitskaya.
Mr Mueller worked with the FBI on the wide-ranging search warrant obtained prior to the search.
As former FBI special agent Asha Rangappa pointed out on Twitter, to get the search warrant the FBI had to present evidence to a federal judge showing they had probable cause that Mr Manafort committed a crime and that evidence of it could be in his home.
Mr Manafort has been turning over records, some of which are reportedly notes from the June 2016 meeting with Ms Veselnitskaya at Trump Tower in New York.
IRS investigators are reportedly looking into Mr Manafort's tax forms to see whether he checked a box indicating he has money in foreign bank accounts.
To not do so if he does have money in any accounts would constitute a felony crime, the seemingly small technically likely to be investigated by the new team.
For Mr Mueller to bring charges on Mr Manafort or any other Trump campaign officials, he needs approval from the US Department of Justice's Tax Division.
Currently, Mr Trump has not appointed anyone to the lead the division, which is a position that needs to be Senate-confirmed.
A former prosecutor told he Daily Beast on the condition of anonymity that Mr Trump should be worried at his lack of appointment because he and his campaign associates have "no one to keep Mueller and his Brooklyn team honest. They should be concerned about that."
Register for free to continue reading
Registration is a free and easy way to support our truly independent journalism
By registering, you will also enjoy limited access to Premium articles, exclusive newsletters, commenting, and virtual events with our leading journalists
Already have an account? sign in
Join our new commenting forum
Join thought-provoking conversations, follow other Independent readers and see their replies