Flight records cast doubt on Trump's account of trip to Moscow
New report questions president's statements on 2013 Miss Universe pageant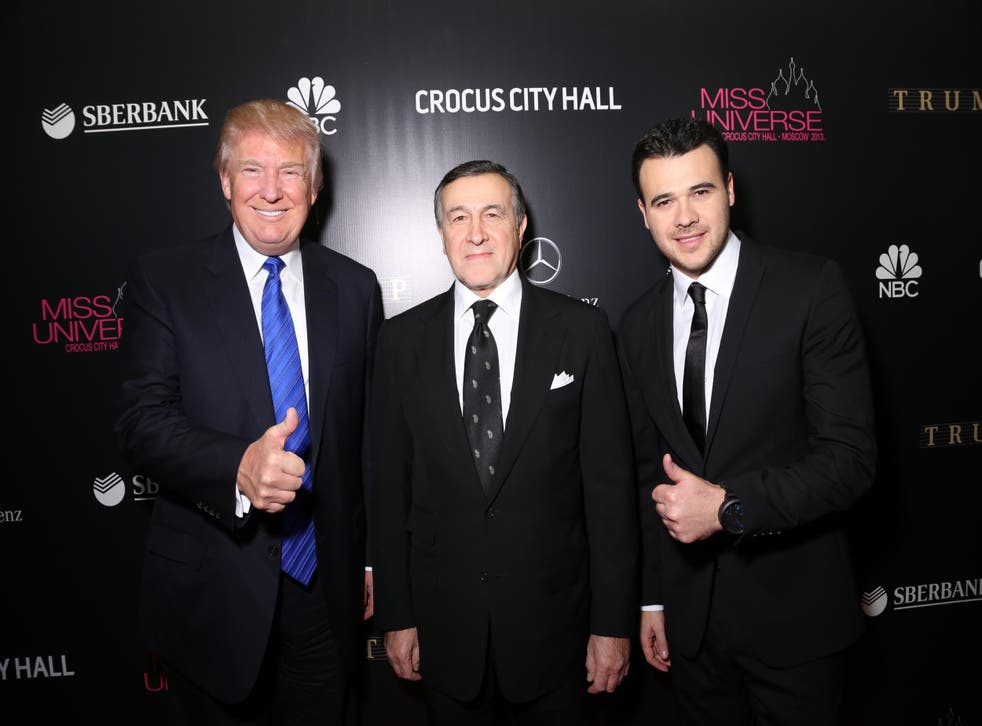 Donald Trump has long provided a simple alibi for allegations about a wild night he spent in Moscow in 2013: He never spent the night there to begin with. But according to newly reported flight records, this may not be the case.
Records obtained by Bloomberg News indicate that Mr Trump did spend the night in Moscow during the 2013 Miss Universe pageant – around the time he is alleged to have engaged in sex acts with Russian prostitutes at a hotel in the nation's capital.
Earlier reports show Mr Trump flew to North Carolina on 7 November for a birthday tribute to evangelist minister Billy Graham. That night, according to the New York Times, Mr Trump flew to Moscow on a Bombardier Global 5000 private jet owned by American businessman Phil Ruffin.
Flight records obtained by Bloomberg now show the private jet landed in Moscow on Friday, 8 November.
A Facebook post from the restaurant Nobu Moscow also appears to show Mr Trump in the city that evening.
According to the records and Mr Trump's own account, he stayed until early Sunday morning, when he jetted back to New York.
The biggest names involved in the Trump-Russia investigation

Show all 17
The new timeline suggests Mr Trump did stay in Moscow overnight during his trip – despite reportedly telling then-FBI Director James Comey that he did not.
Mr Comey has claimed he discussed the allegations with Mr Trump early last year. The president, he said, told him that "'the hookers thing' is nonsense".
"He then explained, as he had at our dinner, that he hadn't stayed overnight in Russia during the Miss Universe trip," Mr Comey wrote in a memo after a meeting with Mr Trump last February.
The president fired Mr Comey the next month.
James Comey says Donald Trump responded to Steele dossier allegations by asking: 'Do I look like a guy who needs hookers?'
The allegations about Mr Trump's night in Moscow stemmed from an opposition research dossier compiled by former MI6 agent Christopher Steele, and later handed over to the FBI. The dossier – which has not been verified – claimed the Russian government had "kompromat" on Mr Trump, in the form of tapes of the sexual acts.
Mr Trump has vociferously denied the allegations in the dossier, calling it "bogus" and emphasising the fact that the Hillary Clinton campaign and the Democratic National Committee helped fund the research.
"'Dossier is bogus. Clinton Campaign, DNC funded Dossier. FBI CANNOT (after all of this time) VERIFY CLAIMS IN DOSSIER OF RUSSIA/TRUMP COLLUSION. FBI TAINTED'," he tweeted in December. "And they used this Crooked Hillary pile of garbage as the basis for going after the Trump Campaign!"
Register for free to continue reading
Registration is a free and easy way to support our truly independent journalism
By registering, you will also enjoy limited access to Premium articles, exclusive newsletters, commenting, and virtual events with our leading journalists
Already have an account? sign in
Register for free to continue reading
Registration is a free and easy way to support our truly independent journalism
By registering, you will also enjoy limited access to Premium articles, exclusive newsletters, commenting, and virtual events with our leading journalists
Already have an account? sign in
Join our new commenting forum
Join thought-provoking conversations, follow other Independent readers and see their replies