Trump school shooting report mentions 'gun control' just twice — but spends entire chapter analysing media coverage of shootings
The report was commissioned just after the mass shooting at Marjory Stoneman Douglas High School in February where 17 people were killed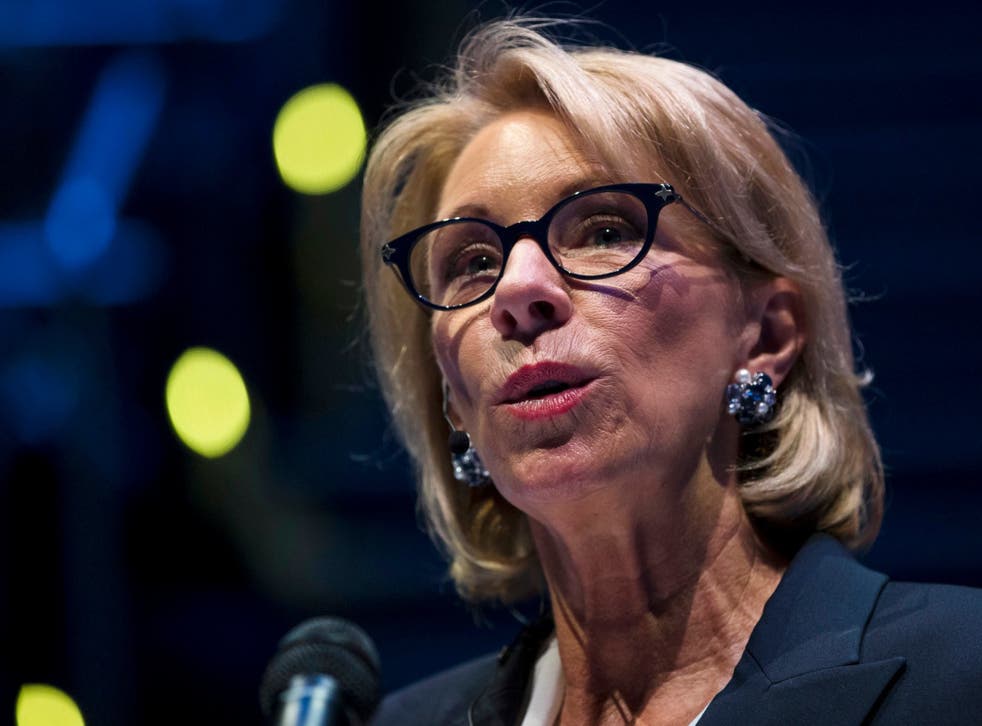 A new government report on gun violence in American schools commissioned in the aftermath of the deadly massacre at Marjory Stoneman Douglas High School on Valentine's Day makes little mention of gun control in its analysis of the root causes of school shootings.
It does, however, spend an entire chapter analysing press coverage of mass shootings after the fact.
The report, compiled by the school safety commission created by President Donald Trump just after the Parkland, Florida shooting that killed 17 people mostly skirts around gun control issues, with just two mentions of the specific term in the entire report. Both mentions of the term "gun control", according to a search of the 180-page report, are in reference to the name of a federal law.
The analysis of school gun crime led by Education Secretary Betsy DeVos avoided recommendations for the minimum age requirements to buy a firearm — an issue which Mr Trump notably asked for guidance on — but did encourage state adoption of "extreme risk protection orders" that prohibit access to guns for individuals deemed to temporarily be a danger to themselves or others.
The report also notes that the Trump administration has taken steps to ban so-called bump stocks that can be used to make a semi-automatic rifle shoot at near-automatic frequency.
"Sadly, incidents of school violence are too common, and too many families and communities have faced these horrible challenges," Ms DeVos said during a press call with reporters on Tuesday. "But Americans have never shied away from challenges, nor have we have cowered when evil manifests itself".
She continued: "The report addresses a holistic view of school safety, based on the insights, experience, and expertise of these individuals. We identified some things for lawmakers and local leaders to consider, and we highlighted what's already working in states and communities".
Florida shooting – in pictures

Show all 10
Other recommendations hewed closer to what the president has suggested favourability for, including the hardening of schools to make it harder for active shooters to infiltrate the buildings and kill. The report did not recommend that teachers should be armed, an idea Mr Trump had championed after the February shooting, but did say that trained personnel in schools should have access to firearms in case of a shooting.
Critics were quick to disagree that anyone should be arming school administrators to fight America's gun violence epidemic.
"We don't need more school personnel roaming hallways with firearms. We do need real solutions to stop gun violence," Robin Lloyd, the director of government affairs for gun control advocacy group Giffords, said in a statement. "It's time for Secretary DeVos and President Trump to recognise the importance of passing laws proven to make it harder for dangerous people to ever get a gun and cause others harm".
The report, which suggests that extensive press coverage of shootings can lead to copycat incidents, is a largely symbolic document that makes suggestions to stakeholders at all levels, but does not require much by way of action.
Critics like of the report like Ms Lloyd quickly pushed back on the report's findings, saying that the document prescribes unnecessary action while ignoring the bigger problems that allow guns to get into the hands of potentially violent individuals.
Support free-thinking journalism and attend Independent events
"The gun violence epidemic has made students afraid of what could happen to them at school and left parents wondering whether they will see their children at the end of the day. Americans want answers," Ms Lloyd said. "But while Secretary DeVos vowed to study the problem, her final exam shows she failed."
The report's findings also indicate that violent video game use among American youth could have a harmful impact on those individuals, potentially encouraging them to pick up a gun or desensitising the horrors of shootings and blood shed.
The report also suggested that a Barack Obama-era school discipline policy that sought to keep teenagers out of jail through a variety of alternative disciplinary measures should be scrapped, citing the Parkland shooter's history of bad behaviour.
Join our new commenting forum
Join thought-provoking conversations, follow other Independent readers and see their replies