Donald Trump and Chuck Schumer lock horns over DACA deal and the wall
'If there is no Wall, there is no DACA', Mr Trump says 
Alexandra Wilts
Washington DC
Wednesday 24 January 2018 18:04 Comments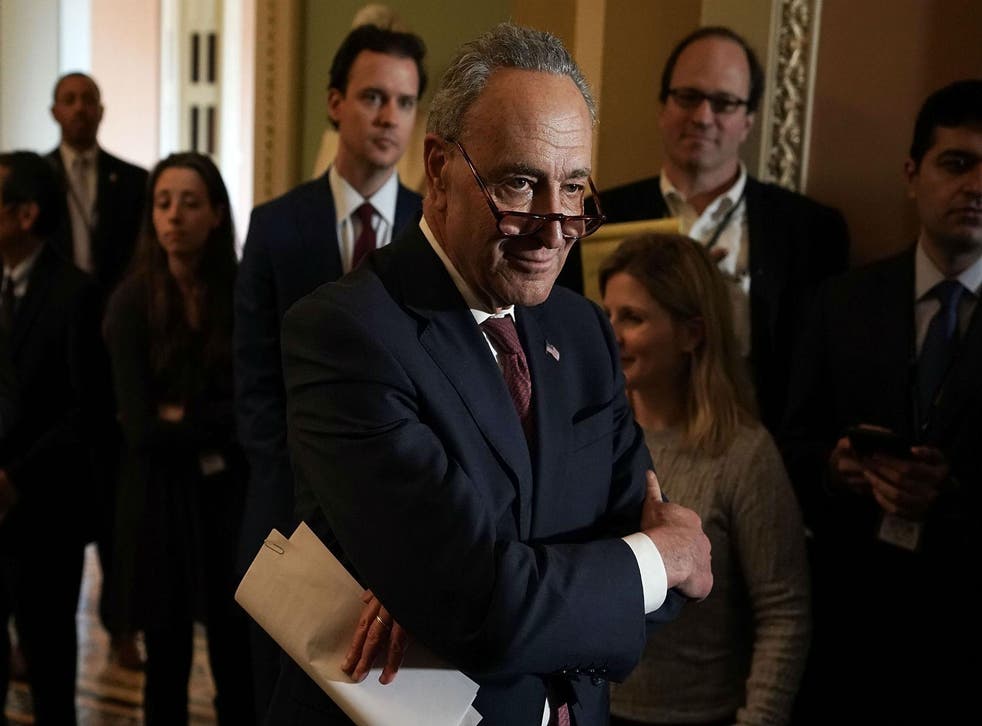 President Donald Trump and Democrats continue to lock horns on immigration issues, with Senate Democratic Leader Chuck Schumer saying senators "certainly can find a bill" that can pass in the Senate – even as members of Congress struggle to get immigration talks off the ground.
A day after a new round of immigration negotiations have begun, senators are already sparring over funding for Donald Trump's oft-promised border wall, which the President argues is necessary for the US's security.
They are also trying to figure out a permanent legislative fix for the the Deferred Action for Childhood Arrivals programme, which gives people brought to the US as a children the temporary right to live, study and work in America. Mr Trump, who rescinded the programme in September, has given Congress until March 5 to pass protections for the so-called "Dreamers".
"Every Democrat – all forty nine of us @SenateDems – supports DACA," Mr Schumer wrote on Twitter. "Many of my Republican colleagues do as well. We certainly can find a bill that will get sixty votes here in the Senate."
Talks have been complicated by the President's demand that border wall funding be included in any immigration bill.
Republicans aligned with Mr Trump are unlikely to support any measure that does not contain funds to build a barrier along the US's southern border. Meanwhile, allocating money for the construction of the wall would likely alienate liberal Democrats from voting for it.
On Tuesday, Mr Schumer withdrew what Republicans said was a $25bn offer to fund the wall, angering top Republicans who said the action was setting back negotiations on DACA.
Mr Schumer had first made the proposal in an effort to avert a government shutdown. Last week, he suggested Democrats were willing to allow funding for the wall in exchange for a deal on DACA. According to Democrats, Politico reported, Mr Schumer was right to withdraw the offer on Tuesday because it was part of a broader negotiation that ultimately collapsed.
The President criticised Mr Schumer for yanking his proposition, calling the top Democrat "Cryin' Chuck Schumer" on Twitter.
Donald Trump's first year: in pictures

Show all 29
"Cryin' Chuck Schumer fully understands, especially after his humiliating defeat, that if there is no Wall, there is no DACA," Mr Trump wrote. "We must have safety and security, together with a strong Military, for our great people!"
During the presidential campaign, Mr Trump said Mexico would pay for the wall.
The conflict between Mr Schumer and Mr Trump comes on the heels of a government shutdown, which was largely the result of an impasse on immigration.
Last week, several Democrats announced that they would not support any government spending bill that did not include protections for "Dreamers". But the closure came to an end on Monday after Mr Schumer announced that he had reached a deal with the Republican Senate leader on the issue.
Senate Majority Leader Mitch McConnell promised to take up an immigration bill that includes a solution for DACA – a pledge that Mr Schumer said was enough for Democrats to agree to help end the government shutdown.
If senators fail to reach a deal on immigration by February 8 as part of a broader agreement on federal spending, the Senate will then take up a separate immigration measure.
"The process will be neutral and fair to all sides," Mr Schumer said.
Register for free to continue reading
Registration is a free and easy way to support our truly independent journalism
By registering, you will also enjoy limited access to Premium articles, exclusive newsletters, commenting, and virtual events with our leading journalists
Already have an account? sign in
Join our new commenting forum
Join thought-provoking conversations, follow other Independent readers and see their replies