Mitt Romney blasts Donald Trump 's***hole countries' comments as 'antithetical to American values'
Potential preview of role back in public life for Mr Romney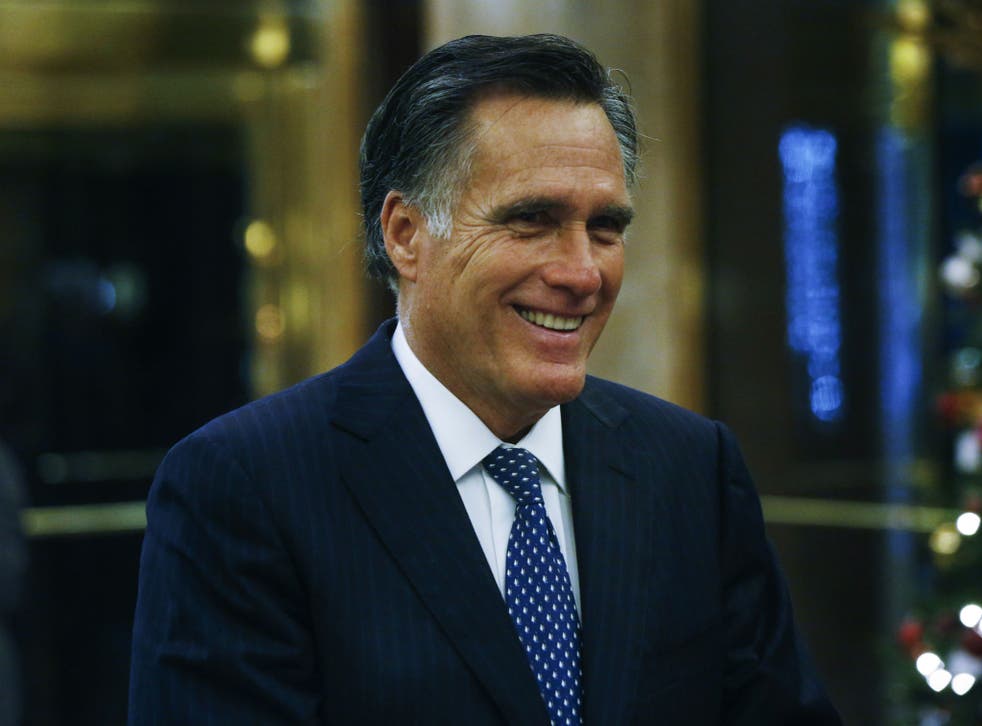 Mitt Romney has hit out at President Donald Trump over his racist comments, previewing Mr Romney's potential future role as a public anti-Trump Republican should he win an open Senate seat.
Days after Mr Trump was said to refer to a number of countries with derogatory language and question why America did not focus on immigrants from places like Norway, Mr Romney marked Martin Luther King Day by assailing the President.
"The poverty of an aspiring immigrant's nation of origin is as irrelevant as their race," Mr Romney said on Twitter.
"The sentiment attributed to POTUS is inconsistent w/ America's history and antithetical to American values," he added. "May our memory of Dr. King buoy our hope for unity, greatness, & 'charity for all'".
Mr Trump stands accused of using "s***hole" to describe African countries during an immigration meeting with a bipartisan group of six senators. The president, in the meeting, also questioned the need to admit more Haitians to the US, according to a number of accounts Mr Trump said in the meeting that he would prefer immigrants from countries like Norway instead.
No, No. I'm not a racist," Mr Trump said on Sunday, after reporters asked him to respond to such reports. "I am the least racist person you have ever interviewed. That I can tell you."
Mr Trump also denied making the statements attributed to him, but avoided the details of what he did or did not say.
Donald Trump's first year: in pictures

Show all 29
This is not the first time Mr Romney has publicly assailed the President. He denounced Mr Trump as unfit during the presidential campaign — part of an unsuccessful effort by establishment figures, like the former Republican nominee, to derail Mr Trump's candidacy — and lambasted the President's equivocal response to a neo-Nazi protest.
But the likelihood that Mr Romney will run for a US Senate seat thrown open by Utah Senator Orrin Hatch's retirement has raised the possibility that Mr Romney will, a year from now, be issuing such criticism as a Republican Senator.
If Mr Romney does choose to run, prevails, and continues to inhabit his role as a Republican detractor of Mr Trump, he would be carrying on a lonely fight.
Other Republicans who have publicly blasted the President, like Jeff Flake of Arizona and Bob Corker of Tennessee, are retiring. Sen John McCain, whose criticism of Mr Trump's foreign policy has drawn praise from Mr Romney, is battling brain cancer.
Join our new commenting forum
Join thought-provoking conversations, follow other Independent readers and see their replies