Donald Trump ditches trademark suit and red tie for blue silk shirt at Vietnam summit
The President participated in the annual tradition of wearing matching tops with world leaders for a 'family photo'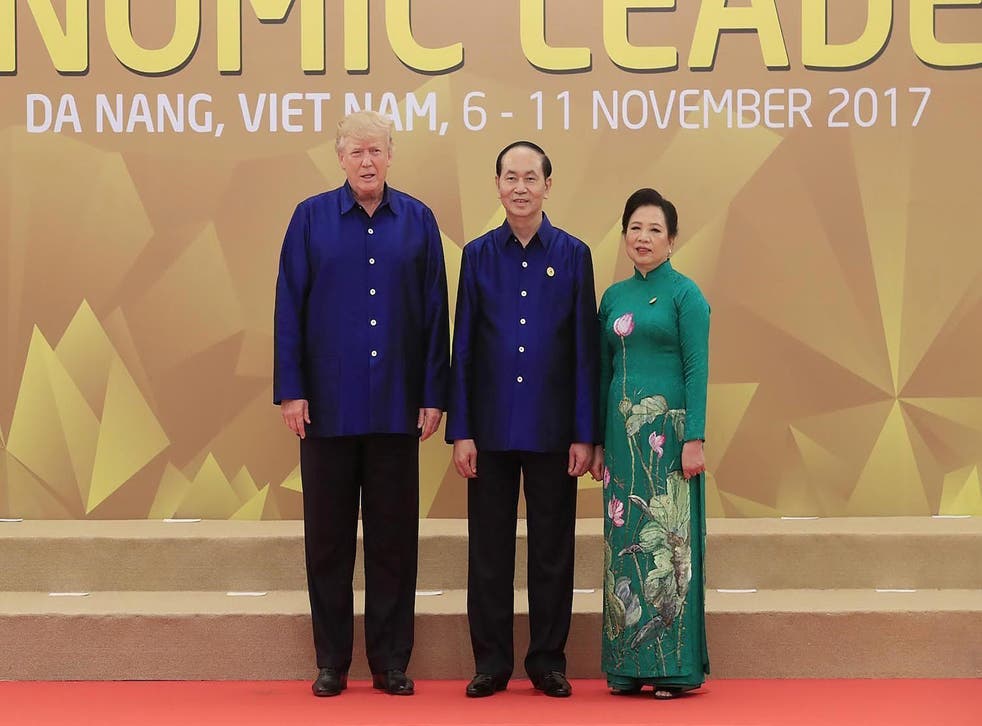 Donald Trump ditched his necktie and dark suit for one night to don a blue silk shirt at an event in Vietnam.
Other world leaders, including Russian President Vladimir Putin did the same, as it is tradition for those attending the Asia Pacific Economic Cooperation (APEC) summit each year to wear matching attire for a "family photo" of some of the globe's most prominent politicians.
Every president and prime minister attending the Da Nang event played along.
And with the exception of Mr Putin, they all decided to go open-neck casual. The Russian leader's white dress shirt and tie was visible underneath his traditional garment.
Mr Trump is rarely photographed wearing something other than a suit or golf shirt.
As part of the tradition, Vietnam President Trần Đại Quang's team chose the garments.
Former President Bill Clinton started the annual tradition back in 1993, when he hosted the summit in Seattle and gifted world leaders in attendance with matching bomber jackets.
Donald Trump's international Presidential trips

Show all 22
The next year, it was his turn to don attire selected by the leader of the summit's host country – a traditional patterned batik shirt in Indonesia.
The tradition has remained strong ever since, except when ex-President Barack Obama hosted the summit on his own turf in Hawaii in 2011.
Prior to the event, Mr Obama joked that he would make leaders wear aloha shirts or grass skirts.
"I had looked at pictures of some of the previous APEC meetings and some of the garb that had appeared previously, and I thought this may be a tradition that we might want to break," Mr Obama said at the time. "We gave them a shirt, and if they wanted to wear the shirt, I promise you it would have been fine. But I didn't hear a lot of complaints about us breaking precedent on that one."
Register for free to continue reading
Registration is a free and easy way to support our truly independent journalism
By registering, you will also enjoy limited access to Premium articles, exclusive newsletters, commenting, and virtual events with our leading journalists
Already have an account? sign in
Register for free to continue reading
Registration is a free and easy way to support our truly independent journalism
By registering, you will also enjoy limited access to Premium articles, exclusive newsletters, commenting, and virtual events with our leading journalists
Already have an account? sign in
Join our new commenting forum
Join thought-provoking conversations, follow other Independent readers and see their replies