Donald Trump says appointment of a special prosecutor to Russia probe 'hurts our country terribly'
President calls investigation 'a pure excuse for the Democrats having lost an election' 
Alexandra Wilts
Washington DC Comments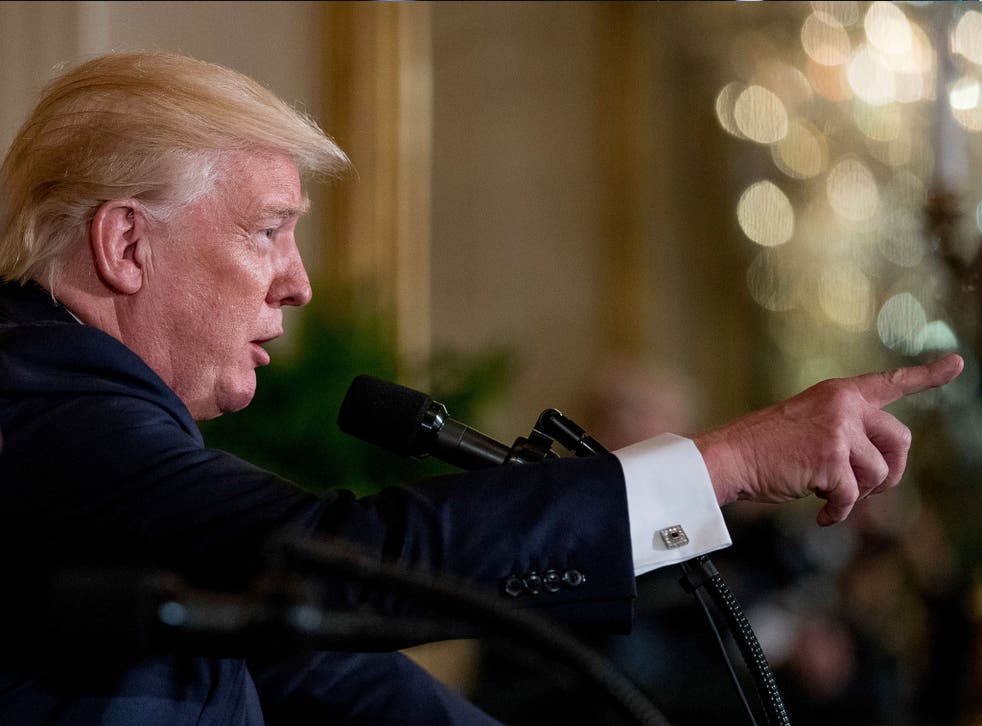 Donald Trump said the appointment of a special prosecutor to take over the Justice Department's probe into alleged ties between Russia and the Trump campaign "hurts our country terribly".
"It shows we're a divided, mixed-up, not-unified country," Mr Trump said in a statement to reporters. "And we have very important things to be doing right now, whether it's trade deals, whether it's military, whether it's stopping nuclear."
Mr Trump posited that the naming of a special counsel "also happens to be a pure excuse for the Democrats having lost an election that they should have easily won".
Deputy Attorney General Rod Rosenstein appointed former FBI Director Robert Mueller to oversee the Russia probe – a concession by the Trump administration to Democrats, who had intensified their calls for a special counsel after the president fired FBI Director James Comey. Mr Comey was heading the bureau's Russia and Trump campaign investigation.
"Based on the unique circumstances, the public interest requires me to place this investigation under the authority of a person who exercises a degree of independence from the normal chain of command," Mr Rosenstein said.
A respected figure in American law enforcement circles, Mr Mueller headed the FBI from 2001 to 2013, serving under Presidents George W Bush and Barack Obama.
Both the Senate and the House of Representatives still have committees conducting their own probes into whether Trump campaign advisers conspired with Russian operatives to influence the 2016 US presidential election.
The question over the need for a special prosecutor consumed Washington this week – along with other Trump-related scandals – even as congressional leaders tried to shift reporters' focus to other matters such as healthcare.
Democrats asserted that if Americans were to have faith in the impartiality of the Russia investigation, then it must not be left in the hands of the FBI, which is meant to be an independent and non-political agency under the Justice Department.
The biggest names involved in the Trump-Russia investigation

Show all 17
Most Republicans did not join their Democratic colleagues in calling for a special prosecutor, preferring to keep their faith in the congressional and career FBI investigators. But several changed their mind after The New York Times reported that the President asked Mr Comey to drop an investigation into former National Security Advisor Michael Flynn, according to a memo reportedly written by Mr Comey.
Mr Flynn resigned in February after it was revealed that he had misled Vice President Mike Pence and other top White House officials about his conversations with Sergey Kislyak, the Russian ambassador to the US.
The White House said the memo is not an accurate portrayal of the conversation between Mr Comey and the President.
In a press conference at the White House on Thursday, Mr Trump said that while he respects the decision to appoint a special counsel, he added that "the entire thing has been a witch hunt".
"There's no collusion between, certainly, myself and my campaign — but I can only speak for myself – and the Russians – zero," he said.
Despite Mr Trump's declarations that there was no conspiracy, Republican Senator Lindsey Graham said the Russia investigation now appears to be considered criminal.
"It was a counterintelligence investigation before now. It appears to me now to be considered a criminal investigation," Mr Graham told reporters after Mr Rosenstein briefed all 100 senators on the investigation.
Register for free to continue reading
Registration is a free and easy way to support our truly independent journalism
By registering, you will also enjoy limited access to Premium articles, exclusive newsletters, commenting, and virtual events with our leading journalists
Already have an account? sign in
Join our new commenting forum
Join thought-provoking conversations, follow other Independent readers and see their replies