Trump's State Department denies jobs to winners of prestigious scholarship for disadvantaged and minority students
Rangel and Pickering fellows have been offered 'temporary, non-career' positions in the department
Emily Shugerman
New York
Tuesday 20 June 2017 03:16 Comments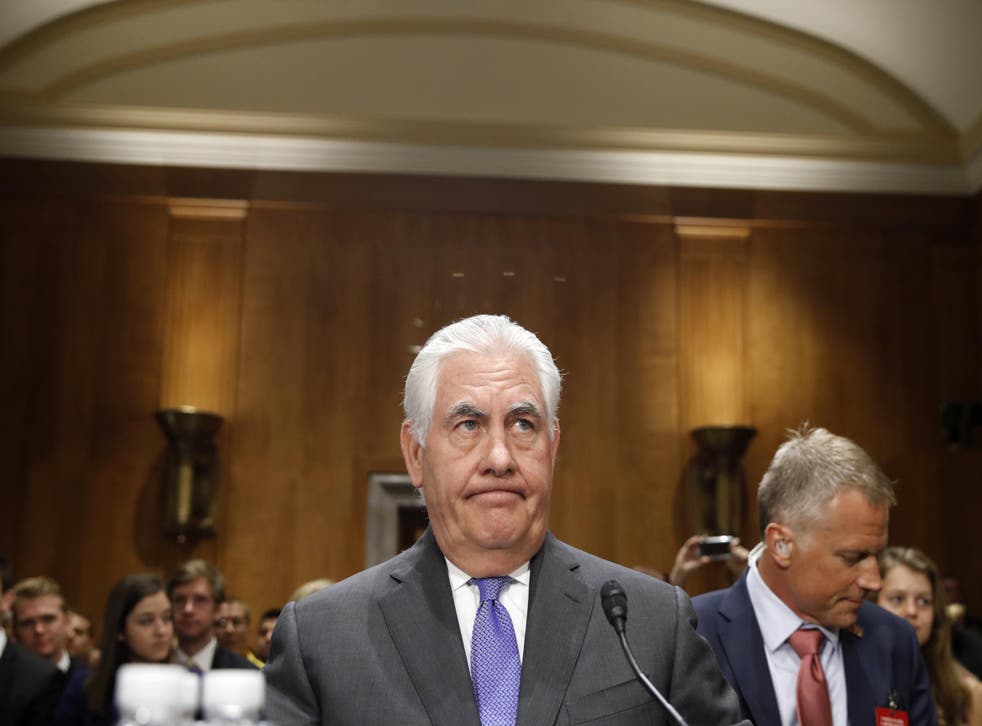 Graduates of one of America's most prestigious diversity fellowships won't get the fast-track into prime State Department roles they were promised.
The State Department has informed the most recent class of Rangel and Pickering fellows that the only positions open to them are temporary, non-career spots, according to a letter signed by more than 30 members of Congress.
The fellowships were created to help highly qualified applicants from diverse economic and racial backgrounds into foreign service roles. Fellows complete a two-year Master's degree, internships at the State Department, and – if they pass the rigorous selection, hiring, and background check process – go on to serve as foreign service officers for at least five years.
The State Department, however, offered this year's graduates a different position: processing visas and providing support to Americans abroad in a "temporary consular position".
According to a former State Department intern, that's about what foreign service officers can expect to do for their first two years on the job. But this year's graduates would be doing it for five years, with no guarantee of a better, permanent position down the road.
In pictures: President Donald Trump on tour

Show all 39
The decision is the result of a State Department hiring freeze imposed shortly after Donald Trump took office. Coupled with deep cuts to foreign aid, the freeze would help to cut back on State Department spending.
Secretary of State Rex Tillerson defended the cuts at a heated hearing on the department's budget last week.
"Throughout my career I have never believed, or experienced, that the level of funding devoted to a goal is the most important factor in achieving it," he said. "Our budget will never determine our ability to be effective – Our people will."
But many believe that the hiring freeze is hurting some of the most gifted people at the department. Thirty-one members of Congress have signed on to a letter asking Mr Tillerson to waive the freeze and allow this year's Rangel and Pickering graduates to take jobs as foreign service officers.
The representatives say the new positions being offered are not what Congress intended when they required the State Department to invest in minority requirement in 2002.
The lawmakers also note the substantial financial investment the US has already made in these fellows: about $85,000 each for their education and professional development, and tens of thousands more for their security clearances.
"As the Trump Administration's extreme proposed cuts to the State Department's budget threaten to hinder our diplomatic efforts around the world, exempting these young people from the agency's hiring freeze would be a positive and practical decision for Secretary Tillerson to make," Representative Joaquin Castro said in a statement.
But State Department spokesman Heather Nauert maintained the department was "keeping our commitment to these fellows". She said graduates could perform many similar tasks to first-tour general officers in the temporary positions, with the potential to work as Foreign Officers after the freeze is lifted.
For many, however, the remedy is too little, too late.
"These signals and decisions are beginning to have a genuine negative effect on morale and on our operating capacity," Senator Christopher Coons told The Washington Post.
Among American diplomats, he added, "there is real lack of certainty about the path forward, about their careers. I'm concerned we are going to lose the very best of our Foreign Service."
Register for free to continue reading
Registration is a free and easy way to support our truly independent journalism
By registering, you will also enjoy limited access to Premium articles, exclusive newsletters, commenting, and virtual events with our leading journalists
Already have an account? sign in
Join our new commenting forum
Join thought-provoking conversations, follow other Independent readers and see their replies