Trump refuses to back down as EU and Canada hit back over 'dangerous' US tariffs
Decision to impose tariffs on steel and aluminium leads to retaliation from some of Americas' closest allies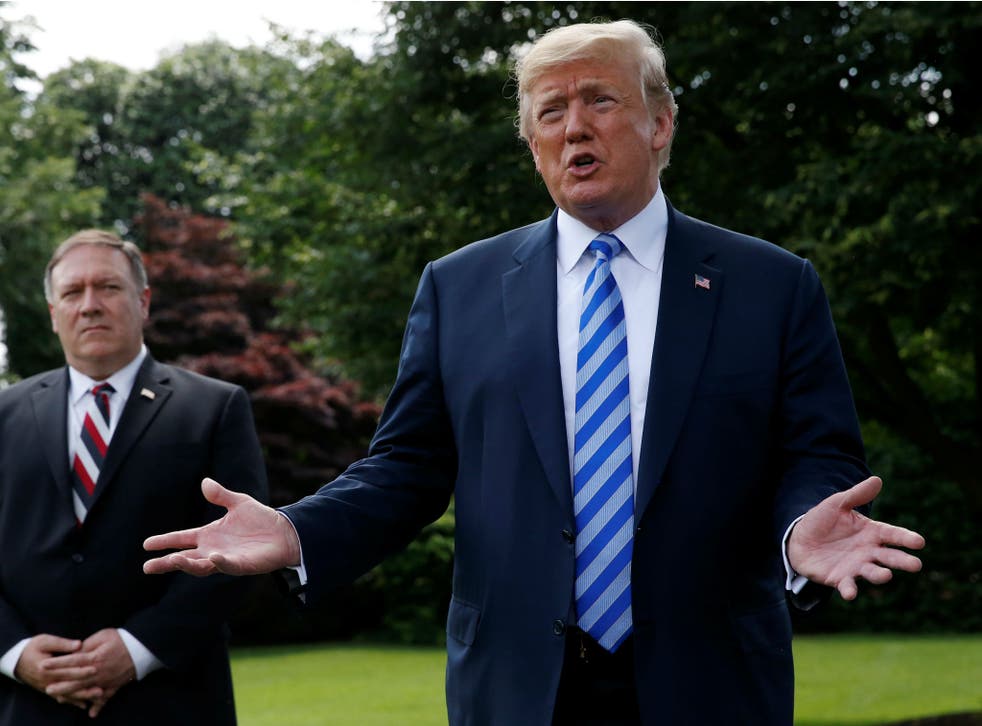 Donald Trump is not backing down from a decision to impose tariffs on allies in the European Union, Canada and Mexico, as the EU warns the US president is playing a "dangerous game" and the UK pushes to be "permanently exempted" from the move.
Speaking outside the White House Mr Trump said that he was looking to fix the "unfair" state of trade with the EU. That followed an early morning tweet where Mr Trump accused Canada of treating the US "poorly" and saying it needed to "open their markets and take down their trade barriers". The White House released details of a conversation Mr Trump had with French President Emmanuel Macron where the president said he needed to "rebalance trade with Europe".
The decision by the Trump administration to finally impose the 25 per cent tariffs on steel imports and 10 per cent on aluminium weeks after they were announced has sparked outrage among some of Washington's staunchest allies with Theresa May saying: "The EU and UK should be permanently exempted from tariffs" and she is "deeply disappointed at the unjustified decision by the US"
"Our steel and aluminium industries are hugely important to the UK, but they also contribute to US industry including in defence projects which bolster US national security, Ms May added.
The threat of a trade war has also spooked financial markets, which has global ramifications. Mr Trump has defended the measures, saying they are aimed at protecting US metal workers, who are vital to national security .
In a swift, and tough, response the EU took the US to the World Trade Organisation (WTO) on Friday to challenge the legality of the move, having issued a 10-page list of tariffs on US goods ranging from Harley-Davidson motorcycles to bourbon. Mexico and Canada have also vowed retaliation, with Canada's, foreign affairs minister Chrystia Freeland saying the country had also filed a complaint with the WTO.
World news in pictures

Show all 50
"Canada will closely collaborate with the European Union, which also filed a WTO challenge today, as well as with other like-minded countries, on opposing these tariffs," Ms Freeland added.
The EU's trade commissioner, Cecilia Malmstrom, said that EU could not "just take these tariffs and stay silent" and that "the US is playing a dangerous game".
At a meeting of G7 finance ministers in Canada, French Finance Minister Bruno Le Maire said Washington would only isolate itself over the move.
Mr Le Maire said he would tell US Treasury Secretary Steven Mnuchin that decision to impose tariffs was "legally unacceptable, politically unfair and economically dangerous".
Wilbur Ross on trade tariffs: Even if the EU retaliates, it won't be as much as 1% on our economy
"Unfortunately we are going to have a G6 plus one with the United States alone against everyone and running the risk of economic destabilisation," Mr Le Maire told reporters.
Trump administration officials have sought to play down the impact of the tariffs as nothing more than a "family quarrel". This is despite UK International Trade Secretary Liam Fox saying the levy on steel was "patently absurd", adding: "It would be a great pity if we ended up in a tit-for-tat trade dispute with our closest allies."
Mr Trump's chief economic adviser has said that he remains optimistic about the outcome of negotiations with Canada, Europe and Mexico in spite of recent escalations.
Larry Kudlow, director of the National Economic Council, told reporters: "This is what I regard as a family quarrel and the conversations are wide open and could well be solved in the months ahead as the conversations continue."
The EU envoy Ms Malmstrom backed away from describing the situation as a trade war, because of the "psychological effect" it has – but suggested that the US would need need to withdraw the measures against the EU for talks to move forward.
"We are not in a trade war, but we are in a very difficult situation caused by the United States," Ms Malmström said. "I would not use the term 'trade war' because it has a psychological effect."
The United States had sought to use the tariff threat to win concessions from Canada and Mexico in talks to renegotiate the North American Free Trade Agreement (Nafta). But the Nafta talks are at an impasse – leading to the tariffs being imposed Thursday at midnight.
Germany's Volkswagen, Europe's largest automaker, warned that the decision could start a trade war that no side would win.
It comes as the US commerce secretary, Wilbur Ross, heads to Beijing for negotiations aimed at resolving a trade dispute with China over what the US says are aggressive attempts to challenge Washington's technological supremacy. China has borne the brunt of Mr Trump's complaints that the US is being victimised by the rest of the world. Action on the US trade deficit was a central plank of Mr Trump's presidential campaign in 2016, and conversations with China have veered from joint proclamations to deal with the dispute to tit-for-tat tariffs and other punitive actions.
Many analysts have suggested that Mr Trump should be keeping allies like the EU, Canada and Mexico close as pushing them away at such a crucial time will only weaken their hand with Beijing. The European Union and China have already said they will deepen ties on trade and investment as a result of the move to impose steel and aluminum tariffs.
"This is stupid – it's counterproductive," Francis Maude, a former British trade minister, told the BBC. "Any government that embarks on a protectionist path inflicts the most damage on itself."
Join our new commenting forum
Join thought-provoking conversations, follow other Independent readers and see their replies