Trump lawyer Michael Cohen wins restraining order against porn star Stormy Daniels to stop her speaking out
Ms Daniels - whose real name is Stephanie Clifford - has filed a lawsuit alleging the President and Mr Cohen 'aggressively sought to silence' her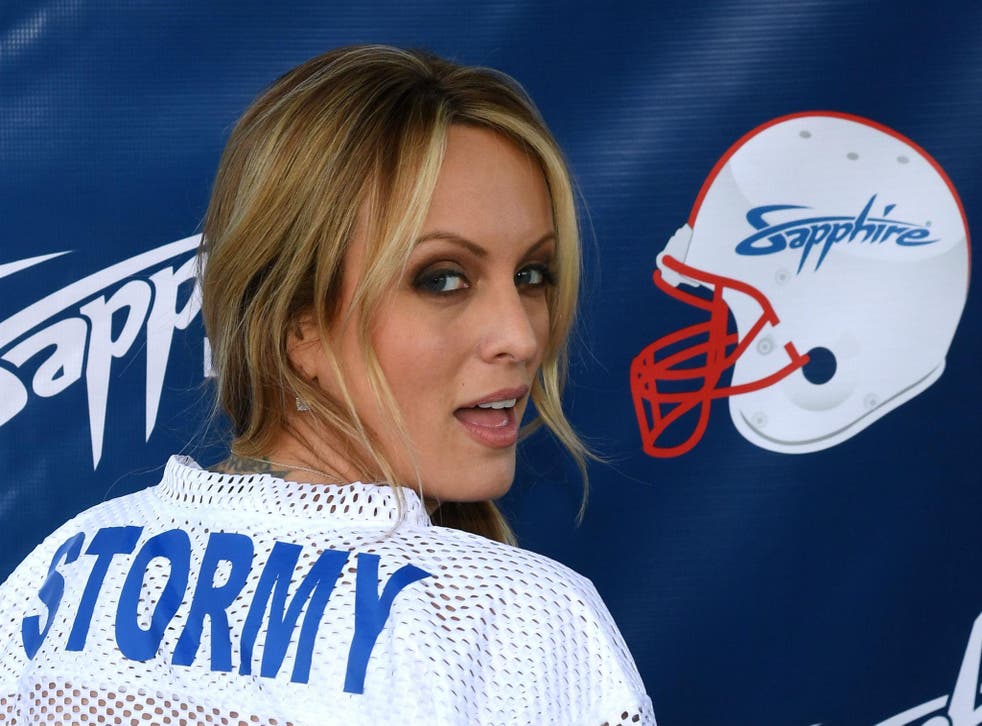 Donald Trump has obtained a restraining order against the porn star Stormy Daniels to prevent her speaking out about their alleged relationship.
The White House confirmed Mr Trump had "won in arbitration" proceedings against Ms Daniels – whose real name is Stephanie Clifford – but said the President had no knowledge of earlier payments to the actress as part of a "hush agreement".
Ms Daniels' lawyer accused Mr Trump and his lawyer, Michael Cohen, of continuing to pressure her to keep silent, in a lawsuit filed in Los Angeles Superior Court.
The lawsuit alleges that Mr Trump and Mr Cohen "aggressively sought to silence Ms Clifford as part of an effort to avoid her telling the truth, thus helping to ensure he won the Presidential Election." A week before the election, on 28 October 2016, Ms Clifford and Mr Cohen signed a nondisclosure agreement after he paid her $130,000. Ms Clifford now claims the agreement is invalid because the President did not sign it.
On Wednesday, a copy of the restraining order obtained by the New York Times showed that Mr Cohen secretly obtained the order last week to prevent Ms Clifford from speaking out.
The details of the restraining order came to light after the White House's spokeswoman, Sarah Huckabee Sanders, claimed the case involving Ms Clifford had already been won by the President's team in an arbitration proceeding.
Ms Sanders also reiterated that Mr Trump had denied having an affair with Ms Clifford or making the payment himself. She added that she was not aware of whether Mr Trump knew about the payment to Ms Clifford at the time.
"I've had conversations with the president about this," Ms Sanders said at a White House briefing. "This case has already been won in arbitration, and there was no knowledge of any payments from the president, and he has denied all these allegations."
Mr Cohen has also denied there was ever an affair.
Lawrence Rosen, a lawyer representing Mr Cohen, said in a statement on Wednesday to the New York Times that an arbitrator, who "found that Ms Clifford had violated the agreement," barred her from filing her lawsuit and making other disclosures of confidential information.
Ms Clifford's lawyer, Michael Avenatti, said that he did not consider the restraining order, dated 27 February, to be valid, and that Ms Clifford would proceed with her lawsuit in open court. "This should be decided publicly," he said, according to the Times.
Donald Trump's first year: in pictures

Show all 29
Ms Clifford's nondisclosure contract, made public through her lawsuit, calls for disagreements to be settled through confidential, binding arbitration. According to the contract, the President has the right to seek financial penalties of more than $1m in arbitration should Ms Clifford break or threaten to break her agreement to stay silent. He also apparently has the right to obtain an injunction barring her from speaking while disputes are considered in arbitration or open court.
But Ms Clifford had suggested she was free to speak out after Mr Cohen disclosed last month that he had arranged the $130,000 payment, the Times reported.
"To be clear, the attempts to intimidate Ms Clifford into silence and 'shut her up' in order to 'protect Mr Trump' continue unabated," the lawsuit says. "On or about February 27, 2018, Mr Trump's attorney Mr Cohen surreptitiously initiated a bogus arbitration proceeding against Ms Clifford in Los Angeles."
Ms Clifford alleges that she began an "intimate relationship" with Mr Trump in 2006 – a year after he married his current wife, Melania Trump – and that it continued "well into the year 2007", according to the lawsuit. Ms Clifford has claimed she had sex with Mr Trump once and then carried on a subsequent years-long platonic relationship. She has also denied that they had an affair.
In an interview with CNN, Mr Avenatti slammed the White House's claim that Mr Cohen facilitated the payment to the adult film star without the President's knowledge.
"The suggestion that you would have an experienced educated attorney like Mr Cohen who would run off half-cocked without any knowledge of his client, that he would negotiate and draft a detailed agreement that included his client as a party, that he would engage in weeks of negotiation, that he would reach agreement, that he would then send $130,000 in connection with that agreement, that he would then later institute an arbitration proceeding without knowledge of his client, all of this to those of us who practice under the law as attorneys – it's ludicrous," Mr Avenatti said.
Register for free to continue reading
Registration is a free and easy way to support our truly independent journalism
By registering, you will also enjoy limited access to Premium articles, exclusive newsletters, commenting, and virtual events with our leading journalists
Already have an account? sign in
Register for free to continue reading
Registration is a free and easy way to support our truly independent journalism
By registering, you will also enjoy limited access to Premium articles, exclusive newsletters, commenting, and virtual events with our leading journalists
Already have an account? sign in
Join our new commenting forum
Join thought-provoking conversations, follow other Independent readers and see their replies