Democrats threaten to subpoena Trump officials over secret attempts to obtain lawmakers' data
Schumer calls Barr's alleged seizure of Apple data 'gross abuse of power' and 'assault on the separation of powers'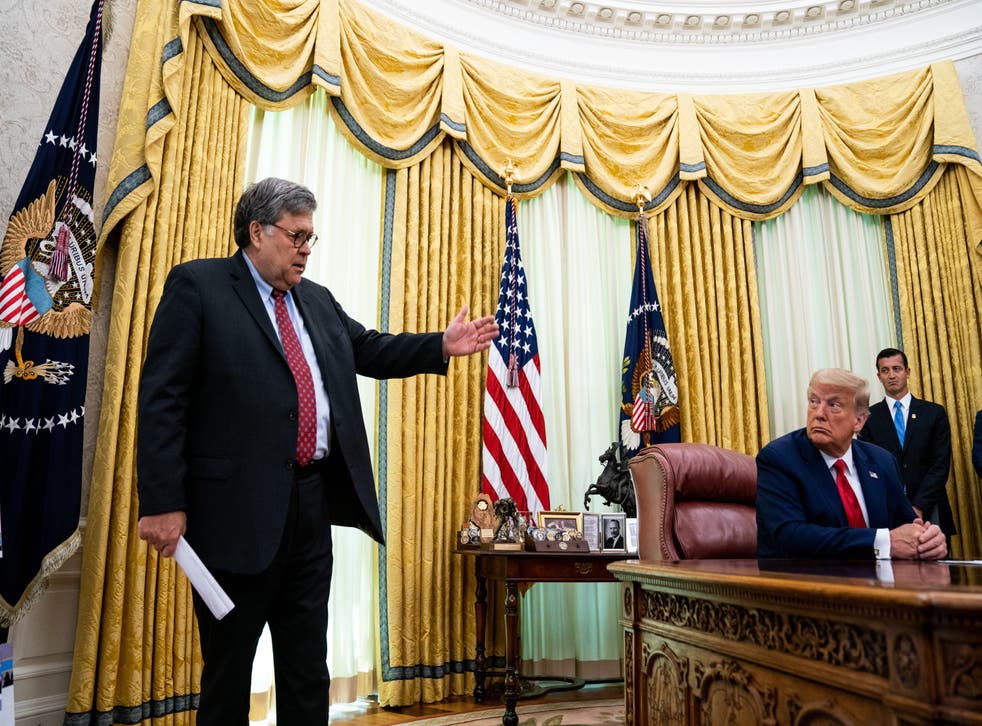 Leer en Español
Senate Democrats have called on former Justice Department officials under Donald Trump to testify to Congress following reports that the top prosecutors seized records from Apple to probe data from House Democrats, their aides and family members.
The inspector general at the US Department of Justice also said he will review the allegations and"whether any such uses, or the investigations, were based upon improper considerations," Michael Horowitz said in a statement.
Under Trump, the Justice Department reportedly subpoenaed the company for information from accounts belonging to at least two Democrats on the House Intelligence Committee, including prominent Trump impeachment figures Adam Schiff and Eric Swalwell.
Records from at least a dozen people were reportedly seized in 2017 and 2018 – including at least one person who was a minor.
"A gross abuse of power. An assault on the separation of powers," Senate Majority Leader Chuck Schumer said on Friday.
He called on former Attorneys General William Barr and Jeff Sessions to testify under oath.
"Barr, Sessions, and other officials involved must testify before the Senate Judiciary Committee under oath," he said. "If they refuse – they are subject to being subpoenaed and compelled to testify."
In a joint statement with Senator Dick Durbin, who chairs the Senate Judiciary Committee, the senators condemned the "appalling politicization" of the Justice Department under Trump and called on his "loyalists" to face congressional and inspector general probes.
Congressman Schiff, who served as chair of the House Judiciary Committee and lead impeachment manager during the former president's first impeachment trial, said in a statement on Thursday that "Trump repeatedly demanded the DOJ go after his political enemies. It's clear his demands didn't fall on deaf ears."
"This baseless investigation, while now closed, is yet another example of Trump's corrupt weaponization of justice," he said. "And how much he imperiled our democracy."
The Justice Department's secretive effort to obtain lawmakers' data reportedly followed Mr Sessions's efforts to find sources behind leaks to news media about contacts between Trump and his allies with Russia.
After replacing Mr Sessions, Mr Barr reportedly revived those attempts, promoting a New Jersey prosecutor to the Justice Department to target Rep Schiff and others, according to The New York Times.
The agency secured a gag order on Apple that expired this year, preventing lawmakers from knowing they were subjects of an investigation until last month, the newspaper reported.
Justice Department officials under Joe Biden disclosed the subpoena to news organisations in recent weeks, fuelling reporting into the depths of the Trump-era probe and his war on the press and political opponents.
The House Intelligence Committee, which investigated the Trump campaign's ties to Russia during the 2016 presidential race, was instrumental in an inquiry into the former president's dealings with Ukraine, following a phone call in which he pressed President Volodymyr Zelensky for information on his rival Joe Biden and son Hunter Biden in exchange for promised military aid.
Mr Trump was impeached by the House of Representatives for obstruction of justice and abuse of power. He was acquitted by the Republican-controlled Senate.
Congressman Swalwell said Apple notified him on 1 May that his records were "among those sought by – and turned over to – the Trump administration as part of a politically motivated investigation into his perceived enemies."
"This kind of conduct is unacceptable, but unfortunately on brand for a president who has repeatedly shown he would cast aside our Constitution for his own personal gain," he said in a statement.
Rep Schiff and Rep Swalwell have also called on the Justice Department's inspector general to investigate the record seizures.
Register for free to continue reading
Registration is a free and easy way to support our truly independent journalism
By registering, you will also enjoy limited access to Premium articles, exclusive newsletters, commenting, and virtual events with our leading journalists
Already have an account? sign in
Register for free to continue reading
Registration is a free and easy way to support our truly independent journalism
By registering, you will also enjoy limited access to Premium articles, exclusive newsletters, commenting, and virtual events with our leading journalists
Already have an account? sign in
Join our new commenting forum
Join thought-provoking conversations, follow other Independent readers and see their replies