Trump says Mexico and Canada could be exempt from tariffs if they comply on Nafta
President's statement comes amid final day of trade agreement negations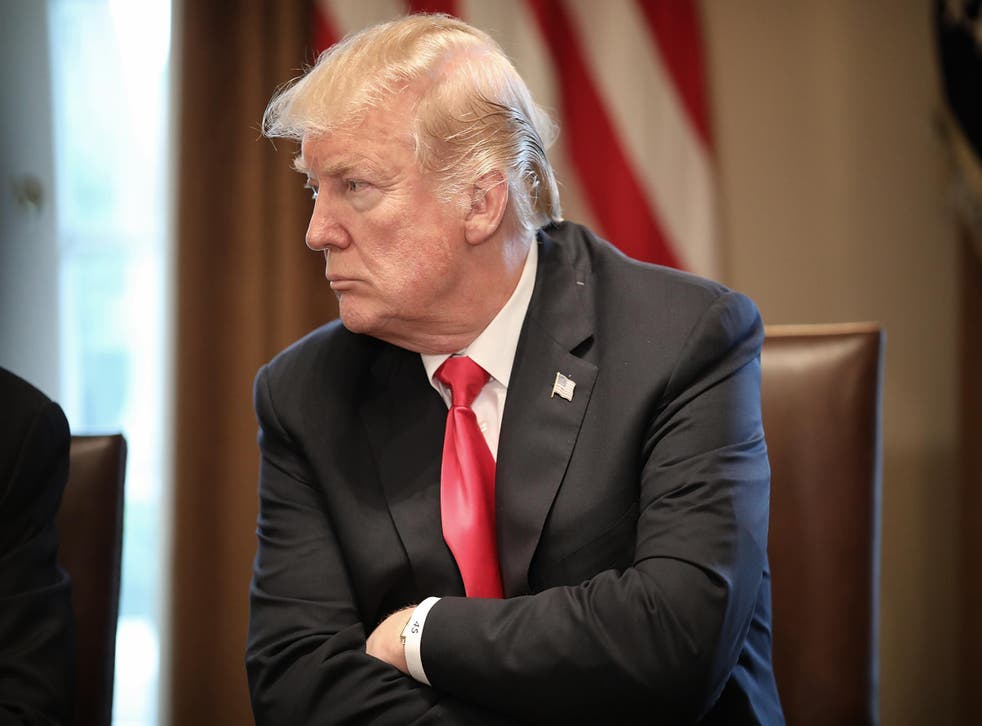 President Donald Trump has suggested he may exempt Mexico and Canada from his controversial tariff plan if they comply to with his wishes on a major trade agreement.
As negotiators in Mexico City entered their final day of of talks on the North American Free Trade Agreement (Nafta), Mr Trump tweeted: "NAFTA, which is under renegotiation right now, has been a bad deal for U.S.A. Massive relocation of companies & jobs. Tariffs on Steel and Aluminium will only come off if new & fair NAFTA agreement is signed."
The statement came days after Mr Trump announced he would implement a 25 per cent tariff on steel imports and a 10 per cent tariff on aluminium imports to the US, sending stock markets plummeting. Canada and Mexico are two of the biggest steel importers to the US, making up 16 per cent and 9 per cent of the market share, respectively.
On Monday, Mr Trump suggested a path to renegotiating the tariffs, adding: "Also, Canada must treat our farmers much better. Highly restrictive. Mexico must do much more on stopping drugs from pouring into the U.S. They have not done what needs to be done. Millions of people addicted and dying."
Just one day before, White House trade adviser Peter Navarro – a chief advocate for the tariffs – told Fox News that no countries would be excluded from the penalties.
"At this point in time, 25 per cent on steel, 10 percent on aluminium, no country exclusions, firm line in the sand," he said.
Donald Trump's first year: in pictures

Show all 29
Commerce Secretary Wilbur Ross, however, left the possibility open, telling NBC's Meet the Press: "We shall see".
It is unclear how serious Mr Trump is in his offer to negotiate the tariffs. He has previously called Nafta the "worst trade deal in the history of the world" and threatened to terminate it altogether.
Negotiators from the US, Mexico and Canada were wrapping up their seventh and final round of Nafta negotiations on Monday, with US Trade Representative Robert Lighthizer due to meet with Mexican Economy Minister Ildefonso Guajardo and Canadian Foreign Minister Chrystia Freeland just hours after Mr Trump's tweet.
Donald Trump unveils new tariffs on steel and aluminium imports to US
The talks have been complicated by Mr Trump's tariff announcement last week, after which both Canada and Mexico – and even the European Union – threatened to retaliate. Experts such as Roberto Azevedo, the director general of the World Trade Organisation, have warned that the tariffs could lead to a global trade war.
Republican Senator Lindsey Graham took to the airwaves on Sunday to ask Mr Trump to reconsider the tariffs altogether.
"You're punishing the American taxpayers, and you are making a huge mistake," he said on CBS's Face the Nation.
Mr Trump responded to criticism by tweeting that trade wars are "good" and "easy to win".
"When we are down $100 billion with a certain country and they get cute, don't trade anymore-we win big," he tweeted last week. "It's easy!"
Register for free to continue reading
Registration is a free and easy way to support our truly independent journalism
By registering, you will also enjoy limited access to Premium articles, exclusive newsletters, commenting, and virtual events with our leading journalists
Already have an account? sign in
Register for free to continue reading
Registration is a free and easy way to support our truly independent journalism
By registering, you will also enjoy limited access to Premium articles, exclusive newsletters, commenting, and virtual events with our leading journalists
Already have an account? sign in
Join our new commenting forum
Join thought-provoking conversations, follow other Independent readers and see their replies