'We're struggling': US farmers are hurting from Trump's trade war with China, but they're not ready to abandon their president just yet
'At this point, he'd better not back up, or we're going to look pretty foolish,' one farmer says
Thursday 22 August 2019 20:13 Comments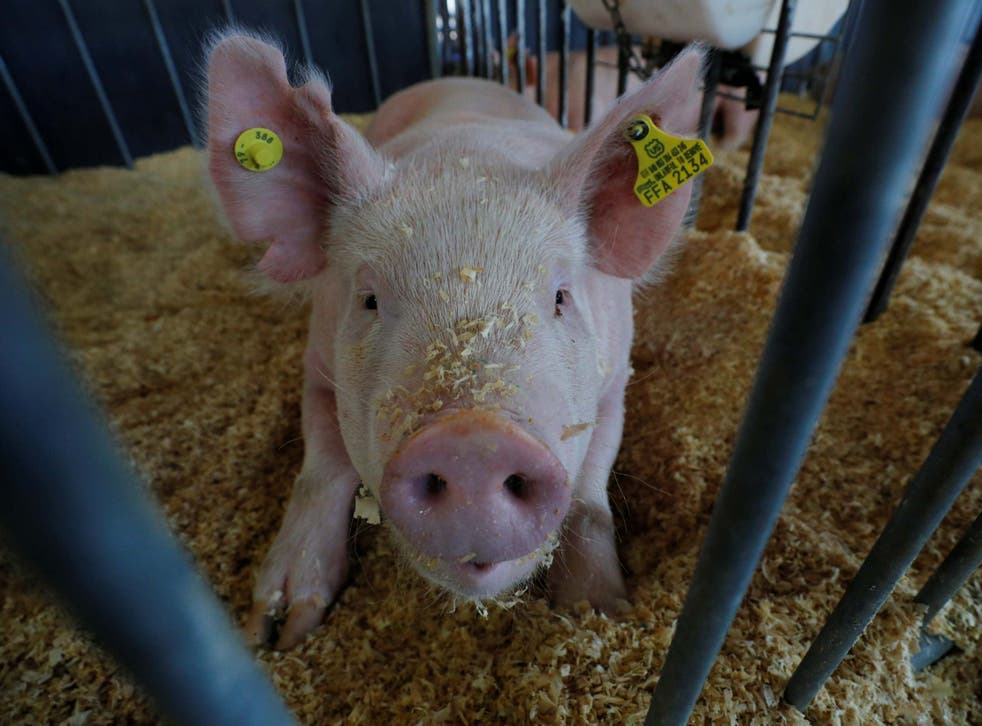 Bill Tenneger has been farming for 50 years, raising pigs on his northwest Iowa farm before shipping them off to packers in the state, and then to the rest of the world.
So it is with a bit of historical perspective that Tenneger says his industry is struggling as a result of the trade war Donald Trump has been waging for nearly a year and a half – even if many among Iowa's agriculture and livestock industry aren't ready to give up on a president who has largely thrown the script out the window, and made a trade war with China a key focus of his tenure.
"We're struggling. Margins have been extremely tight for well over a year," Tenneger says, sitting in the dining area of the pork tent at the Iowa State Fair. He said farmers are losing around $8 a head per pig, or around 6 per cent.
Near Tenneger, a line stretches around the perimeter and into the fairway of the sprawling fairgrounds. Inside a fence stood massive grills, where presidential candidates hoping to unseat Trump stop by to flip some meat – with cameras flashing, of course.
The Iowa farmer's mind is elsewhere, however – in Washington, where a president known to turn markets on their heads through tweets seemingly sent at a whim; and in China, where a devastating outbreak of the African swine flu has been roiling pork markets for at least a year.
These products may become more costly in the trade war

Show all 9
When the African swine flu first broke out about a year ago, pork producers in Iowa – not to mention futures traders – were optimistic they might be able to capitalise on the demand in China for imported pork, as their swine populations were decimated. But, with Trump's trade war leading the Chinese government to impose a 62 per cent levy on US pork, that opening appears to have evaporated.
"I've come to the conclusion that even when something happens, they're not going to react near as much as they could," Tenneger says of the markets, after describing a surge as the flu raged through Asia, and one that has dropped and become sceptical as the trade war has dragged on.
Since Trump first began ramping up the trade war with China in 2017, US farmers and producers have faced a tumultuous near and long-term outlook for their business, even as the president has claimed his efforts have been a boon for the United States with a positive impact for both farmers and American consumers.
Support free-thinking journalism and attend Independent events
Meanwhile, analysts attempting to get a comprehensive picture of the impact of the escalating trade war have said that there are signs of concern. Contrary to Trump's claim that the impact on American consumers is "virtually none" so far, the increased tariffs on imported goods and agricultural products has been been almost entirely paid for by US consumers, according to researchers at Princeton University.
There are other signs of alarm. Just this week, for instance, the yield curve for US government bonds inverted for the first time since 2007 – a signal that came before all of the past seven US recessions. Meanwhile, Trump has maintained that farmers aren't being hurt by his trade war, in an apparent nod to the massive payouts made to offset the damage, even as his administration limited this week the scope of supplies impacted by US tariffs.
"Through massive devaluation of their currency and pumping vast sums of money into their system, the tens of billions of dollars that the US is receiving is a gift from China," Trump tweeted on Tuesday. "Prices not up, no inflation. Farmers getting more than China would be spending. Fake News won't report!"
But it's the uncertainty from his tweets that has been a major source of stress for Leon Sheets, a pig farmer in northeast Iowa, who also farms some 600 acres of row crop including corn and soybeans.
Sheets said his overall view is to keep working and do his best, because he knows he has little control over the tariffs and trade war being run through Washington. Plus, he lives his life with the philosophy – as does Tenneger – that the president is an individual that Americans should support, regardless of differences in opinion about correct policy.
He notes, however, that the president's personal style of announcing drastic shifts in his thinking on a public forum limited to a couple hundred characters can take its toll.
"We'd like to not have those surprise announcements – unless they're positive, and we're going to have a big sale," Sheets says with a smile.
Sheets and Tenneger are among those farmers in Iowa who say they stand by the president, if for no other reason than a sense of patriotic duty. But not all farmers are as delicate when the subject of Trump's trade war comes up.
"I don't even know what he's complaining about," George Naylor, a soybean farmer in Iowa, says.
Naylor says soybean prices are generally low, and the current pricing is not too far off from the norm, even with the general trend line. The current price for a bushel is about $8.84, according to historical data, which is pretty consistent to the prices seen going back until around the 1970s. And, prices were actually pretty high during Trump's predecessor's tenure, with a high of $17.36 midway through Barack Obama's presidency.
"It's all bulls***," Naylor, a farmer for 42 years, says when asked about the trade war. "It's just another political stunt to make him look like some kind of a great nationalist."
But, Naylor aside, many farmers seem to be standing with the president, at least for now.
He may be hurting their bottom lines right now, but he is at least willing to go to bat for what he believes in – even if it is not always clear what his plan is to those on the outside.
Plus, Tenneger says, Trump is a straight shooter, and farmers like that quality in a leader.
"The man calls a spade a spade," Tenneger says. "If he says, 'this is how I'm gonna do it', he does it. I don't see him waffling on stuff. So, I really appreciate that."
And, anyway, Trump is in too deep to turn back now, he adds. "At this point, he'd better not back up, or we're going to look pretty foolish."
Register for free to continue reading
Registration is a free and easy way to support our truly independent journalism
By registering, you will also enjoy limited access to Premium articles, exclusive newsletters, commenting, and virtual events with our leading journalists
Already have an account? sign in
Register for free to continue reading
Registration is a free and easy way to support our truly independent journalism
By registering, you will also enjoy limited access to Premium articles, exclusive newsletters, commenting, and virtual events with our leading journalists
Already have an account? sign in
Join our new commenting forum
Join thought-provoking conversations, follow other Independent readers and see their replies