Trump administration to introduce rule allowing medical workers to deny abortions or refuse treat transgender patients
New rule allows providers to claim religious and moral objections to certain services
Emily Shugerman
New York
Thursday 18 January 2018 16:19 Comments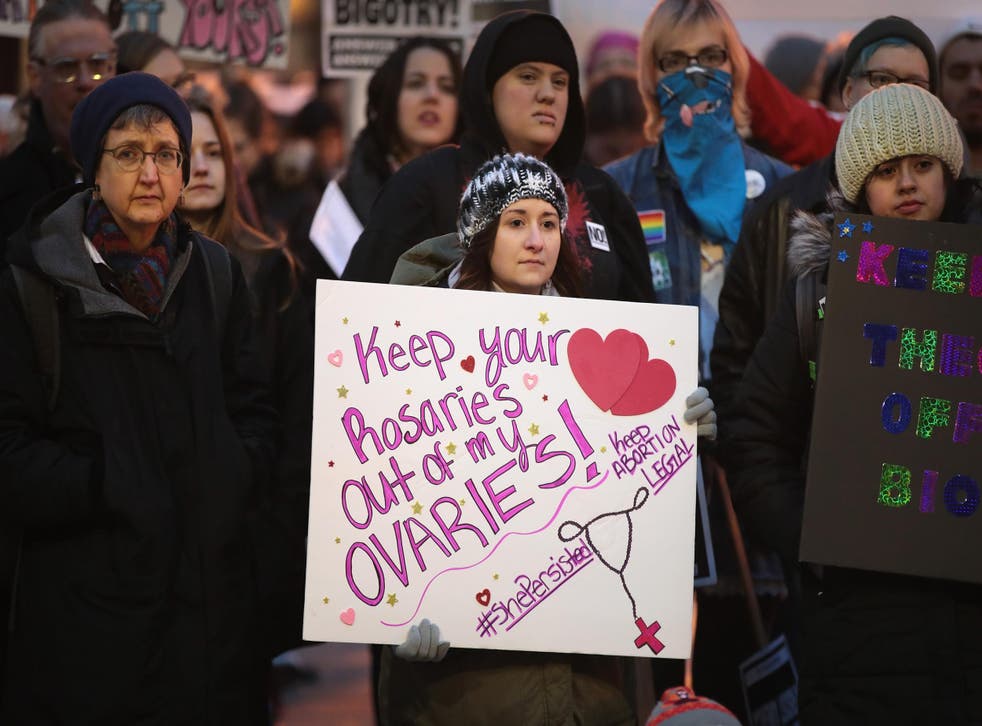 The Trump administration has reportedly developed rules to shield healthcare workers who do not want to perform abortions or provide services to transgender patients, in a move activists have called a "license to discriminate" against LGBT people and women.
The rule creates a new division in the Health and Human Services (HHS) Civil Rights Office to assist healthcare workers who say they were forced to provide services contradicting their religious or moral beliefs. It will also find and discipline institutions who do not properly allow for these so-called "conscience objections," according to multiple news reports.
HHS Acting Secretary Eric Hargan said the new rule was a way to "vigorously uphold the rights of conscience and religious freedom". But advocates for women and transgender people say it could have life-threatening consequences.
"This is the use of religion to hurt people because you disapprove of who they are," said Harper Jean Tobin, policy director for the National Centre for Transgender Equality. "Any rule that grants a license to discriminate would be a disgrace and a mockery of the principle of religious freedom we all cherish."
She added: "That would be an invitation to deny life-saving care."
Thousands march against Donald Trump in LGBT rights parade

Show all 8
The rule signifies a return to policies first implemented by President George W Bush, to protect healthcare workers' religious liberty. The rules were criticised by groups like the American Medical Association for being too broad, allowing workers to refuse services such as birth control, blood transfusions, or treatment for gay men with Aids.
President Barack Obama rolled back many of the regulations in 2011 as a response to these concerns.
Now, advocacy groups are gearing up to fight the Trump administration's rules, too. The American Civil Liberties Union (ACLU) has threatened to take the policy to court, saying in a press release that "medical standards, not religious belief, should guide medical care".
Ilyse Hogue, president of NARAL Pro-Choice America, called the rules "a license to discriminate against women and LGBTQ individuals".
"Religious freedom does not allow people to force their views onto others, especially patients in need of care, as this policy allows," she said.
"Abortion access more popular than Trump" banner flown over March for Life
Critics may not have to wait long to challenge the new rule: A nurse in Rockford, Illinois recently filed a complaint with HHS that could be taken up by the new division.
The nurse claims she was forced from her job for objecting to a requirement that nurses make referrals to abortion providers and help women obtain abortion drugs, according to the Rockford Star. Her former employer, Winnebago County, said in court filings that she had been offered another, similar job, but elected to resign.
Roger Servino, the head of civil-rights enforcement at HHS, has a record of advocating in favour of religious groups and against LGBT rights, a Politico report noted. The former attorney has argued against legalising same-sex marriage, and spoken out against transition surgeries for transgender patients.
HHS previously issued rules allowing companies with religious or moral objections to deny contraceptive coverage to their employees.
The latest move comes as Donald Trump prepares to address the annual March for Life via satellite, making him the first president to speak at the pro-life event.
Register for free to continue reading
Registration is a free and easy way to support our truly independent journalism
By registering, you will also enjoy limited access to Premium articles, exclusive newsletters, commenting, and virtual events with our leading journalists
Already have an account? sign in
Join our new commenting forum
Join thought-provoking conversations, follow other Independent readers and see their replies