Trump's personal travel costs could pay to send food and water to Puerto Rico for almost three months, new analysis shows
Exclusive: Mr Trump told Puerto Ricans that their crisis had thrown the budget 'out of whack' but his golf trips since taking office are not cheap, either
Clark Mindock
New York
Tuesday 06 March 2018 20:48 Comments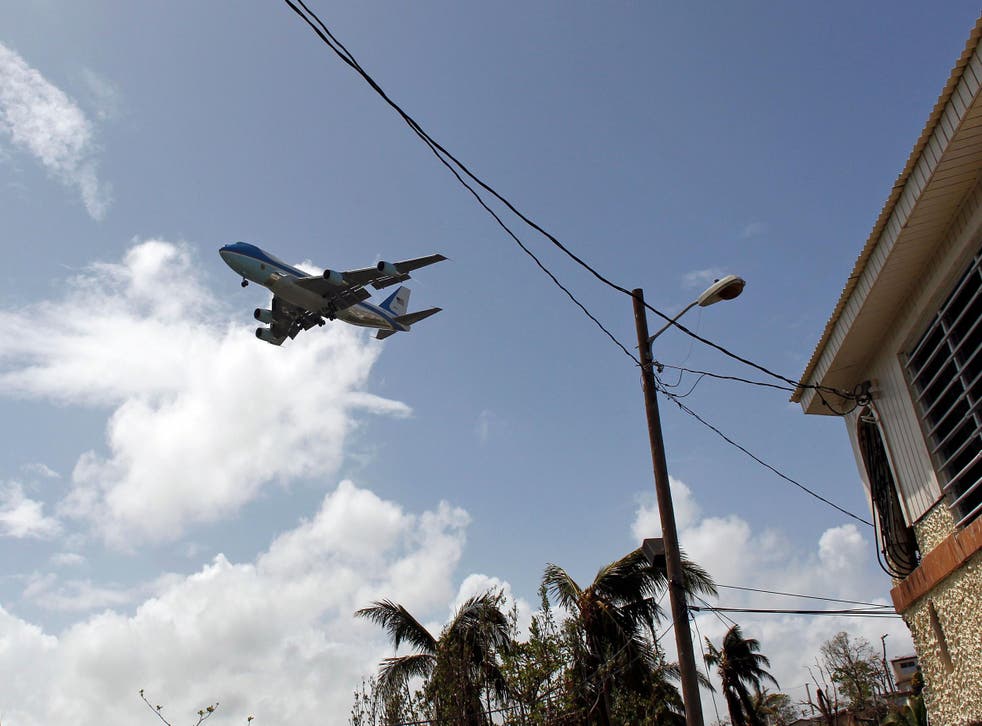 As the six month Hurricane Maria's landfall on Puerto Rico approaches, a new analysis shows that President Donald Trump's personal travel costs could have covered a considerable portion of the present-day costs for continued aid to the island, which remains without power in some pockets and still relies on federal relief even as some agencies have threatened to end their efforts.
While Mr Trump told Puerto Ricans that their humanitarian crisis had thrown the US budget "out of whack" in October, Mr Trump's personal trips since becoming president have racked up a hefty bill as well.
How much? Just over 90 per cent of the $36 million it costs the Federal Emergency Management Agency operations to deliver food and water to the island for three months, according to the study conducted by online document company FormSwift
"There's just an enormous waste of money, and energy, that this study shows," Maya Wald, an analyst with the company, told The Independent.
The analysis, conducted by comparing FEMA food and water costs for the island to estimated costs of presidential travel, finds that just the President's personal travel could have paid for 87.6 per cent — or $31m worth — of the costs for three months. That includes personal trips to Mr Trump's Mar-a-Lago resort in Florida, his golf club in New Jersey, and trips where Mr Trump held campaign rallies.
Melania Trump's travel costs could have paid for roughly 2.5 per cent — $900,000 — of the FEMA costs.
While many parts of Puerto Rico have seen meaningful recovery since Maria made landfall in September, 200,000 families and businesses are still without power in what has become the United States' longest blackout in US history. Some areas remain without access to potable water from faucets, making bottled water from agencies like FEMA a lifeline for some residents.
Bringing aid to Puerto Rico

Show all 20
Carmen Yulín Cruz, the mayor of San Juan and a prominent critic of the disaster relief efforts, says that recovery efforts are evident — but not enough is actually getting done.
"We are facing putting together a massive recovery effort. And that is part of the problem," Ms Cruz said recently during an appearance on Democracy Now. "It doesn't seem—wheels are spinning, but things don't seem to get off the ground. The botched effort continues to be deciphered."
Ms Wald says that her company was inspired to conduct their study after FEMA announced in late January that it would hand over responsibility for the distribution of food and water to local government. That announcement, four months after Maria's landfall, was quickly pulled back after public outcry from federal lawmakers on both sides of the aisle.
Included in the analysis are an August trip to Arizona, where he held a campaign rally in Phoenix after a quick stop in Yuma to visit the Border Patrol, as well as a trip to Alabama in September when Mr Trump campaigned for a candidate in the state's Republican primary for Senate. Among the biggest bills for Mr Trump's travel is for Coast Guard security off the coast of Florida while he is visiting Mar-a-Lago, since the resort is so close to the Atlantic Ocean.
The White House did not respond to requests for comment on this story.
"There is no decision to stop distribution of commodities. As progress continues from response to recovery across the island, we will continue to support the needs of survivors supporting the government of Puerto Rico," FEMA spokesperson Daniel Llargues told The Independent in an email, when asked about previous reports that the agency had considered ending distribution of food and water.
This is not the first time that a President has received criticism for personal travel costs, though Mr Trump's penchant for flying to his lavish Florida resort — he has spent at least 57 days there so far — has certainly raised eyebrows among even those who recognise that the costs associated with protecting and transporting a President are always going to be high.
Mr Trump, as a private citizen and then as a candidate for president, was a frequent critic of his predecessor Barack Obama's travel costs, which estimates put at roughly $106 million during his full eight years in the Oval office for things like vacations at Martha's Vineyard and winter retreats to Hawaii.
But, the President is commonly projected to end up costing the American taxpayer much more for personal travel if he is in the White House for a full eight years. While the exact costs of presidential travel for any president — including Mr Obama — are not publicly disclosed, Mr Trump's travel costs have been estimated to be roughly $700,000 more per month that his predecessor's monthly average, according to analysis by the conservative watchdog Judicial Watch, which frequently sues the federal government for access to presidential travel costs, and has been able to come up with estimates based upon previously disclosed costs for travel.
Register for free to continue reading
Registration is a free and easy way to support our truly independent journalism
By registering, you will also enjoy limited access to Premium articles, exclusive newsletters, commenting, and virtual events with our leading journalists
Already have an account? sign in
Join our new commenting forum
Join thought-provoking conversations, follow other Independent readers and see their replies