Trump globally mocked for Greenland meme tweet over hotel bankruptcy
Mr Trump promised not to build a tower with his name on it in Greenland — the internet seems to think that's a good idea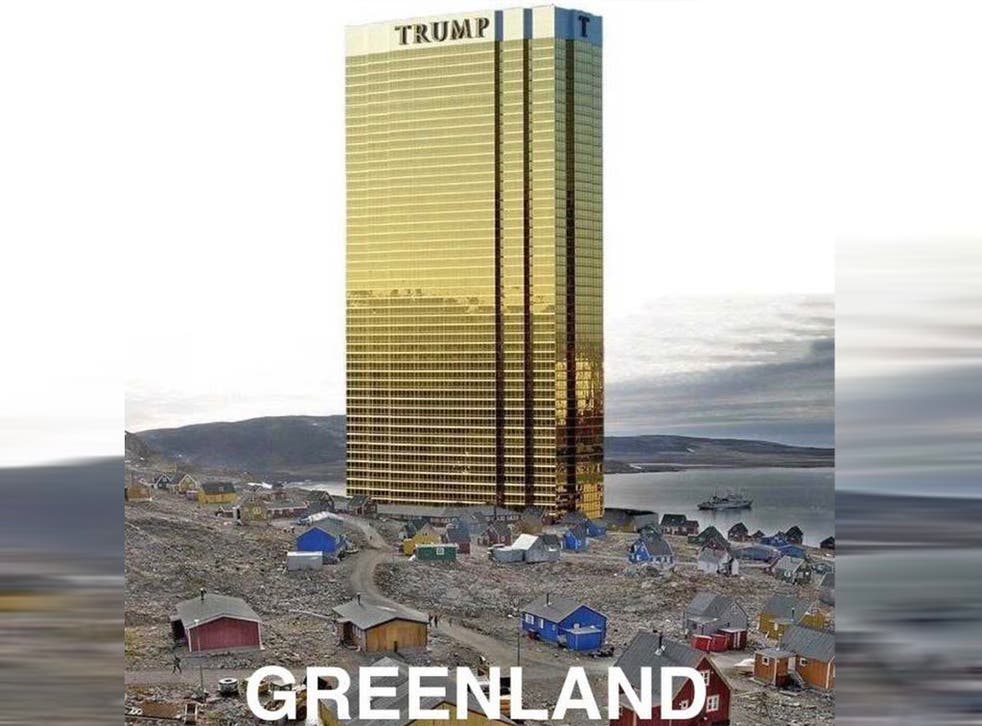 Donald Trump has tweeted — and then retweeted, hours later — a doctored image of what appears to be Trump Tower Las Vegas looming over a village in Greenland, promising not to push forward with such a development. And, in response, the internet has mocked the former businessman for his past failed business ventures, including the bankruptcy of his Taj Mahal casino in Atlantic City.
The image comes after Mr Trump confirmed he had considered the possibility of buying Greenland, and after news reports on those speculations sparked rampant mocking of the president online.
"I promise not to do this to Greenland!" Mr Trump captioned the image, apparently trying to join in on the joke.
Mr Trump has said that he thinks the idea of buying Greenland is an interesting prospect, and one that would not mark the first time that the United States has attempted to purchase the island, which is an autonomous Danish territory.
But, the foreign minister of Greenland, Ane Lone Bagger, has already poured cold water on the idea.
Climate change: Greenland ice cap accelerated retreating

Show all 22
"We are open for business, but we're NOT for sale," Ms Bagger told Reuters.
Regardless, Mr Trump's tweet led many online to remind him that he had pushed forward with questionable business plans previously, with some sharing images of liquidation sales after Trump's Taj Mahal casino in Atlantic City, New Jersey, went bankrupt.
Mr Trump "promises not to put one of his gaudy, poorly built, bankrupt casinos in Greenland!" one user tweeted.
Another photoshopped the Taj Mahal casino into a photo of Greenland.
Soon after Mr Trump's plan was made public, Danish politician Lars Løkke Rasmussen wrote that the whole thing must be an "April Fool's Joke".
Amy Siskind, a political blogger and Democratic personality, put things a bit more succinctly: "You're such a f****** embarrassment", she wrote.
Sources close to Mr Trump have also raised questions about how serious the US president really is about the idea, with some officials telling the Associated Press that he is "not serious" about the acquisition.
It wouldn't be the first time that Mr Trump had doubled down after a gaffe or odd story drew snickers. Previously, after he mistakenly tweeted the word "covfefe", Mr Trump embraced the joke and continued it, even as former White House press secretary Sean Spicer claimed the president knew "exactly" what he meant by the term.
Support free-thinking journalism and attend Independent events
Register for free to continue reading
Registration is a free and easy way to support our truly independent journalism
By registering, you will also enjoy limited access to Premium articles, exclusive newsletters, commenting, and virtual events with our leading journalists
Already have an account? sign in
Register for free to continue reading
Registration is a free and easy way to support our truly independent journalism
By registering, you will also enjoy limited access to Premium articles, exclusive newsletters, commenting, and virtual events with our leading journalists
Already have an account? sign in
Join our new commenting forum
Join thought-provoking conversations, follow other Independent readers and see their replies