Donald Trump's sexist attack on MSNBC host criticised by leading Republicans and Democrats
'Please just stop,' pleads Republican Senator Ben Sasse
Emily Shugerman
New York
Thursday 29 June 2017 23:28 Comments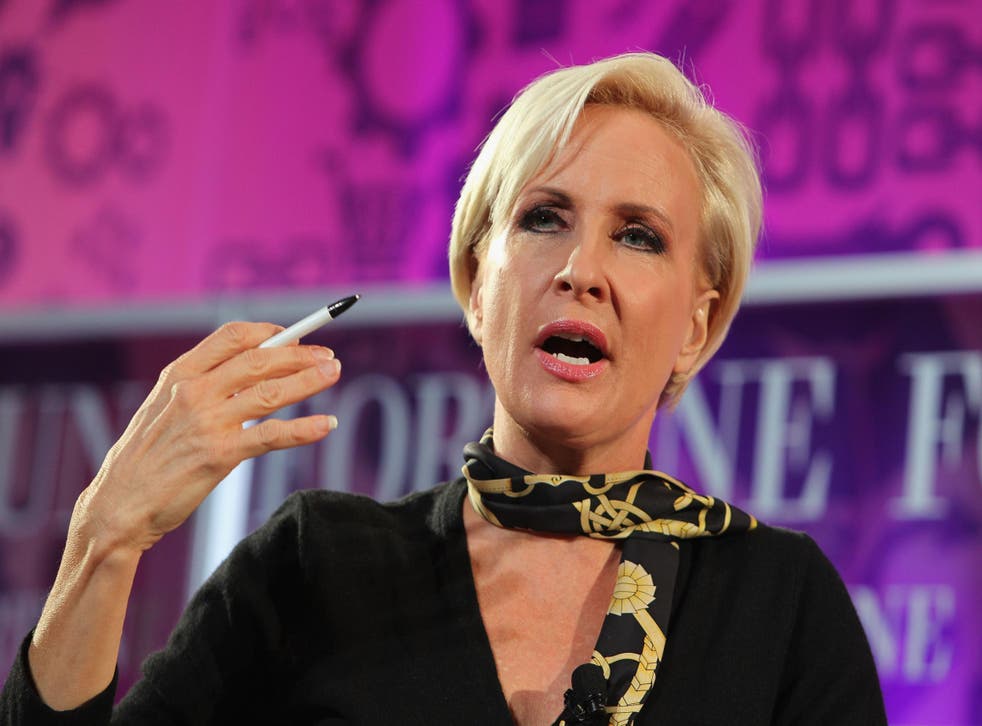 Republicans have had a hard time seeming united recently, with much internal party strife over the new healthcare bill, but President Donald Trump has appeared to achieve the feat with just two tweets.
Unfortunately for Mr Trump, his party members have come together in a chorus of disapproval.
"Not okay." "Beneath the office." "Please just stop." These were just some of the words aimed at the President after he criticised "Morning Joe" hosts Joe Scarborough and Mika Brzezinski for their coverage of his administration – and for Ms Brzezinski's appearance.
"I heard poorly rated @Morning_Joe speaks badly of me (don't watch anymore)," Mr Trump tweeted. "Then how come low I.Q. Crazy Mika, along with Psycho Joe, came to Mar-a-Lago 3 nights in a row around New Year's Eve, and insisted on joining me."
The President added: "She was bleeding badly from a face-lift. I said no!"
Mr Trump has sparred with Ms Brzezinski previously, calling her "off the wall, a neurotic and not very bright mess", but this was his first personal attack on Ms Brzezinksi since taking office.
Female senators were quick to jump on the sexist nature of the remarks, which came one day after Mr Trump singled out a female reporter for her "nice smile".
"This is not ok", tweeted Republican Senator Lynn Jenkins. "As a female in politics I am often criticised for my looks. We should be working to empower women."
The President has been chastised in the past for calling women "pigs" and "slobs", and bragging about being able to "grab them by the pussy" without their consent.
The remarks were also an escalation of Mr Trump's long-standing criticism of the news media, which he once called an "enemy of the American people".
A wealthy businessman and former reality TV star with no previous experience in government, Mr Trump has been quick to respond to criticism of his presidency, lashing out at the media for its coverage of probes into potential collusion between his campaign team and Russia, and other matters.
He has sometimes singled out individual journalists, including a high-profile attack on former Fox News and current NBC journalist Megyn Kelly while he was running for office. That included a comment about "blood coming out of her wherever", which was widely interpreted as a reference to menstruation.
Accusations of sexism aside, many legislators took issue with the crass wording of Mr Trump's remarks. Several Republicans called them "divisive" and "beneath the dignity" of the presidential office.
"Please just stop", pleaded Senator Ben Sasse, a frequent Trump critic. "This isn't normal and it's beneath the dignity of your office."
Even Mr Trump's usual supporters appeared unable to stomach the Thursday-morning missives.
Senator James Lankford, who has defended Mr Trump in the investigations into his presidential campaign, said the tweets "don't help our political or national discourse and do not provide a positive role model for our national dialogue". House Speaker Paul Ryan called them simply "inappropriate".
"Mr. President, it is incumbent upon ALL of us to tone down this divisive political rhetoric," tweeted Representative Adam Kinzinger.
Democrats were equally eager to condemn the remarks, with Congresswoman Lucille Roybal-Allard of California deeming them "vile".
Others called them "petty", and "unacceptable". Many members of Congress called on the President to apologise; several asked him to step down. Others suggested he simply delete his account.
"Mr. President, please grow up," pleaded Senator Jeff Merkley. House Democratic leader Nancy Pelosi called the tweets "blatantly sexist".
Ms Brzezinski responded by simply tweeting out a photo of a cereal box reading, "Made for little hands" – a reference to Mr Trump's reported preoccupation with the size of his hands.
"It's a sad day for America when the President spends his time bullying, lying and spewing petty personal attacks instead of doing his job," MSNBC's communications office said.
The Morning Joe programme aired live telephone interviews with Mr Trump during the 2016 presidential race, but its hosts have turned increasingly critical of him since he took office in January. On Thursday morning's show, Ms Brzezinski excoriated the Trump administration and said its officials should not act "lobotomised" because they are so scared of the president. On Wednesday, Ms Brzezinski and Mr Scarborough mocked Mr Trump for displaying in several of his golf resorts a fake Time magazine cover featuring himself, with Ms Brzezinski calling it "needy".
Sarah Huckabee Sanders, the Deputy White House Press Secretary, attempted to defend the President's statements in a Fox News appearance on Thursday morning.
"I don't think that the President has ever been someone who gets attacked and doesn't push back," Ms Sanders said.
Repeating a favourite White House talking point about the "fake news" media, she added: "This is a President who fights fire with fire, and certainly will not be allowed to be bullied by liberal media, and the liberal elites within the media, or Hollywood, or anywhere else."
Later, at a contentious White House briefing dominated by questions about the tweets, Ms Sanders went further: "I don't think you can expect someone to be personally attacked day after day and minute by minute and sit back. He's been very clear that when he's attacked he's going to hit back."
She added: "It's kind of like we're living in the Twilight Zone. They do this day after day after day and the President responds and defends himself and everyone is blown away."
Stephanie Grisham, a spokeswoman for First Lady Melania Trump – who is looking to set-up an initiative against cyberbullying – said: "As the First Lady has stated publicly in the past, when her husband gets attacked, he will punch back 10 times harder."
Senator Orrin Hatch, the Senate Finance Committee Chairman, had a slightly less fervent defence of the President's tweets: "Every once in awhile you get a dipsy-doodle!" he said.
Register for free to continue reading
Registration is a free and easy way to support our truly independent journalism
By registering, you will also enjoy limited access to Premium articles, exclusive newsletters, commenting, and virtual events with our leading journalists
Already have an account? sign in
Join our new commenting forum
Join thought-provoking conversations, follow other Independent readers and see their replies