Donald Trump cancelled his UK visit because he wouldn't get 'the love he believes he deserves', says Michael Wolff
The author says there is a 'deeper reason' Mr Trump cancelled his trip
Emily Shugerman
New York
Tuesday 16 January 2018 23:07 Comments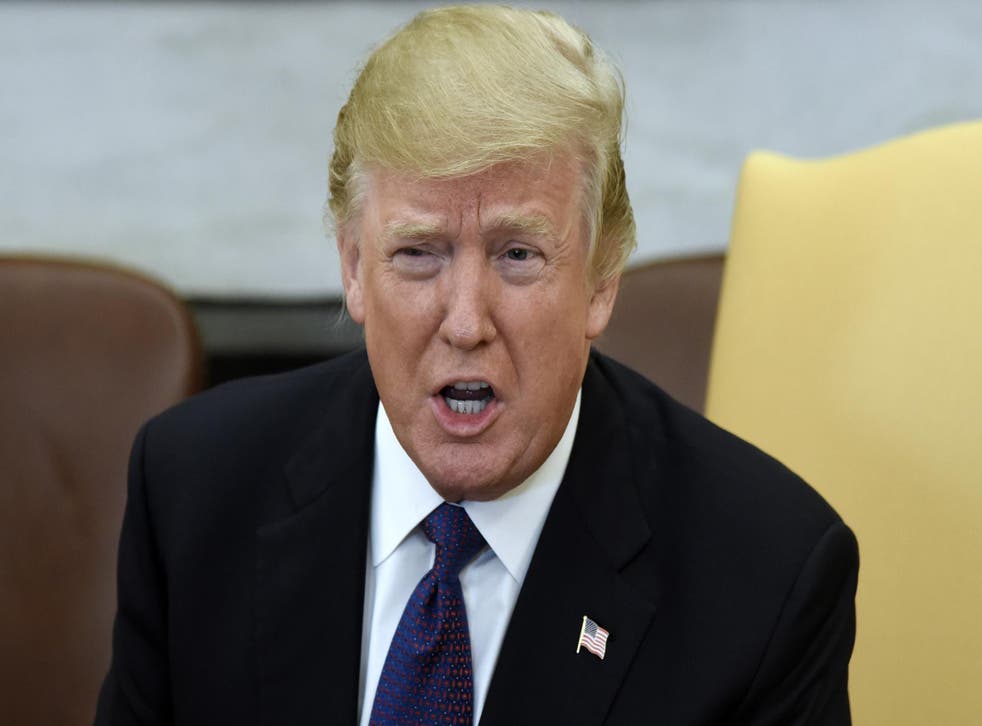 Donald Trump did not cancel his visit to London over a "bad deal," as he claimed, but out of fear that he would not be met with the adoring crowds he craved. Or so says the author of an explosive new book about the Trump White House.
Journalist Michael Wolff claims Mr Trump cancelled his trip because he "felt he would come to the United Kingdom and he would not receive the love he believes he deserves."
"I think he was probably supported in this decision by the people around him, because they know bad things happen when this president does not receive the love he believes he deserves," Mr Wolff said.
He added: "When he feels people are not according him proper respect, proper love, proper regard for him as a legitimate president, he goes crazy."
Mr Trump has repeatedly denounced Mr Wolff and his book, Fire and Fury: Inside the Trump White House, as "full of lies". He claims to have cancelled his visit to London – during which he planned to open the new US embassy – as payback for the "bad deal" his predecessor made in selling the old building.
Donald Trump's international Presidential trips

Show all 22
"Reason I cancelled my trip to London is that I am not a big fan of the Obama Administration having sold perhaps the best located and finest embassy in London for 'peanuts,' only to build a new one in an off location for 1.2 billion dollars," Mr Trump tweeted last week. "Bad deal. Wanted me to cut ribbon-NO."
The embassy deal was not inked during Mr Obama's tenure, but under his predecessor, George W Bush.
Donald Trump calls off UK visit to open new US embassy
Mr Trump's visit has been a source of controversy since the day Prime Minister Theresa May suggested it, during her visit to the White House last January. Mr Trump has repeatedly stoked controversy in the country since then, retweeting far-right groups and accusing the government of failing to respond to terrorist attacks.
London Mayor Sadiq Kahn – one of Mr Trump's frequent targets – has also suggested that the President cancelled his state visit for fear of a less-than-warm reception.
"It appears that President Trump got the message from the many Londoners who love and admire America and Americans but find his policies and actions the polar opposite of our city's values of inclusion, diversity and tolerance," Mr Khan said. "His visit next month would without doubt have been met by mass peaceful protests."
Numerous activist groups had pledged to take to the streets if Mr Trump visited, and MPs promised to bar the President from addressing Parliament. A petition against the visit garnered more than a million signatures last year.
Downing Street said only that an invitation for the visit "has been extended and accepted, but no date has been set".
Register for free to continue reading
Registration is a free and easy way to support our truly independent journalism
By registering, you will also enjoy limited access to Premium articles, exclusive newsletters, commenting, and virtual events with our leading journalists
Already have an account? sign in
Join our new commenting forum
Join thought-provoking conversations, follow other Independent readers and see their replies