House speaker Pelosi announces Trump impeachment inquiry
White House releases incomplete 'transcript' of Trump's Ukraine phone call about Joe Biden
Democrats call memo of controversial phone call 'a smoking gun' as the president's impeachment looms
The White House has released a memo of Donald Trump's phone call with the president of Ukraine which sparked an official impeachment inquiry after he vowed yesterday to release a "fully declassified and unredacted transcript" of the controversial call.
The five-page document was made on the day of the 25 July phone call by note-takers in the White House situation room as the president spoke to Volodymyr Zelensky.
It begins with Mr Trump congratulating the new Ukrainian president on his election victory, before reminding Mr Zelensky the US spends "a lot of effort and a lot of time" aiding his country.
Prior to the memorandum's release it was reported Mr Trump ordered his staff to withhold $400m (£323.7m) in aid to Ukraine just days before the phone call. He spoke with Mr Zelensky the day after former special counsel Robert Mueller spoke in public testimony about his report on Russian interference in the 2016 election.
"I will say that we do a lot for Ukraine," Mr Trump said on the phone call, according to the memorandum. "We spend a lot of effort and a lot of time. Much more than the European countries are doing and they should be helping you more than they are. Germany does almost nothing for you. All they do is talk and I think it's something that should really ask them about."
The Democrat challengers to Trump in 2020

Show all 25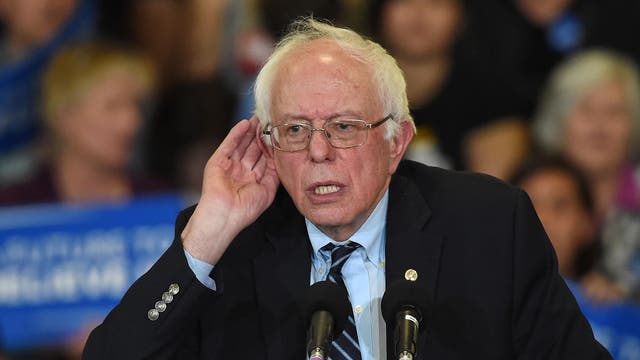 "A lot of the European countries are the same way so I think it's something you want to look at but the United States has been very very good to Ukraine," he continued. "I wouldn't say that it's reciprocal necessarily because things are happening that are not good but the United States has been very very good to Ukraine."
Mr Trump then asks Mr Zelensky "to do us a favour".
He begins by immediately asking for an investigation surrounding the origins of the Russia investigation that clouded the first years of his presidency, commenting on the former special counsel's "incompetent performance" the day prior.
"Whatever you can do, it's very important that you do it if that's possible," he said.
He then urged the president of Ukraine to look into an alleged issue involving his 2020 rival Joe Biden – a move that was previously reported about the call and sparked swift outcry on Capitol Hill.
"The other thing, there's a lot of talk about Biden's son, that Biden stopped the prosecution and a lot of people want to find out about that," Mr Trump said on the call. "So whatever you can do with the Attorney General would be great."
"It sounds horrible to me," the president added.
While the memorandum was largely described as a transcript, some Democrats slammed the document as a "highly-edited memo" that failed to include key components of the 30 minute conversation that had somehow been boiled down into a five-page memorandum.
"Trump did indeed bring up US aid to Ukraine and then asked their leader to investigate his political opponent," Democrat Don Beyer wrote in a statement.
"This document [is] not exculpatory," he added, "it is a smoking gun."
Still, Democrats and others said the US' financial leverage over the country could be seen in the way the president asked for a favour after reminding Mr Zelensky how much "effort" and "time" his government spent on aiding Ukraine.
Adam Schiff, a California Democrat and the chairman of the House Intelligence Committee, also said the memo "reads like a classic mob shakedown".
"Nice country you got there," he quips. "It would be a shame if something happened to her."
The White House described the memorandum as a "full, unredacted transcript" in press secretary Stephanie Grisham's statement announcing its release. The document itself notes it is not a transcript, however.
The phone call gained controversy after it was reported a whistleblower within the US intelligence community filed a complaint that at least partially involves the call between Mr Trump and Ukraine.
Support free-thinking journalism and attend Independent events
That whistleblower has been in contact with the House Intelligence Committee through attorneys, according to Mr Schiff, who said they would be speaking with the anonymous individual in the days ahead.
Join our new commenting forum
Join thought-provoking conversations, follow other Independent readers and see their replies